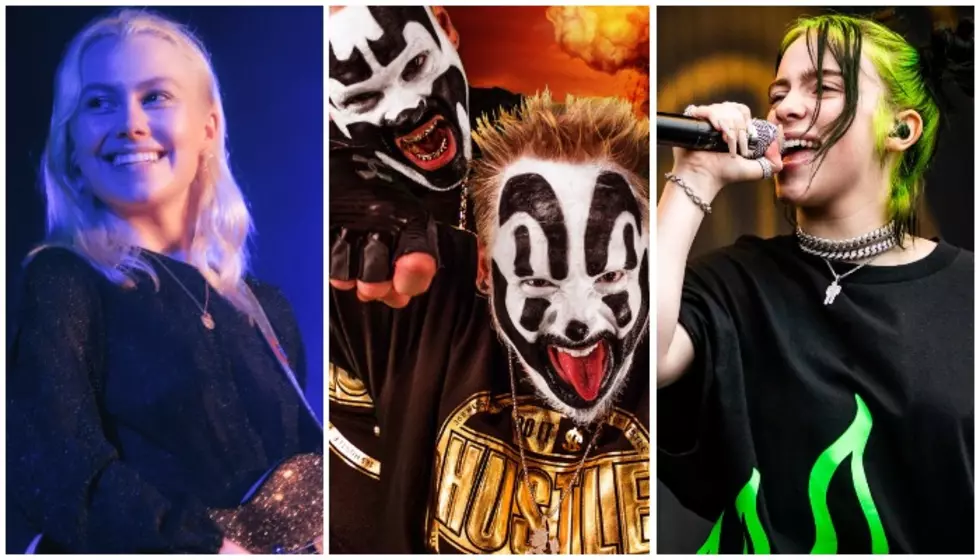 Phoebe Bridgers reacts to Billie Eilish's dad wearing her ICP-inspired merch
[Photos via Phoebe Bridgers/David Lee via Wikimedia Commons, Insane Clown Posse/Spotify, Billie Eilish/crommelincklars via Wikimedia Commons]
Last month, Billie Eilish debuted her intimate new documentary The World's A Little Blurry. During the Apple TV+ film, a few fans spotted Eilish's dad Patrick O'Connell rocking some of Phoebe Bridgers' merch including a T-shirt design inspired by Insane Clown Posse.
Now, Bridgers has revealed what she thinks of O'Connell wearing her merch throughout The World's A Little Blurry. As well, she has opened up on Elton John's Rocket Hour podcast about being nominated for the same amount of Grammy awards as Eilish this year.
The World's A Little Blurry offers an unfiltered look inside the life of Eilish. From relationship problems to her skyrocket to success, the intimate documentary follows Eilish as she created her debut album WHEN WE ALL FALL ASLEEP, WHERE DO WE GO?. Some moments in the film are so personal that Eilish couldn't even watch the first viewing with her family.
In certain parts of the documentary, however, Eilish's dad is a true scene-stealer. Eagle-eyed fans spotted O'Connell rocking Bridgers' merch on two separate occasions. In fact, one of the T-shirts he wore had a design inspired by Insane Clown Posse.
Now, Bridgers has reacted to O'Connell's choice of clothing during a new interview on John's Rocket Hour podcast. Although Bridgers hasn't seen the documentary yet, she quickly learned about O'Connell's choice of T-shirts and finds it all pretty cool.
Rocket Hour
Grammy Awards
first-time nominee
snagged four nominations
Best Rock Song Best Rock Performance
Kyoto
Best Alternative Music Album 
Punisher
Best New Artist
Meanwhile, Eilish is up for Song Of The Year, Record Of The Year and Best Pop Vocal Performance for "everything i wanted." She is also included in the Best Song Written For Visual Media category for her James Bond theme song "No Time To Die."
Of course, these nominations arrive a year after Eilish made history at the 2020 Grammys. Eilish is both the youngest and first female artist to ever sweep all four major Grammy categories in one night. In fact, The World's A Little Blurry revealed the unexpected way she learned about her historic nominations last year. Based on all of this, and her admiration for Eilish, Bridgers feels really positive about also being nominated for four Grammys this year.
"I feel great," Bridgers says on Rocket Hour. "I'm obsessed with Billie. I think she's a genius. I think whatever she's doing behind the scenes, industry-wise, just the fact that her team trusted her completely and was just like, 'You know what we should do, is listen to this 15-year-old because we don't know what's cool.'"
Bridgers' full interview on the Rocket Hour podcast airs this Saturday, March 13 at 9 a.m. PT/12 p.m. ET on Apple Music 1.
More on Phoebe Bridgers and Billie Eilish
Ahead of her big night at the Grammys, Bridgers recently sat down for an interview with Variety. During the chat, she reflected back on her controversial guitar smash on Saturday Night Live and revealed whether or not she regrets it.
"I stand by it," she tells Variety. "The fact that it made people so mad is kind of what's punk rock about it. No thought whatsoever went into what it represented or meant: I'd never done it before, so might as well do it [on SNL], where it's gonna be immortalized."
Last month, Bridgers made her debut on the coveted SNL stage where she performed her Grammy-nominated song "Kyoto" and "I Know The End," both off of Punisher. At the end of the latter song, Bridgers smashed her guitar against a stage monitor. Shortly after the appearance aired, she earned a lot of backlash for her actions.
In particular, singer David Crosby shared a series of tweets criticizing her guitar smashing. Eventually, his tweets earned a response from Bridgers. Soon after, however, Crosby began criticizing her songwriting which warranted yet another response from Bridgers.
Following all of this, Foo Fighters' Dave Grohl weighed in on the controversy. During an interview on The Howard Stern Show, Grohl had nothing but positive things to say about Bridgers and her performance.
"I saw that performance, I actually talked to my mom about [it]," Grohl said on The Howard Stern Show. "[She asked] "'did you see Saturday Night Live?' I said, 'yeah.' She goes, 'What did you think about that girl Phoebe?' I'm like, 'She's got a beautiful voice, she can really sing.' My mother was like, 'I loved it, I thought she was great!'"
In terms of her guitar smashing, Grohl compared the moment back to his days in Nirvana.
"When you watch us jam and freak out and do our thing… I think that's what they [Bridgers and her band] did," Grohl told Howard Stern. "It was every fucking night. My drums had holes in them from Kurt fucking chopping my drums…I've seen enough smashed guitars, it feels fucking good to do it."
Last month, DragonForce's Herman Li shared his own thoughts on the situation. As it turns out, he doesn't think Bridgers smashed an expensive enough guitar. According to Bridgers, the one she used cost around $85. So, the metal guitarist has challenged Bridgers to smash one of his own expensive guitars.
"I'll give her one of my $3,000 guitars," Li said in a YouTube video. "You can take one of my signature guitars, smash that up. How about that PRS [points to guitar behind him]? Take that PRS, smash that up, that's like a $5,000 guitar. Come on, you're on Saturday Night Live, you can't be smashing a $500 guitar, too cheap. You gotta take it to another level, smash it up, burn it, make it expensive! Annoy people even more!"
So far, Bridgers has not responded to Li's challenge. Since her Saturday Night Live debut, however, Bridgers has been very busy.
Earlier this week, she revisited "Kyoto" for an emotional new rendition with singer-songwriter Jackson Browne. The new version is part of Spotify's new Singles series that features this year's Best New Artist nominees. For the series, Bridgers also released a cover of one of her favorite John Prine songs called "Summer's End."
As well, Bridgers is among the artists teaming up with Paul McCartney to reimagine his 2020 album. McCartney III Imagined features St. Vincent, Queens of the Stone Age's Josh Homme, Idris Elba and Dominic Fike among others. For the new release, which arrives on April 16, Bridgers has recorded a new rendition of McCartney's "Seize The Day."
Alternative Press
Power Issue: Women Rising
Maggie Lindemann
Siiickbrain
Meet Me @ The Altar
Cher Strauberry
As for Eilish, her plate is pretty full these days, too. Early last year, she began work on her sophomore album. While in coronavirus lockdown, however, it took her a few weeks to find inspiration to start creating.
"I was fully uninspired for the first three weeks of this," she told Zane Lowe during an Apple Music interview. "I was not about to make music and I don't know why. It was just like, 'This is not interesting to me right now.' It was annoying though because that's the kind of thing you want to be doing in quarantine. But I wasn't feeling it."
Eventually, Eilish found inspiration and began writing. Although FINNEAS initially said they have no plans to release their solo albums during the pandemic, Eilish has still offered a few sneak peeks into her upcoming release.
Back in July, she debuted her emotional single "my future" along with an animated video. Then, in November, she treated fans to her carefree video for "Therefore I Am." More recently, she dropped her highly-anticipated collaboration with Rosalía called "Lo Vas A Olvidar" which premiered during a new episode of Euphoria.
Back in December, Eilish shared that her new music era is starting after the release of The World's A Little Blurry which debuted last month. A few months later, she also cryptically confirmed exactly how many songs are on the next release.
Instagram
What are your reactions to Billie Eilish's dad wearing Phoebe Bridgers merch in The World's A Little Blurry? Let us know in the comments below.