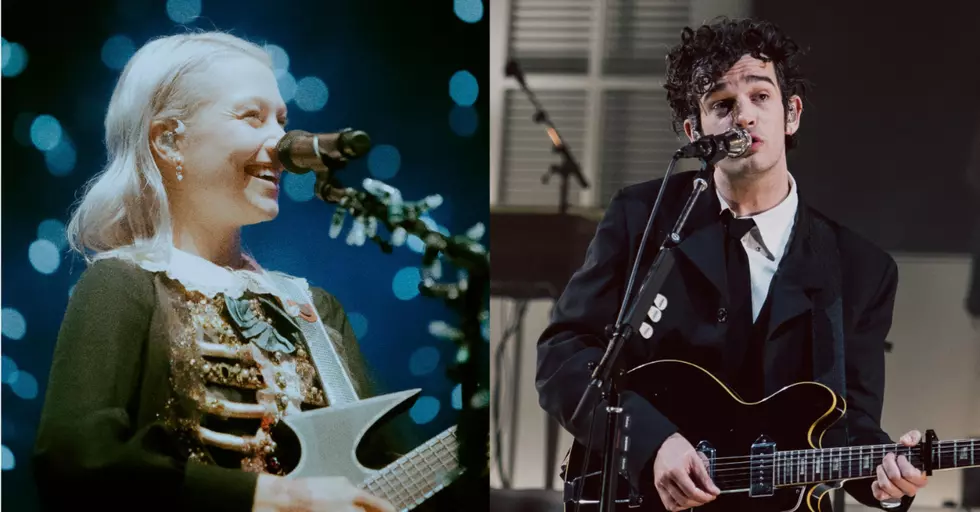 Phoebe Bridgers joined the 1975 onstage to perform a fan-favorite track
[Phoebe Bridgers/Ky Kasselman, the 1975/Jordan Curtis Hughes]
Phoebe Bridgers and the 1975 have been a part of each others' universes for quite some time. Not only do their fanbases crossover, but the two collaborated on the Notes on a Conditional Form track "Jesus Christ 2005 God Bless America." Bridgers also lent some backing vocals to their recent album Being Funny in a Foreign Language and appears in videos like "I'm In Love With You." 
Read more: Listen to Phoebe Bridgers' devastating cover of the Handsome Family's "So Much Wine"
While their efforts to tour together in 2020 weren't able to go through due to the pandemic, they've since surprised fans with guest appearances at a couple of shows. Last night (Nov. 28), Bridgers came out onstage at the 1975's LA stop of their The 1975 At Their Very Best Tour. Rather than joining the group to play one of their recent hits, she opted for a cover of one of their early, fan-favorites, "Milk" — their song that was originally released as a hidden track after "You" on the band's 2012 EP before it was finally released as a stand-alone song in 2017. In her typical folk-inspired fashion, the singer-songwriter stripped back the upbeat alt-rock number for a more muted, lovely take on it. 
It's not the first time the two acts have made onstage appearances this year. Earlier this year in July, frontman Matty Healy came out at one of Bridgers' London gigs to belt out her 2020 hit "I Know This Is The End." We'll take any Bridgers x The 1975 crossover we can get, though. You can watch the clip below.