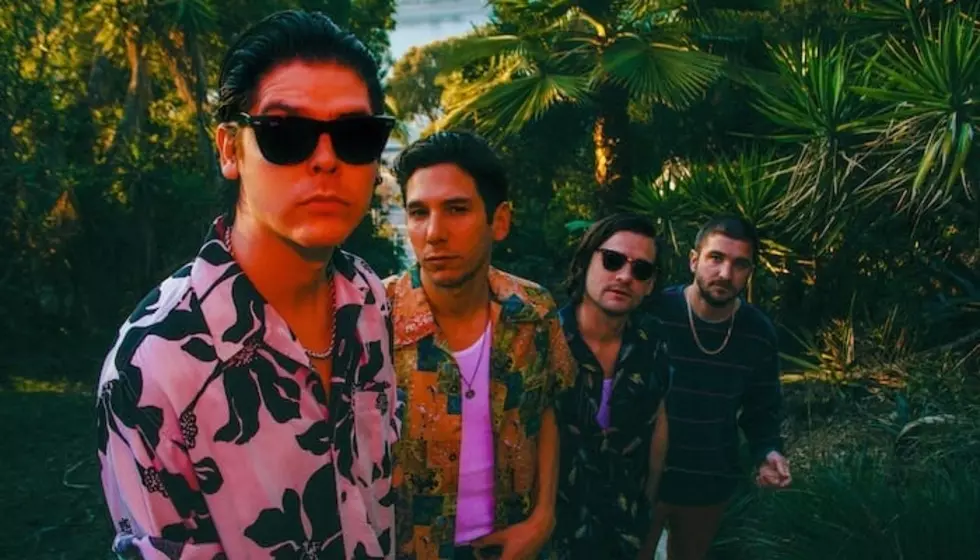 Plague Vendor remind the world they're still here with passionate new song
[Photo by: Robert Hickerson]
Three years after the release of their sophomore album, BLOODSWEAT, California's murderous post-punks Plague Vendor have returned. The quartet have just shared "New Comedown," the lead single off their upcoming third album, By Night, slated for release June 7 via Epitaph Records.
The video for "New Comedown" was directed by Dan Monick, showcasing Plague Vendor's unpredictable performance style and indefatigable energy. It's a straightforward clip that places an emphasis on the group's passion for the music they play, as well as making a great argument for more black lights to be used during concerts.
While Plague Vendor were touring with All Them Witches this month, frontman Brandon Blaine sat down with AP to discuss the release of "New Comedown," the band's wait for producer John Congleton (Thrice, Phoebe Bridgers, Amanda Palmer) to find time in his schedule and what fans can expect from By Night.
"I'm feeling great," Blaine says. "To be honest, this is the best I've ever felt in my life. [The guys in] All Them Witches have been amazing, and their fans—some of the most devoted fans I've ever seen—have embraced us. My energy is just amazing, and I'm ready to keep going. To see my brothers and I grow is something that never ceases to amaze me."
Nearly three years have passed since BLOODSWEAT was released. You put out a couple of songs in 2018, but the release of "New Comedown" marks the beginning of a new era for the band.
BRANDON BLAINE: We did that record, and it was cool. The response was good. Our manager told us they were going to give us space. He said, "I'm just going to let you guys do you, and I'm not going to push anything. When you're ready to record, let me know."
So we found a place, rented it out and wrote as much as we possibly could. Between our jobs and life, we had to meet at night, which is where the title By Night comes from. We worked together every night we could until we had 25 songs or so, and then we found John Congleton. He wasn't available at the time, so we decided to wait, and I think that excited him about the project because we made it clear we wanted him to be a part of our record.
When we came together, the connect between the band and John was instant. I'm so excited for everyone to hear the record because—and I hate sounding cliché—but it's unlike anything we've done before. It's still Plague Vendor, but the thread we started on the last record has grown bigger, and it's gone places we didn't expect.
It definitely sounds like big, fuzzed-out rock record.
Yeah, man. We didn't want it to be clean. It's super dirty. When an album has that sound to it, no one can say we're trying too hard. The record sounds real, and it sounds raw. I really like lo-fi shit, and I think there is a common thread of that throughout the record that never lets up.
The lead single "New Comedown" also opens the record. How did you know that was the song to help kick-start the next chapter of the band?
I don't know for sure, but when we were shooting the video, the song was playing on a loop for hours, and I never got sick of the track. We were working from sunup to sundown, and it was later in the day when I noticed I was still really enjoying the track. I told the band and our manager, "I'm not sick of this yet," and everyone agreed. We just need the world to hear it.
You mentioned basing the album title on when the album was written. Were there any other contributing factors to that decision?
In the simplest terms, nothing really cool happens during the day. We all have to go to work, and work is cool, but everything really great happens during the night. At night is when I can let my artistic side out; it's when I can express myself and explore who I am.
Something about "New Comedown" feels made for playing live, and that feeling is present elsewhere on the record as well.
I won't go as far as to say that was my goal, but when you hear a Queens Of The Stone Age record or an album from the Killers, something in your brain screams, "This is meant for arenas." I know you didn't say "arenas," but I have dreams too, and I feel really good about this record and what it might do for us. To be perfectly honest, I feel we are really on the cusp of something great, something beautiful and surreal.
You mentioned waiting for Congleton before recording the new album, but I wanted to know more about the three years between records. Was there anything happening in your personal lives or with the band that led to the wait? When did you know it was time to make something new?
We didn't want to just turn out a new batch of songs for the sake of having new songs. Once we had a collection of songs we're all happy with, we hit the "go" button, then spoke with John, and once he was available, we began work. We were willing to wait for [him] because we knew he was the one. It felt right.
Taking a look around online, you guys have been tight-lipped about the release of new material. Some people may know you were in the studio last year, but unlike many bands, you haven't been running any lengthy promotional campaigns for this single release.
I know there are people out there who question what happened to us, and I want that. I want this single to come out of nowhere and catch them by surprise. We aren't on social media all the time, and we don't really follow any trends. We really just do what we want to do, and we take our time. Especially with this release, from the video to the artwork, we're really trying hard to wrap this present up for people so they can unwrap it and feel like it's Christmas morning.
What do you hope they take away from "New Comedown"?
"New Comedown" serves as a reminder to our fans that we're still here, and we have no plans of slowing down by any means. To anyone hearing it and us for the first time, welcome to the family.
"New Comedown" is taken from the band's upcoming full-length By Night. You can check out the new single with accompanying video below.