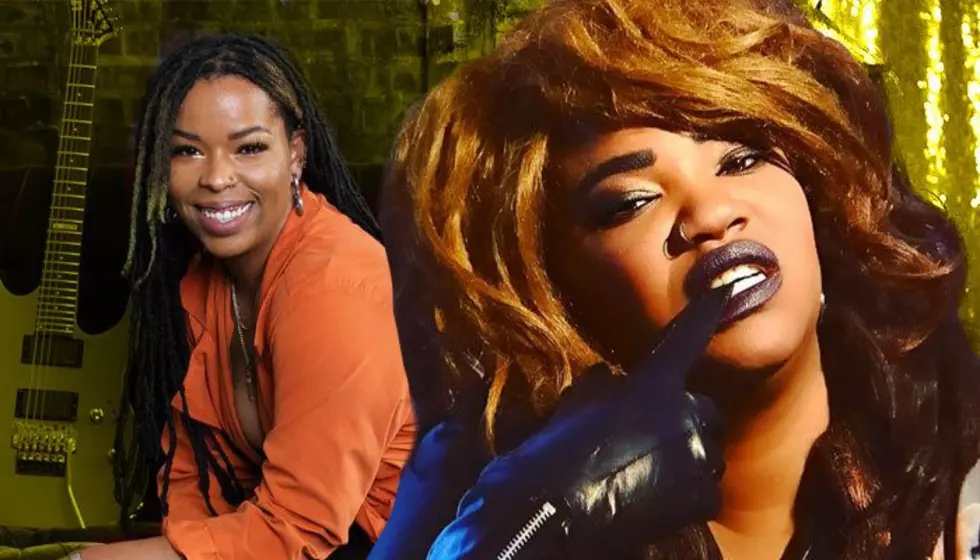 11 POC-fronted punk bands who deserve to be heard
[Photos via The Txlips, Pleasure Venom/Victoria Renard]
Keeping politics out of punk is impossible, and the idea of wiping the anti-establishment undertones would defeat the purpose of the genre completely. People of colors' impact reaches far past what bands such as Bad Brains set the foundation for, creating a flourishing scene that's developing faster than ever. 
The main intent of this list is to highlight the voices of the black punk community who deserve to be heard. If you'd like to donate, learn more or find ways to help, you can find resources here. 
SPEW
The brainchild of multifaceted DJ/producer Tony Bontana, SPEW are the prodigy's latest Birmingham beatdown project. Quickly encompassing the collective eye of the U.K. hardcore community, the raw power and attacks on the establishment are sure to spread awareness across the pond and beyond. AFROPUNK talked to Bontana in February about his debut demo, with a full album reportedly on the way. The demo, GUTTER, is available here.
Pleasure Venom
Dubbing Pleasure Venom as an up-and-coming group wouldn't give them enough credit, seeing as their rocketing rise has already caught the attention of their home city of Austin, Texas, and around the world. Fiery frontwoman Audrey Campbell has deservedly drawn the praise of Garbage's Shirley Manson for her vintage punk energy and unparalleled vocals. Opening for Garbage and rocking festivals such as SXSW and London's LOUD WOMEN Fest is only the beginning, with a post-quarantine explosion surely on the way.
Crystal Axis
With the colossal turmoil taking place in the U.S. at the moment, it can be easy to forget that police brutality and corruption aren't problems exclusive to America. Crystal Axis are a screaming example of the tight-knit Kenyan punk community that's looking to unbury the atrocities executed throughout Africa. Their latest release "Nyayo House" focuses on the Kenyan government's dark history through antagonistic lyrics and brooding basslines.
BLACK HAÜS
BLACK HAÜS are one of those beautiful every-mood groups, with every slice of their discography bringing a definitive new taste while staying true to their roots. Sometimes funk, sometimes punk, sometimes everything all at once, the quintet have expanded their prestige from local Greensboro favorites to prominent cross-country creators. 
Danny Denial
Tackling the immense injustices the black LGBTQIA+ community continues to fight against daily, Danny Denial blasts their beliefs in the most experimental, unapologetic and inherently punk manner possible. Formulating their message through a brew of punk, industrial, emo and every genre in between, Danny Denial's message won't be refused. If you want a place to start, their "punk opera horror visual album" DETHHEADS U.S.A. is a powerful must-see, now more than ever. 
The Younger Lovers
The Younger Lovers have been breaking down punk's gatekeepers since frontman Brontez Purnell started the band in 2003, and they seem to have a blast doing it. Proving that punk doesn't need to be just loud and fast, Purnell and company add to an ever-growing roster of promising black LGBTQ+ groups who continue to garner a deservedly louder voice. 
The Txlips
The Txlips' mission of providing a platform to women of color reaches much further than the messages their lyrics carry. Described by founder Gabriella "Guitar Gabby" Logan as an "international all-women touring collective," the LLC is committed to breaking through the ceilings that women in the industry encounter while making soaring rock ballads in the meantime. Aligning activism with their message, the group are currently donating all sales from their online streams to organizations committed to defending peaceful protestors.
SOUL GLO
Rap/hardcore catalysts SOUL GLO encompass the anger felt from the constant threat of police violence, and they're not shy about who the message is pointed at. Hopping from grinding hardcore to funk-inspired groove mid-track, SOUL GLO bring a twist to a scene that can quickly become an echo chamber. Their subject matter is rated R, and that's the way it should be. 
Louder Than Quiet
Blasting through the post-hardcore scene, Louder Than Quiet are a much-needed influx of diversity for the genre. Devastating vocals and a constant all-directions beatdown separates the five-piece from the pack and is a promising beacon for the genre going forward. 
Upchuck
Relying on word of mouth to spread your music in today's age is a massive undertaking, but betting on themselves is clearly effective for Atlanta punks Upchuck. It might be garage punk, but the diverse lineup has been blasting through venues and gaining consistent momentum in their short time together. 
Red Arkade
Buffeting four-piece Red Arkade have made a name as a high-octane mainstay in the New York hardcore punk scene over the past few years. As of now, their hard-hitting reputation has spread, evident by their appearances at national festivals and their mastery of unrestrained energy and vicious breakdowns.