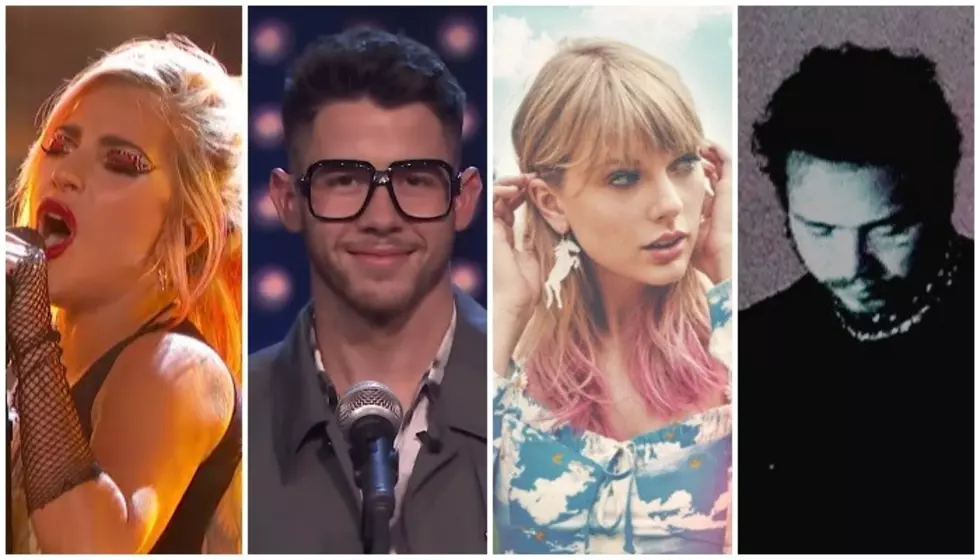 10 pop artists who belted out rock tracks with no shame
[Photos via Lady Gaga/YouTube, Nick Jonas/YouTube, Taylor Swift/Spotify, Post Malone/Spotify]
The draw of belting out scene anthems is contagious, even to some of the biggest names in pop music. Sometimes, a song is just so good, you can't contain yourself and have to sing in public, and these artists are just like us in this regard. 
We've rounded up 10 pop artists who have shamelessly sung rock songs in public and let their inner scene kid out. When it comes to classics by Fall Out Boy, Dashboard Confessional, Good Charlotte and more, who can resist? You can check those out below.
Nick Jonas
In late February, Nick Jonas showed us his admiration for the scene by covering Fall Out Boy and Panic! At The Disco on The Tonight Show Starring Jimmy Fallon. He successfully sang "Sugar, We're Goin Down" and "High Hopes" which just makes us want a JoBro scene cover album.
Halsey
Halsey has never been shy about her love for all things scene, such as Warped Tour and wearing Hot Topic. She's joined Panic! At The Disco and All Time Low onstage for scene classic. However, last summer, she was seen rocking out at a Mayday Parade and the Maine show and putting it all online for fans to see.
Demi Lovato
Demi Lovato has been known to frequent Emo Nites, singing along to some of our favorites such as Paramore and Underoath. We love a pop scene queen. 
Kacey Musgraves
The Grammy-winning superstar hasn't been shy about her love of the scene, which is pretty surprising considering she's a part of the country world. Kacey Musgraves knows all of the words to Good Charlotte's "The Anthem," which made our hearts melt. 
Post Malone
While Post Malone isn't a stranger to the scene world, collaborating with many artists we know and love, it still warmed our hearts to see Posty sing along to Pantera. The rapper showed off his screaming skills by performing "Walk" during some impromptu karaoke. 
Taylor Swift
Taylor Swift knew how to surprise a friend Abigail for her birthday by gifting her a special performance from Dashboard Confessional. Swift convinced Chris Carrabba to show up, who played "Hands Down," and it turned into a massive singalong that included Paramore's Hayley Williams. It was the epic throwback mashup we deserved. 
Ed Sheeran
Ed Sheeran joined ONE OK ROCK onstage to not only perform one of his smash hits, "Shape Of You," but a song from the band as well. The crossover performance featured a rendition of "Wherever You Are," which even had Sheeran singing some of the track in Japanese.
Lady Gaga
Even though it was filled with unfortunate mishaps, Lady Gaga performed with Metallica during the Grammys in 2017. She belted out the band's track "Moth Into Flame." 
Miley Cyrus
Miley Cyrus showed off some love for Nine Inch Nails when she performed a few songs by the band during her Black Mirror episode as Ashley O. It was truly the crossover we didn't know we needed. 
Machine Gun Kelly
MGK is basically one of us as he's super into collaborating with and jamming to alternative artists. He even sang blink-182's "What's My Age Again?" with Travis Barker at Emo Nite last year, a callback to covers early in his career that he even took to the Warped Tour stage.