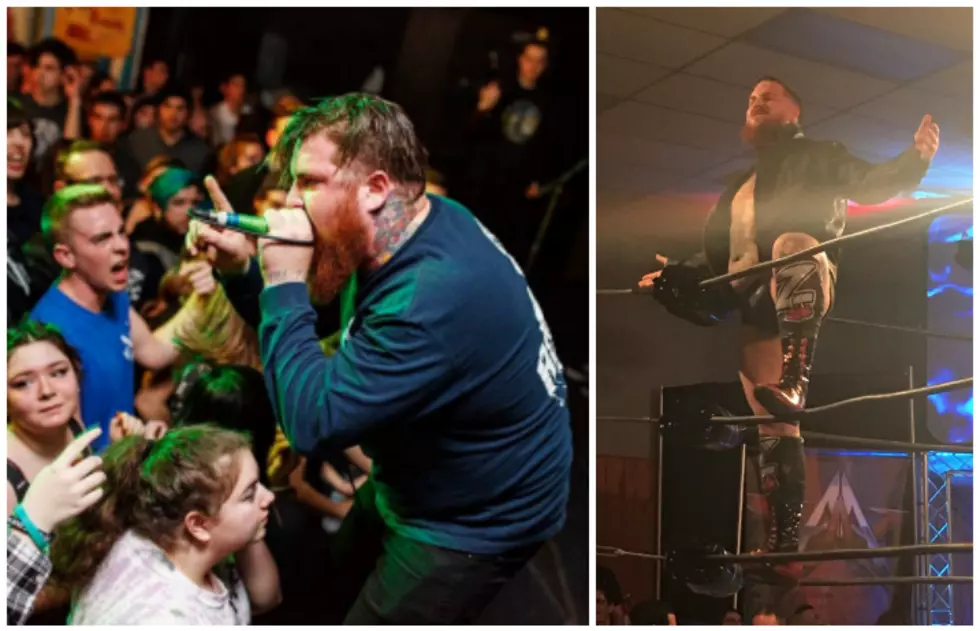 Pop punker to pro wrestler: The story of Zicky Dice
After years of touring with his band, Heart To Heart, Nick Zoppo trained with former WWE champion Seth Rollins at the Black And Brave Wrestling Academy to pursue his dream of becoming a pro wrestler. Jon Diener had a chat with him to discover how he went from the stage to a steel cage.
"I was a huge wrestling fan growing up. I got into it through my older brother," Nick Zoppo explains. "There were times my mom would come in the room, tell me to go to bed because I had school in the morning and turn off the TV. Then I did what every good boy does and turned the TV back on and turned down the volume."
Living the childhood most of us shared, the rebellious youth still had no outlet for his enthusiasm. It all changed when his parents surprised him with a trip to watch his first pro wrestling match.
"I remember one day they took us to the Arrowhead Pond [Honda Center] and we ended up seeing Stone Cold vs. Shawn Michaels and Mankind vs. Bret Hart at a house show, and I was absolutely just in love. From there, my dad convinced me to become a wrestler."
Zoppo's father didn't expect his son to become a professional wrestler, but it led him down that very path. "I wrestled freestyle from the age of 6 all the way to my sophomore year of high school. I am actually a two-time national champion in freestyle Greco-Roman and a national champion in Sambo, as well."
Accolades aside, Zoppo decided to move on from his wrestling path when his father passed away. Wrestling was their thing, and it was at that time he started playing music with his friends.
"We played punk music that we thought was good, but was actually terrible. From there we got into local bands, then it eventually turned into Heart To Heart in 2009. We decided we wanted to take things a little more seriously and travel a bit, so we did what all good bands do: Buy a van and play anywhere and everywhere."
Heart To Heart - "Bad Habits" Official Music Video



By following their new dreams and traveling the country as a band, Zoppo and his gang earned the attention of Anchor Eighty Four Records. They released an EP and a full-length with the label until the pop-punk powerhouse Pure Noise Records decided to scoop them up.
Heart To Heart continued to build a following, which eventually included WWE superstar Seth Rollins, who met the band at the Iowa stop of their tour with State Champs. As a fan of the label and band, he kept in touch with Zoppo, exchanging merch and music. The nudge to pursue his childhood dream didn't come from the pro wrestler, but a friend in the music world.
"It was on the last tour when we were on the road with Four Year Strong and Comeback Kid. We were in Nashville, and I was acting like a total a-hole on stage," Zoppo recalls. "I was getting the crowd to boo us and getting what is called some 'cheap heat.' It was there after the show that my good friend and tour manager of the tour, John James Ryan Jr., pulled me aside and said he wanted to have a talk with me. I was pretty sure we were getting kicked off the tour."
Heart To Heart weren't kicked off the tour, but Zoppo was told he needed to pursue a wrestling career.
"He was basically acting as a wrestler fronting a band," says Ryan. "We talked about how it is absolutely risky, but as we get older it will only get harder and harder to break through in the wrestling circuit. Why not turn that passion into reality and give it a real shot? Nick is one of my best friends and calls me once a month, without fail, to thank me for having that couple hour conversation about life and logistics."
Zoppo had no idea such simple motivation would change his life so drastically. He then reached for his phone and took the next step.
"At that moment I grabbed my phone and texted Seth Rollins and I said these exact words: 'I want you to train me.' His response was, 'Hahahaha, are you serious?' Then my reply was, 'I am going to be better than you are.' Then he said, 'I will see you in May.'"
It was all Zoppo needed to pack his things and move to Moline, Illinois, to start his training at Black And Brave Wrestling Academy.
"At the time, I didn't know what to expect," Zoppo admits. "I put every penny I had together, and I was going to finish this training no matter what. I moved to a town I've never been to, rented an apartment I'd never seen and I just dove straight in. After touring for a little while and being in my late 20s, I broke into the wrestling business a little late, so I wanted to be trained by the best."
The class at Black And Brave started with 12 bright-eyed wrestling hopefuls and ended with nine dedicated wrestlers willing to work together. Every day, the class would set up and tear down the ring before training to show their willingness to grow in the business.
As his trainers—Rollins and pro wrestlers Marek Brave and Krotch—continued to whip the crew into shape, it was up to Zoppo to create a character that would stick.
"Growing up, I was always interested in magic, cards, dice and gambling at a very young age—sorry, Mom—and that stuck with me in high school. I'm Italian and Puerto Rican; gambling's in my blood."
Zoppo was called Zick by his friends, which caught on in the touring world, and after playing a distorted game of traveling telephone with countless bands it led him to his new persona: Zicky Dice.
Zicky Dice had the advantage of a DIY background in the touring world, which led to a knack for self-promotion. Handing out fliers, updating social media and being marketable was second nature to the wrestling newcomer.
"That's something you just can't teach someone," Zoppo says. "It worked and it was easy to transfer. I took the time and invested in myself. If you don't take yourself seriously, no one else is gonna take you seriously."
Indie wrestling events are eerily similar to the shows on tour for any DIY band—starting with the bars, barns and BBQs and hoping that one day you'll be on the big stage. The work is already being put in with Zoppo's wrestling career, as his band Heart To Heart is currently working on new music. However, maintaining both careers doesn't even phase the overly confident wrestler.
"I started doing card tricks and magic in the back with the boys, then they wanted me to start doing that in the ring. Once you do magic for people and word gets out, everyone wants a piece of Zicky Dice. I'm the best frontman in the world, I'm the best magician in the world and pretty soon you'll see I'm the best wrestler in the world."
Rollins had some final thoughts to share.
"When Nick first told me he was going to come to my school, I'll be honest, I was skeptical based on his distant proximity to Black And Brave. To my pleasant surprise, he showed up, worked hard, graduated and stuck around. He's been able to translate the experience he gained as a frontman for Heart To Heart into the Zicky Dice character and has utilized that to be ahead of the curve in establishing connections with the audiences he's wrestled in front of. He continues to improve and be an asset to our community. I'm happy he proved me wrong."
Zicky Dice can be found around the country with appearances at Fest Wrestling in Florida, SCW and anywhere around the globe that will have him.
Zicky Dice can be found on Twitter, Facebook and Black and Brave Wrestling.