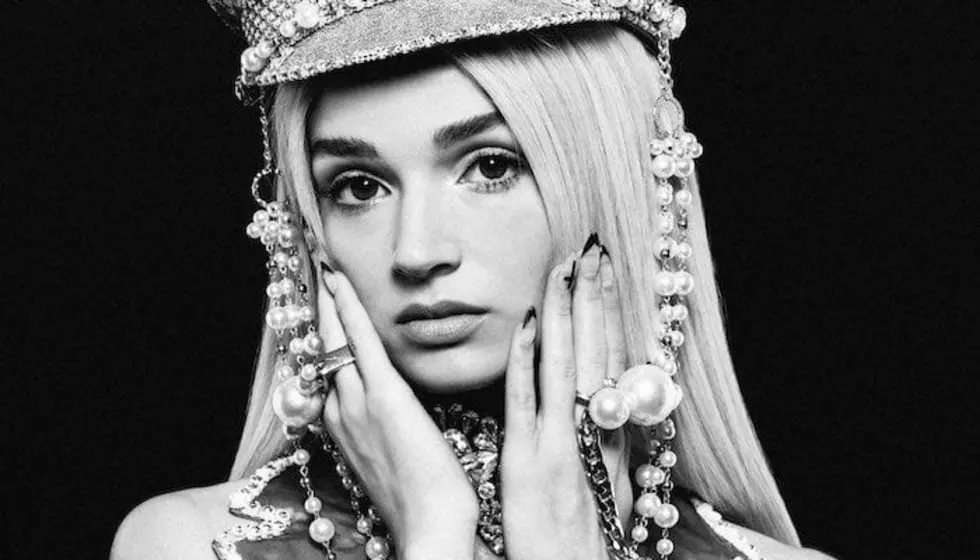 Poppy talks origin story in upcoming graphic novel 'Genesis 1'
Whether you love her or hate her, Poppy's aura has captured the fascination of fans and skeptics everywhere. Between her tantalizing and bizarre YouTube career to her production-savvy musical endeavor, Poppy has made herself out to be a public figure unlike any other.  
However, the YouTube-sensation-turned-pop-star has another hidden talent; she's also an author. In her forthcoming graphic novel, the inception of Poppy's universe will finally be unveiled.
Making its way to shelves this July, Poppy's Genesis 1 will be her first-ever graphic novel. The short synopsis on the book's back cover cryptically reads:
"Is she a girl? Is she a machine? Is she humanity's redemption, or its damnation? Don't be scared — either way, she is Poppy... and you love Poppy."
When pressed about her skeptics, Poppy confirms that she doesn't think she has any. However, if she did, she believes that if they knew her story, they may change their minds.
"I've never met anybody that doesn't like Poppy, but if they don't, and I come across them someday, I want them to know that I love them," she says.
That said, the book will be the first part in a series detailing just how Poppy came to be. According to her, the first installment will start at her "creation date," Jan. 1, and go from there.
"There will be more installments," Poppy says. "This is to give you a little bit of a glimpse of what you might not know about behind the scenes. We just really wanted to tell the genesis of Poppy that we haven't told yet. I think the music that I have been releasing has alluded to it, but now we get to elaborate more."
However, Poppy elaborates that her graphic novel doesn't completely tie in with her latest release, Am I A Girl?, which teases her descent into heavy-metal domination. While she says there are some elements that will run common, they aren't directly correlated.
Despite the differences between Genesis 1 and Am I A Girl?, Poppy will include an exclusive new album with her forthcoming graphic novel. Much like her 2016 debut full-length, 3:36 (Music To Sleep To), the record will be an experimental, ambient album with a definitive purpose. According to Poppy, readers are supposed to play the record while reading the book.
Along with producing an experimental album for Genesis 1, Poppy's been working diligently with collaborators Titanic Sinclair, illustrators Masa Minoura and Ian McGinty as well as writer Ryan Cady to tell the story.
"I just think it is the perfect pairing for what we're doing," says Poppy about Cady's contributions. "He just really seems to understand the direction. I don't want to give it away too much, but it's all very exciting."
Check out the covers for Poppy's Genesis 1 below.
In addition to the standard Genesis 1, which is currently available to preorder for $24.99, Poppy's also releasing a deluxe edition, limited to 500 copies. The limited edition will feature a different cover and sleeve and include a free print and vinyl record hand-signed by Poppy herself. You can preorder the deluxe edition of Genesis 1 here.
With the release of her graphic novel, Poppy reveals she may make an appearance at the San Diego Comic-Con.
Additionally, Poppy is gearing up to go on tour in support of Am I A Girl? later this month. You can check out a full list of dates and grab your tickets here.
[envira-gallery id="194688"]