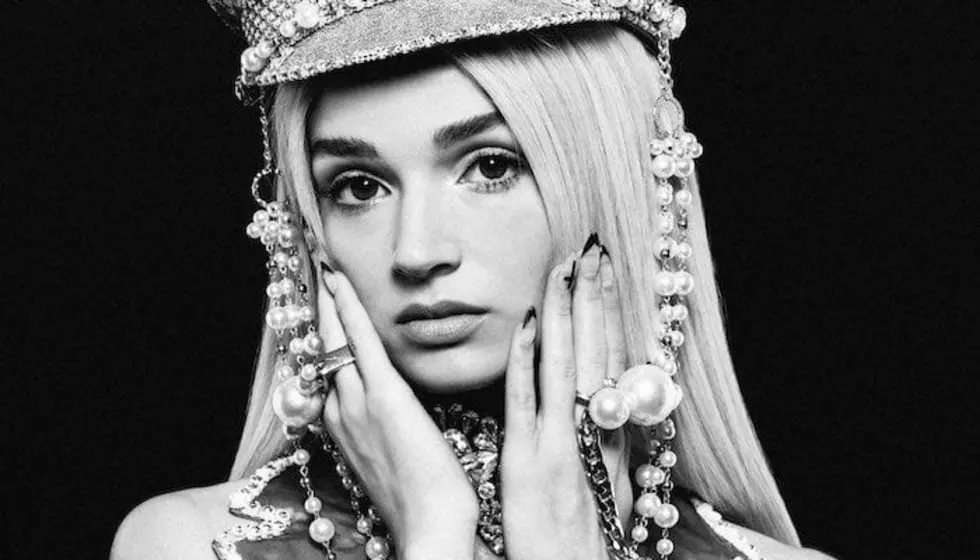 Poppy fights through damnation itself in upcoming second graphic novel
Poppy is once again channeling her well of creativity in comic form. The pop-metal star is releasing her sophomore graphic novel. The title is Damnation: Poppy's Inferno. It is set to release July 21.
Poppy has already ventured into the comic space with her first graphic novel, Genesis One: A Poppy Graphic Novel, in which we supposedly see the origins of the android pop-sensation.
Poppy's first venture into the graphic art medium was back in July of 2019 with the publication of Genesis One. The sci-fi-horror-fantasy book tackles themes of corporate control and finding human connections in the real world. We see the relationship between fans and the art of which they are connecting with as our heroine fights corporate control.
The new novel Damnation: Poppy's Inferno takes on many similar properties. But, it says it swaps the more science fiction elements for pure horror. Poppy works against those who seek to control and change her as she fights through damnation itself.
Noted graphic novel publishing firm Z2 Comics is once again taking the reigns of the book. Z2 published Poppy's first effort and seem more than happy to publish the second.
"We are delighted to work with Poppy again on her follow up to last year's fantastic debut, Genesis 1," Z2 publisher Josh Frankel says. "We believe this was one of the best books we published not only in 2019, but in our time as a publisher, and Damnation: Poppy's Inferno  is shaping up to be all that and more."
Z2 is described as the " premier destination for top-quality music-based comics and graphic novels." They've worked with BABYMETAL, YUNGBLUD, Andy Biersack of Black Veil Brides, Dan Auerbach of the Black Keys and many more. 
The synopsis for Damnation: Poppy's Inferno takes the reader on a wild ride of thought and introspection.
You might think you know Poppy, but what if you were only just scratching the surface? What if you could learn more about Poppy at the same time that she learns about herself? In between two worlds, both of which work to traumatize the unsuspecting into traumatizing others, Poppy finds herself in both literal and figurative Hellscapes. She must walk the thin line between doing what she must to gain her freedom and staying true to her own identity and beliefs. In Poppy's Inferno, our hero must fight against all that try to change her, not allowing anyone to determine how she thinks, feels or hurts, all the while trying to outwit the demons that surround her every step of the way.
The graphic novel will also be available in two variant covers that will be revealed in the coming months. Purchasing the graphic novel also grants a download of an original soundtrack Music to Scream To. All editions of the graphic novel are available to order here.
Poppy has been incredibly busy recently. The Massachusetts-born superstar is fresh off the heels of her incredible new album I Disagree. She is also currently in the midst of a 37-stop tour in support of the Sumerian Records' release. Tickets are available here. A full list of remaining dates is below.
Dates: 
01/30 – Minneapolis, MN @ Amsterdam
01/31 – Chicago, IL @ The Vic Theatre
02/01 – Detroit, MI @ The Majestic
02/02 – Toronto, ON @ Opera House
02/05 – Boston, MA @ Brighton Music Hall
02/06 – New York, NY @ Brooklyn Steel
02/07 – Philadelphia, PA @ Theater of Living Arts
02/08 – Washington, DC @ U Street Music Hall
02/10 – Charlotte, NC @ Underground
02/12 – Tampa, FL @ The Orpheum
02/14 – Atlanta, GA @ The Loft at Center Stage
02/15 – St. Louis, MO @ Delmar Hall
02/16 – Lawrence, KS @ Liberty Hall
02/19 – Albuquerque, NM @ Sunshine Theatre
02/20 – Phoenix, AZ @ The Pressroom
02/21 – Los Angeles, CA @ Fonda Theater
U.K./EU dates:
03/12 – Manchester, UK @ Academy 2
03/13 –  Glasgow, UK @ Cathouse
03/14 –  Birmingham, UK @  O2 Academy 2
03/15 – London, UK @  Heaven
03/17 – Amsterdam, NL @ Melkweg
03/18 – Brussels, BE @ Orangerie
03/20 – Paris, FR @ Le Trabendo
03/21 – Bochum, DE @ Zeche
03/22 – Berlin, DE @ Columbia Theater
03/24 – Munich, DE @  Backstage Halle
03/25 – Milan, IT @ Santeria
03/26 – Vienna, AT @ Flex
03/27 – Zurich, CH @ Plaza
03/29 – Barcelona, ES @ Sala Razzmatazz 2
03/30 – Madrid, ES @ Sala Caracol
Are you excited for Damnation: Poppy's Inferno? Sound off below!
[envira-gallery id="199143"]