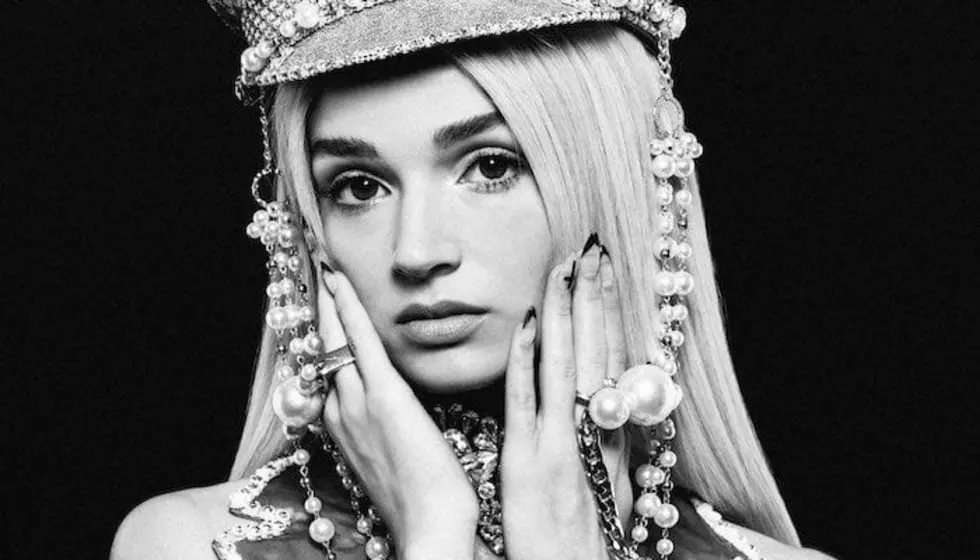 Poppy reveals details for metal album 'I Disagree' with intense cover art
Poppy has unveiled the details of her third full-length studio album I Disagree and gave fans a look at the menacing cover. 
The album will be the musician's follow-up to last year's Am I a Girl? record. A few months ago, she also dropped her Choke EP. 
Along with the record pre-orders opening on Friday, she will also drop the album's title track. The album itself drops on January 10 via Sumerian Records. You can see the cover art below. 
Poppy has already played the title track at a show in London this year. You can see a fan-shot video of that below for a sneak peek.
Poppy has already released "Concrete" from the album when she announced she'd be working with Sumerian for it. You can see the official music video for that below. 
The artist recently spoke to Upset magazine about the upcoming record and the new sound of "Concrete". 
"We just wanted to see if we could one-up 'X'. And I feel like we did," Poppy said. "It's a taste of what is to come on the new album, but we're leaning harder into the heavier direction on the rest of the record, which is exciting. I feel like I've got to awaken this dormant creature inside of me."
You'll be able to catch Poppy on tour with Sleeping With Sirens and Bring Me The Horizon this fall at the cities and dates listed below.
Dates:
10/10 — Phoenix, AZ @ Comerica Theatre
10/12 — Sacramento, CA @ Aftershock Festival*
10/14 — Portland, OR @ Theater of the Clouds (Moda Center Portland)
10/16 — Seattle, WA @ WAMU Theater at Centurylink Field Events Center
10/18 — Las Vegas, NV @ Las Rageous Festival
10/19 — San Diego, CA @ Viejas Arena
10/21 — Oklahoma City, OK @ The Criterion
10/22 — Kansas City, MO @ Arvest Bank Theatre at the Midland
10/25 — San Antonio, TX @ Sunken Gardens Theater
10/27 — New Orleans, LA @ Voodoo Festival*
10/28 — Tampa, FL @ Fl Cuban Club Courtyard
10/29 — MIami, FL @ Fillmore Miami Beach at Jackie Gleason Theater
*Bring Me The Horizon only
More news
WWE 2K20 has unveiled its full in-game soundtrack and it features artists such as Bring Me The Horizon, Post Malone, Poppy and more.
The highly-anticipated game drops Oct. 22 and the soundtrack is full of artists we love to jam out to.
Other artists featured include grandson, Lil Uzi Vert, Mötley Crüe featuring Machine Gun Kelly and more. You can see the full tracklist below and listen to the playlist.
WWE 2K20 soundtrack
"The Dirt (Est. 1981)" by Mötley Crüe featuring Machine Gun Kelly
"Hybrid Moments" by Misfits
"ICY GRL" by Saweetie
"The Dark Side" by Muse
"Burning Man" by Andrew Watt featuring Post Malone
"Lo/Hi" by The Black Keys
"99" by Barnes Courtney
"Stigmata" by grandson
"XO TOUR Llif3" by Lil Uzi Vert
"Wonderful life" by Bring Me The Horizon featuring Dani Filth
"Metal" by Poppy
"Gimme" by Banks
You can preorder the game here.
What do you think of Poppy releasing an album in January? Sound off in the comments down below!
[envira-gallery id="197607"]