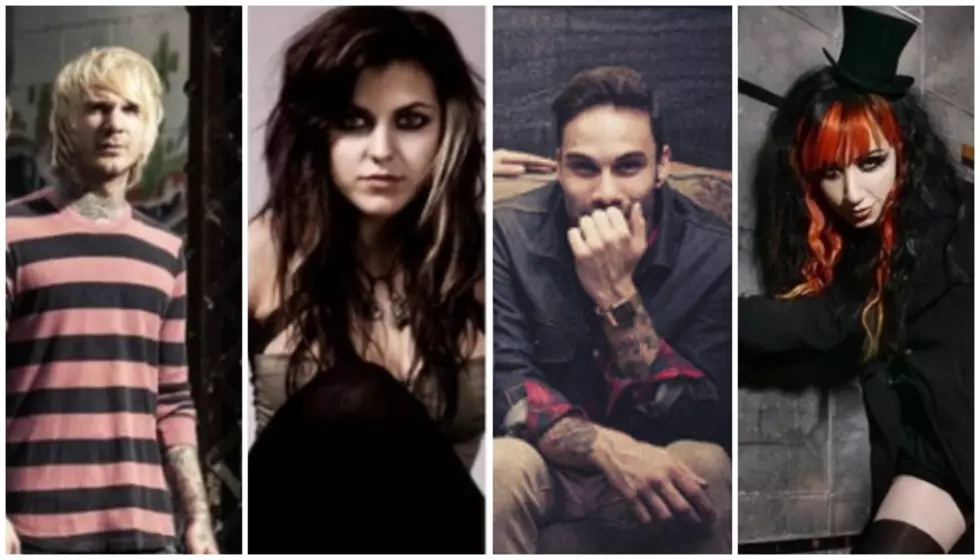 23 post-hardcore tracks that definitely ruled your iPods in the 2000s
[Photos via: Chiodos, VersaEmerge, letlive./Spotify, New Years Day]
The Venn diagram comprising many punk and metal offshoots got pretty messy in the 2000s. Post-hardcore crews were regularly lumped in with metalcore, screamo, emo and a plethora of hybrid acts, often sounding comparable and touring together. The biggest of those spectacles was something called Warped Tour. 
Yet, there's no doubting their sway. These subgenres united to carry the scene flag as pop punk's popularity spiked and dipped after the turn of the century. We first jammed to them on our Walkmans, then iPods and finally our smartphones during a decade of constant change. 
Here is a list of post-hardcore songs that stood out during that stretch. Categorizing bands into specific classes is, in this case, pretty subjective. So assume that if your favorite band didn't make the list, they might be interpreted as something slightly out of the post-hardcore realm by yours truly. 
Scary Kids Scaring Kids – "Faces" 
The chunky guitar riff of "Faces" blasts through a smartphone's speakers, sparking the aggravating "I know that song" feeling. But the track's name hides deep in the forgotten music cortex of your brain. Then that oh-so-familiar chorus hits: "Let's tear away these faces we hide behind!" Oh yeah, Scary Kids Scaring Kids. Let's break something.
Silverstein – "Smile In Your Sleep" 
You hip zoomers probably don't listen to the radio anymore. It's like podcasts with commercials, and you can't rewind. Believe it or not, Silverstein's "Smile In Your Sleep" still gets decent airplay, a term that describes a song that disc jockeys play frequently. And a disc jockey is… never mind. 
Chiodos – "There's No Penguins In Alaska" 
It wasn't the most popular track on Chiodos' breakthrough album, All's Well That Ends Well. But the never-ending chunky guitar work, coupled with Craig Owens' unwavering vocals, embodied the post-hardcore sub-scene.  
Story Of The Year – "Anthem Of Our Dying Day" 
Page Avenue belongs on the Mount Rushmore of early 2000s alt-rock albums. Everyone remembers "Until The Day I Die," and you probably played "Sidewalks" on your Walkman for your middle-school sweetheart so many times she switched lunchroom tables. But "Anthem Of Our Dying Day" is Story Of The Year's magnum opus.  
VersaEmerge – "Past Praying For"
VersaEmerge helped set the template for women in post-hardcore bands with their consecutive releases in 2009 and 2010. The instrumentals blend perfectly with Sierra Kay's vocals, with lyrics that were standout. Comparable bands, such as Tonight Alive and PVRIS, soon followed suit.
Four Year Strong – "Heroes Get Remembered, Legends Never Die"
With pop punk in metamorphosis, 2000s post-hardcore on the back nine and Hot Topic emo uncomfortably thriving, the scene sought something fresh in 2007. Enter the little-known Four Year Strong. Rise Or Die Trying was the unexpected surprise of all unexpected surprises, a much-needed injection of originality. "Heroes Get Remembered, Legends Never Die" is the moment we all realized we'd stumbled on something special. 
New Years Day – "Razor" 
What a run it's been for Anaheim natives New Years Day. Formed in 2005, singer Ash Costello and company may have experienced their most successful stretch prior to the pandemic with their 2019 release of Unbreakable. It's 10 times heavier than their earliest work, but their mid-2000s track "Razor" foreshadows the band's edgier future. And the chorus is wonderfully earwormy. 
A Day To Remember – "The Plot To Bomb The Panhandle"
Before A Day To Remember's mainstream success and world tours, there was "The Plot To Bomb The Panhandle." It introduced the band to a wider audience, helping ADTR connect with industry pros. Many great successes have a pre-breakthrough breakthrough. "The Plot To Bomb The Panhandle" was it for A Day To Remember.
Thrice – "The Artist In The Ambulance" 
Thrice always put on a show. And when singer Dustin Kensrue croons "Late night, brakes lock, hear the tires squeal," hold on to your butts. The entire crowd is about to become a circle-pit causality (which future post-hardcore bands are welcome to use as a name). 


Senses Fail – "Calling All Cars" 
Senses Fail went on a crazy run of great music in the mid-2000s. "Calling All Cars" is a perfect composition, containing a great hook and an excellent buildup to a banging chorus. The band's political activism is also commendable. Senses Fail never failed to inspire us in many ways. 


Underoath – "Reinventing Your Exit" 
Is this it? Is this the ultimate metalcore/post-hardcore anthem? This soaring track shows off both subgenre's quintessentials—the aggression of a punk song with the brief instrumentals of a metal track. The vocals, harsh and angelic, blend seamlessly. And that soaring chorus never grows old: "This is the way I would have done things/Up against the wall, up against the wall." Underoath achieved perfection.


Alexisonfire – "Accidents" 
Maybe the best song/music video combo on this list, "Accidents" helped Alexisonfire build to their breakout album, Crisis, in 2006. Without this table-setting track, we might not see them reach the fans that they did. We'll always remember "This Could Be Anywhere In The World" as a masterpiece, but we can't forget "Accidents" as the song that got the band there. 


At The Drive-In – "Pattern Against User" 
With pop punk dominating MTV, radio and Napster, At The Drive-In carved just enough room for post-hardcore to make a major stamp on the 2000s. Their incredible Relationship Of Command reflected the market's thirst for the style. "Pattern Against User" might not have been the album's most popular track, but it padded the depth, cementing Relationship Of Command as a well-rounded and formidable piece of art. 


Funeral For A Friend – "Roses For The Dead" 
It's tough to pick just one track from Hours to highlight. "Roses For The Dead" is a lyrically somber song that opens with a bouncy guitar solo, gradually building to a booming chorus. Yet, the heartfelt ending isn't just the song's standout moment but perhaps the highlight of Funeral For A Friend's most consequential album. 
Saosin – "Seven Years" 
"Seven Years" plays second fiddle to "You're Not Alone" on Saosin's massively commercial self-titled debut album, but it rips all the same. The abrasive chorus juxtaposes the methodical first and second verses perfectly. And just when the track appears over, Saosin smashes the overdrive button. 
Vedera – "Trade This Fear"
The opening track to Vedera's 2005 album allows Kristen May to stretch her vocal range. It's a smooth song with plenty of kick, a comfortable first step into the band's simmering debut. The pace of "Trade This Fear" gradually increases before an electric finish that gives way into a stellar album. 
If you look up post-hardcore in the dictionary, From First To Last's "Note To Self" should be listed as exhibit A. It shows off the whole package—the heavy guitar breakdowns, aggressive lyrics, structural creativity and untethered vocals. Does anyone even know what they are saying? Doesn't matter. This song is all about feeling, and there's plenty of it. 


A Skylit Drive – "I'm Not A Thief, I'm A Treasure Hunter"
Riding the spiking popularity of post-hardcore, A Skylit Drive rushed their debut record to the market in 2008. While songs such as "I'm Not A Thief, I'm A Treasure Hunter" may have been buried by an oversaturated market, make no mistake. It's a standout track that passes the test of time. 


Touché Amoré – "Honest Sleep"
A risky track that falls short as one of Touché Amoré's most downloaded, "Honest Sleep" is the opposite of cookie-cutter. It bounces between heavy screamo and soft acoustic. It breaks all the songwriting rules, but it works. There are few post-hardcore tracks more recognizable yet forgotten by time. 


AFI – "Miss Murder"  
It's easy to overlook just how massive this hit, nay, grand slam from AFI was. Not only a top rock song in 2006, but it also soared up the Billboard Hot 100 and dominated the late Total Request Live days. AFI were always ahead of their time.
letlive. – "Beauty Queen Breast Stroke" 
This is the part of letlive.'s live set that breaks into anarchy. The band, known for their rambunctious stage presence, truly let loose. The entire crowd succumbs to the mosh pit. Plastic bottles fly through like missiles. Run for the hills. No one is safe. 
Eyes Set To Kill – "Darling" 
In a scene made up mostly of white guys, Eyes Set To Kill feature diversity in both gender and race. Formed by Alexia and Anissa Rodriguez, the band broke boundaries. But it was their creative composition that always stood out. "Darling" is a perfect example. 
Dance Gavin Dance – "Uneasy Hearts Weigh The Most" 
Of course, we can't forget about Dance Gavin Dance. The Sacramento natives accomplished so much that it's understandable to overlook their truly masterful self-titled album, released in 2008. "Uneasy Hearts Weigh The Most" shows off the band's gift for creative songwriting and skillful musicianship. It was their first big breakthrough.