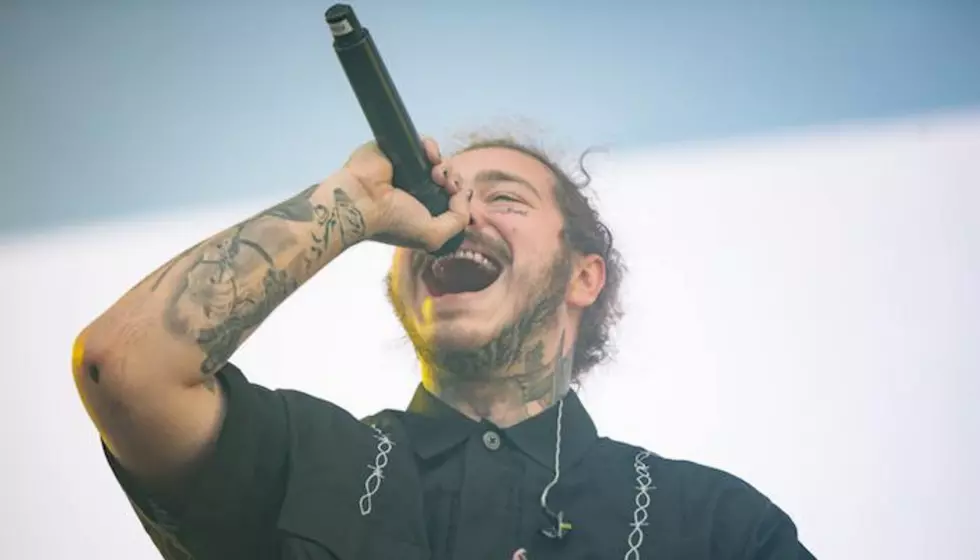 See Post Malone before face tattoos join 50 Cent in a forgotten clip
[Photo by: Tore Sætre/Wikimedia Commons]
Want to see Post Malone before he became the chart-topping singer we know and love? Following a video on Riff Raff's Instagram page last week, the "Better Now" singer was featured in a post from 50 Cent.
If you look at 50 Cent's tweet, you can catch Posty in a video for a song the pair recorded in 2015 called "Tryna Fuck Me Over." The song was featured on 50 Cent's mixtape, The Kanan Tape. 
50 Cent tweeted he "forgot" to post it when it was originally shot. 
Posty wears his familiar braids, a bomber jacket, and a gold chain. The video starts with the pair talking in a car. A police car alarm sounds and 50 Cent jumps out of the car. The beat is a bass-heavy track layered with the crisp sound of a flute. 50 Cent jumps into the chorus, saying "y'all tryna fuck me over." 
A pre-facial tattoo Posty looks elated to be working beside one of the most recognizable rappers in the game. He's no slouch with his verse, though. Some lyrics "right before I came into this bitch hot, needed cigarettes, I made a pit stop, spent my life tryna be a good guy, still, people want to see me get got."
You can watch the full video below. 
The song dropped months after Posty released his debut song, "White Iverson," off his debut album, Stoney. The song hit No. 14 on the Billboard Hot 100. At present, the video has over 800 million views on YouTube. 
The video isn't the only Post Malone-related thing 50 Cent posted on social this week. 
On Wednesday, the New York native posted a photoshopped image of Post Malone's tattoos, hair, and beard overlaid on his face to Instagram. 
"Y'all trying to fuck me over, y'all trying to fuck me over," the rapper writes in the photo's caption, a reference to the video he posted on Twitter the day before.
Posty is known as much for his hits including "Circles" and "Rockstar," which features 21 Savage, as he is for his numerous tattoos. 
On April 8, Riff Raff reminded us of what Posty looked like before his face tattoos. The Warped Tour alum posted a video of the singer from 2016 on his Instagram page. In the video, Posty is barely recognizable without his iconic face tattoos which include a bloody buzzsaw and a hammer.
The rapper spoke about his tattoos in a recent interview. 
"It does maybe come from a place of insecurity, to where I don't like how I look, so I'm going to put something cool on there so I can look at myself and say, 'You look cool, kid,' and have a modicum of self-confidence, when it comes to my appearance," Malone says. 
Are you a fan of 50 Cent and Post Malone's collab? Let us know in the comments below.