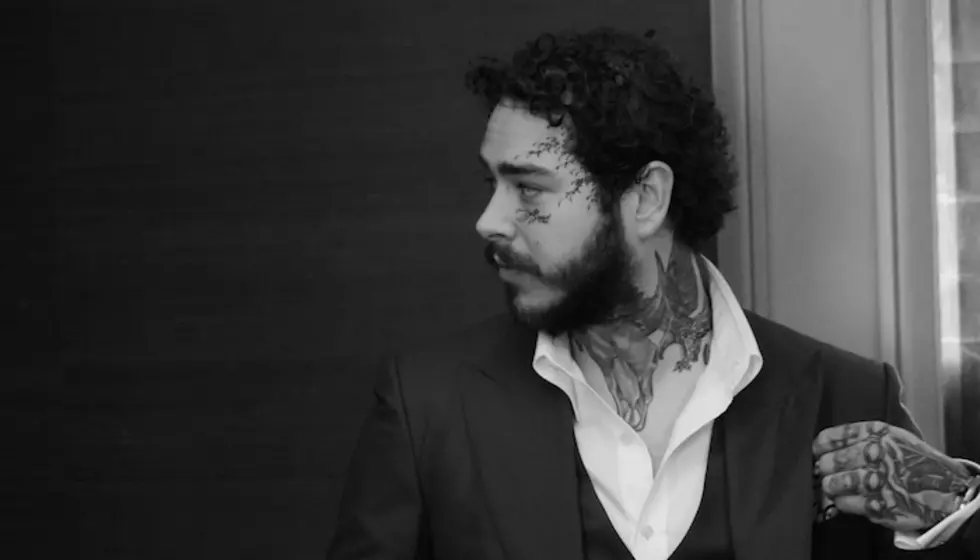 Post Malone, Crocs latest collab sells out in less than two hours
[Photo by: Adam Degross]
Post Malone without a doubt loves his Crocs and apparently so does everybody else. Tuesday morning Crocs and Malone released their fourth collaborative silhouette "Post Malone X Crocs Duet Max Clog."
The new collab features a tactical outsole and adjustable straps. They come in a black and blue camo colorway. However, if you didn't grab them in the first couple hours of the release, unfortunately, you're out of luck.
"I wanted to make a more tactical and chunky shoe, and they gave me all the tools to do just that," Post Malone said in a statement about the new shoe. "I think they came out really neat and I hope everyone loves them as much as I do."
Earlier this month, the shoe brand and Malone announced the collab saying the shoe will be available on Dec. 10 at 10 a.m. ET.
In anticipation of the release, Malone and Crocs surprised Malone's Southlake, Texas hometown fans by heading to Chicken Express, a restaurant Malone used to work at as a teen and gave away free pairs. The Chicken Express menu boards read "Posty Special: 4 Piece Chicken Fingers, Fries, Side and Drink with a free pair of Crocs $6." Online, the shoe went for $60.
After going on sale today, Crocs announced on twitter about an hour after the release that the shoes have sold out. Despite having a larger quantity, the shoe remained in high demand. Many people have taken to eBay and StockX re-selling them from $150-$500. The same thing happened on a previous Post Malone and Crocs collab.
Some even waited up to more than an hour, just to find out they were sold out in a certain size.
More on Post Malone
Malone and Crocs have been collaborating for some time now as November 2018 marked the beginning of the unique rapper, footwear relationship. Crocs and Malone released the Dimitri Clog that featured a new take on an old look, as well as six custom-designed Jibbits that included re-creations of his "Stay Away" tattoo and his Posty Co. logo.
The second release came shortly after in December 2018 which was a classic, bright yellow clog. The third collab dropped in May 2019 and was exclusive as they were only available in Australia to promote his tour.
It's no secret Malone doesn't wear anything other than Crocs. In a statement shared by Business Wire he expressed his love for them "I wear Crocs everywhere from the bar to the stage and I felt it was the perfect collaboration to get together with Crocs and give fans what they've been asking for."
Aside from the Croc drop, Malone has had a massive year as he was this year's most-streamed artist on Spotify with 6.5 billion streams. His latest release Hollywood's Bleeding also topped the charts as the most-streamed album of 2019.
It's safe to say Malone wins 2019 and the Croc release selling out is the perfect cherry on top.
[envira-gallery id="197607"]