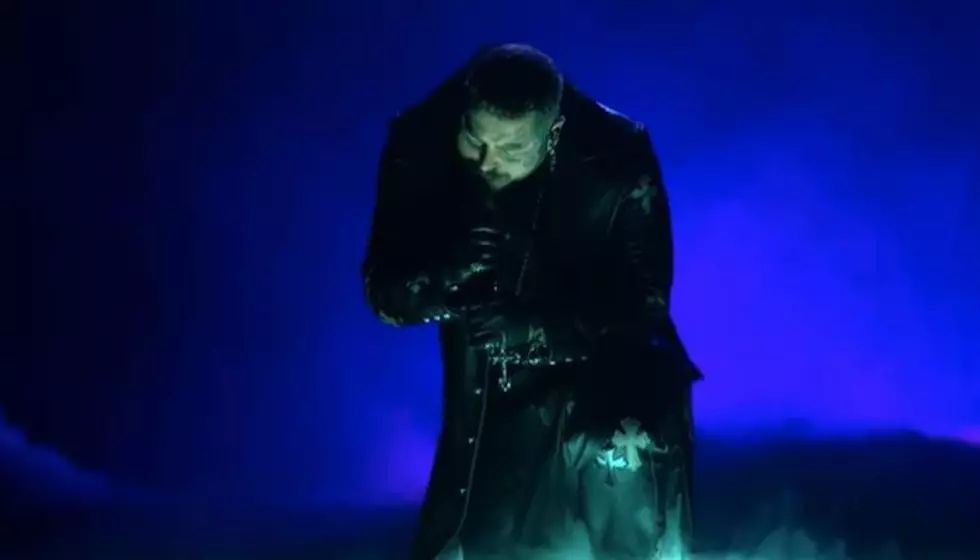 Post Malone channels goth vibe in "Hollywood's Bleeding" Grammys performance
Post Malone performed a dark rendition of "Hollywood's Bleeding" at the 2021 Grammys. [Photo via YouTube}
Post Malone returned to the Grammys stage Sunday to give a performance of "Hollywood's Bleeding" that gave off serious seance vibes. 
Posty, who was nominated for several awards throughout the night, gave the performance of a true scene kid.
He wore a floor-length leather trenchcoat that looked straight out of Ozzy Osbourne's closet. He was also surrounded by hooded figures holding candles in the dark. And there was a smoke machine, so it truly looked like a scene out of a horror movie.
Fans on Twitter could not get enough of Posty channeling his inner goth in the performance.
You can check out a video of Post Malone's Grammys entrance and performance below.
The rapper last performed at the Grammys in 2019, when he joined the Red Hot Chili Peppers for a mashup of his songs "Stay" and "Rockstar," before transitioning to his collab with the Chili Peppers. Malone played guitar with the band for "Dark Necessities" and sang backing vocals.
Post Malone is also making history with his Grammy nominations this year, as he's up for Album of the Year for his full-length Hollywood's Bleeding, along with Record of the Year and Song of the Year for "Circles." 
It's the third year in the row he's been nominated for Record Of The Year after "Rockstar" feat. 21 Savage in 2019 and "Sunflower" feat. Swae Lee in 2020. Posty is the first artist to be nominated for Record of the Year three years in a row since 1988 when Steve Winwood accomplished the same record. However, he did not win this year, as H.E.R.'s "I Can't Breathe" took home the award. 
The rapper also was nominated for Album of the Year in 2019 for Beerbongs & Bentleys, but lost to Kacey Musgraves' Golden Hour. 
You can check out the full list of Grammy winners here.
More on Post Malone
Ahead of the Grammys, Post Malone participated in a whole different kind of performance. For Pokémon Day 2021, the rapper transformed into a CGI-animated Pokémon trainer to celebrate the 25th anniversary of Pokémon. He performed a special virtual set that both wowed and confused the internet. 
During the 12-minute set featuring a Pokémon crowd, Post Malone performed hits including "Psycho," "Circles" and "Congratulations." As promised, he also performed his cover of Hootie & The Blowfish's "Only Wanna Be With You" from 1995 to mark the occasion. 
Even though Post Malone unveiled his last full-length album Hollywood's Bleeding just last year, the rapper is already hard at work on his next release and is "experimenting with some new sounds" that he can't wait for fans to hear. And after Sunday night's performance, neither can we. 
And while there's currently no release date for his next album, Posty has still treated fans to plenty of new music in 2020. He teamed up with Tyla Yaweh ("Tommy Lee"), Big Sean ("Wolves") and Justin Bieber ("Forever"), to mention a few. 
Speaking of Tommy Lee, the Mötley Crüe's drummer joined the rappers to drum on a remixed version of the song, which is only fitting. Lee was apparently a huge fan of the song when it first came out.
"I was humbled that Tyla and Post chose to name a song after me," Lee says. "I couldn't wait to get my hands on it with them and give it my spin. We had a blast! They are the new rockstars! I love them both!"
It wasn't the first time Lee and Posty collabed — Lee played drums on "Over Now" a few years ago.
And who could forget at the end of last year, when Post Malone and Ty Dolla $ign channeled their inner space cowboy for the Western-inspired video for "Spicy," from Ty Dolla $ign's latest album. 
If he wasn't busy enough, he joined Lil Wayne on an updated version of "What About Me" on the deluxe edition of Tha Carter V. 
Posty started off 2021 strong by reuniting with Ozzy Osbourne in the action-packed animated video for "It's A Raid" that you just have to see to believe.
Their first collaboration came in the form of "Take What You Want" from Post Malone's album Hollywood's Bleeding.
And apparently, he almost collaborated with indie-folk band Fleet Foxes for their latest album, but things didn't work out. But never say never, because apparently Posty and FF frontman Robin Pecknold text pretty often. 
Outside of giving us the gift of a ton of new music, Posty has also given back. At the beginning of 2021, he donated 10,000 frontline workers pairs of Crocs to stay comfortable while fighting the COVID-19 virus. The rapper also teamed up with Musicians on Call for the fundraiser, which was an amazing gesture. He was definitely in the mood to give as after the Crocs collab released, Posty gifted every student and faculty member at his old high school a pair.
What did you think of Post Malone's Grammys performance? Sound off in the comments below!