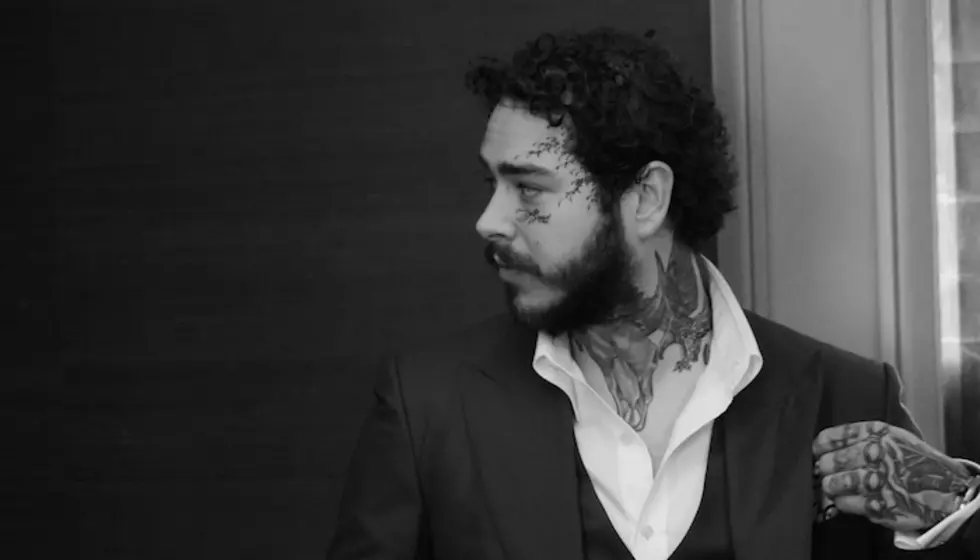 Post Malone debuts new face tattoo featuring blood-soaked art
[Photo by: Adam Degross]
Post Malone is on top of the world. He has a hit record, he starred in a Super Bowl commercial for Doritos and he's beloved by the hip-hop community and those outside of it for his incredible talent. He also loves tattoos. Well, Posty just added another tattoo to his collection.
Do you care to guess where? If you guessed his face, you're absolutely right. Post Malone just got another fact tattoo and it's equally as brutal as his last one.
Post Malone is no stranger to tattoos. Besides enormous amounts of talent, the 24-year old rapper is known for his trademark face tattoos. Just last month, the musician got a massive gauntlet and flail tattooed onto one of his cheeks.
In a January interview with TMZ Post Malone talked about his newest addition to the ink family.
"It hurt like a motherfucker," Malone says. "It's like a gauntlet and a flail… it's like a big spiked ball on a chain, it's pretty brutal. Finally, I said fuck it, let's do it."
Check out the ink below.
Well, last night Posty tatted up the other cheek with a bloody buzzsaw. It's a bit smaller than the previous which is good. It's good because when he runs out of space to tattoo on his face, we journalists may be out of a job. Check out his sweet new ink below.
Exactly what the inspiration behind the buzzsaw was, we don't know. It could be a reference to one of Posty's favorite video game series' Fallout.  Regardless, it looks cool.
More Post Malone
Good news for Post Malone fans. The rapper/singer recently stated that he hopes to put out a new record in 2020. Even though his most recent LP Hollywood's Bleeding just dropped in September, Posty wants to keep creating.
Posty is currently on the second North American leg of his tour. Following that run of dates, Post Malone hopes to be back in the studio.
You probably most recently saw Posty in his hilarious new Doritos ad for their new flavor. That's because the genre-blending artist was notably absent from the recent Grammy Awards, even though he had been nominated for two categories.
Post Malone cites that he needed some rest and relaxation for a bit before he hits the road again.
"I'm taking it nice and easy," he says in a recent interview with Rolling Stone. "I needed a little break because I've been partying a little hard, so it feels good to be back home and playing Call of Duty. I'm going to take some R&R and get some beauty sleep so my body and voice doesn't suck on tour. If I go to L.A., I'll get into trouble."
After this next leg of the tour though, Post Malone hopes to head back into the studio simply saying, "I hope to have a record out for the fans in 2020."
In the interview, Post Malone also commented on the health status of Ozzy Osbourne after the news broke that he has been diagnosed with Parkinson's disease.
Malone is well known for his work with Osbourne. The track "Take What You Want" from Hollywood's Bleeding featuring Osbourne and Travis Scott hit No. 8 on Billboard's Hot 100. The three also performed on stage together at the American Music Awards late last year.
Posty says he "had no idea" that Osbourne's condition was that serious. He then furth comments on their time together. "Working with him and hanging out with him and being around him, you can't tell," Malone says. "You can tell he has a little difficulty getting around, but he's so strong." Malone also says "He's [Ozzy] going to keep kicking ass."
What do you think of Post Malone's new ink? Sound off below!
[envira-gallery id="194987"]