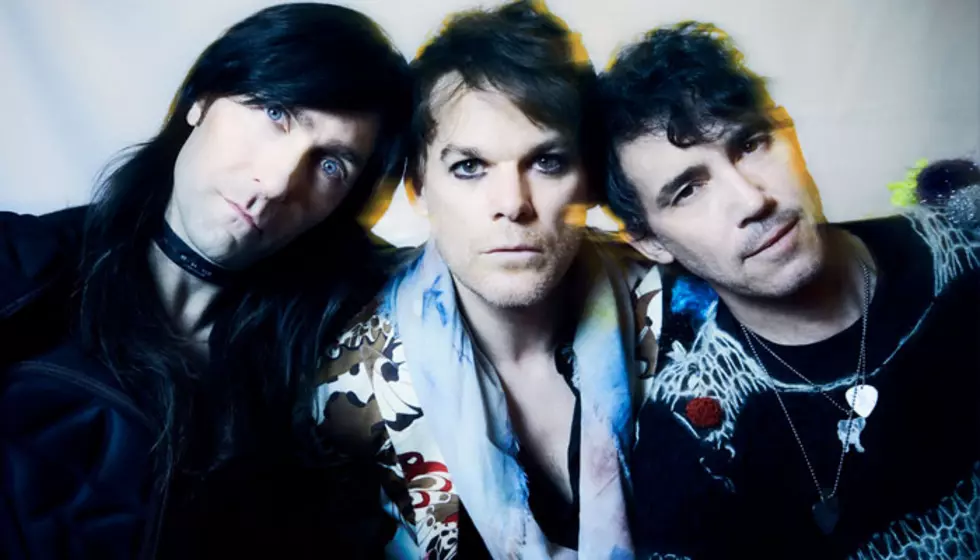 See Michael C. Hall's band cavort in pre-pandemic NYC in their new video
[Photo: Paul Storey]
You've probably seen actor Michael C. Hall on your television (Six Feet Under, Dexter) or belting it out on Broadway in the lead role of Hedwig And The Angry Inch. But now you're going to see and hear him in a completely new context. Introducing Princess Goes To The Butterfly Museum, a triumvirate featuring Hall, drummer/programmer Peter Yanowitz (Wallflowers, Morningwood) and Blondie keyboardist Matt Katz-Bohen. The three met on the Hedwig set six years ago and decided to collaborate under a name suggested by Katz-Bohen's daughter.
The six songs on the band's self-titled debut mini-LP (released April 2) explore electronics from multiple angles. From celestial Beach Boys vibes ("Don't") to soulful electro-pop grooves ("Come Talk To Me") and the foreboding and whimsical "Vicious," Princess Goes To The Butterfly Museum are creating intersecting hybrids of introspective dark pop and contemporary readings of post-punk. At the center of it is Michael C. Hall's considerable vocal/psychic range.
Today AltPress is premiering the video for "Vicious." It was filmed days before New York imposed stay-at-home orders in response to the pandemic. Michael C. Hall, Yanowitz and Katz-Bohen are frolicking on the subway like nothing's wrong. But as we all know, that was months ago. We asked the trio some questions about the song, the video and what kind of hindsight they're feeling right now.
What is "Vicious" about? Is it about the death of innocence, empathy and mindfulness? The old man riding the train in the final sequence seems like a hopeful gesture. Or maybe he signifies that personal joy may be a relic in these troubling times.
MICHAEL C. HALL: Generally speaking, I'm reluctant to say what anything is about. I think this song is about whatever any individual listener thinks and feels it's about. Though the interpretation contained in your question is a pretty compelling one.
Looking at the video for "Vicious," does it feel weird that the [relative] world of normalcy captured on the clip has completely disappeared? It feels like a commentary/subtext was being made that wasn't there in the video in the first place but is quite recognized now via hindsight.
PETER YANOWITZ: We shot the video on March 5 with director Samantha Scaffidi, who did our last video for "Come Talk To Me." On March 5, nobody knew what was coming. The idea of lockdown and social distancing wasn't even a thought, and nobody was in a mask. Of course, on March 13, everything changed in New York City, and we could have never made that video after that without being the biggest assholes around.
And in that sense, we felt really lucky, and we were really grateful to Sam and Maceo Bishop, our incredible DP, and his assistant DP Pierce Robinson—who shot this all on two Bolex cameras using 16mm film and Super 8—for being so down to capture a moment in NYC with Princess. We all went out with the attitude that we didn't know what was going to happen, and everyone was so down to let it play out. Looking at it now fills me with a lot of emotions and some melancholy. I miss that NYC so much. Is everyone who we saw and interacted with that day still alive? What happened to that incredible subway dancer? He probably got the most germs that day. When will I see my bandmates again?
The members of PGTBM are cavorting on the subway, from typical horseplay to attempts at professional pole dancing. Were the New Yorkers on the ride patently bored, or did anyone actively want the band to get the hell out of their commute?
 MATT KATZ-BOHEN: The reactions ranged from mildly amused to somewhat perturbed. New Yorkers have seen it all on their morning commutes (see: Eric Andre). It takes a lot to ruffle their feathers. I like to think they saw us as being some sort of dream remnant returning to bless them with one last pole dance.
Check out Michael C. Hall and Princess Goes To The Butterfly Museum's last cavort through the Big Apple and their new music below.