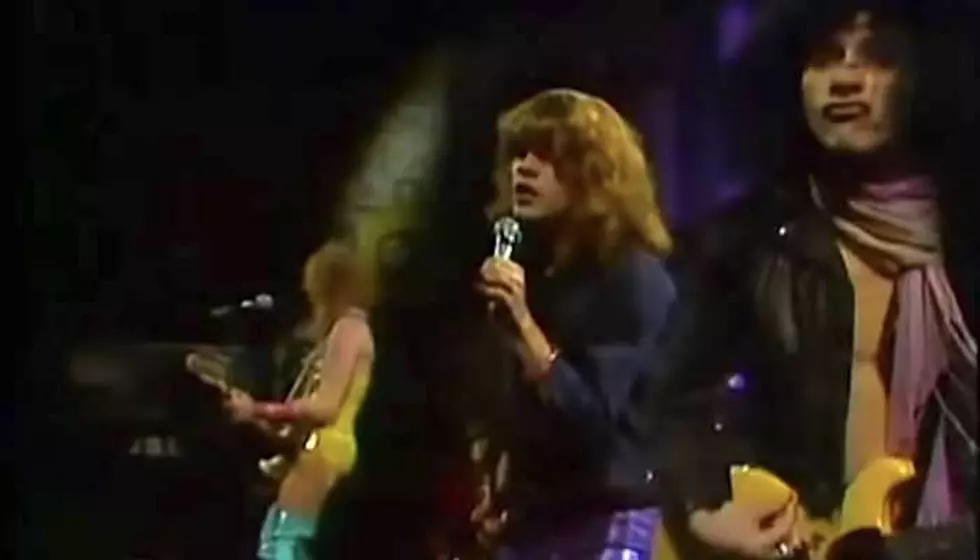 8 punk rock heroes who shaped the genre before most of us were born
[Photo via YouTube]
"People try to put us down," protest punk artist YUNGBLUD snarls over two viciously downstroked guitar chords. "Just 'cause we get around/The things they do look awfully cold/Hope I die before I get old…"
"My Generation," he spits out further before the rest of his band kick in during a live video filmed in the studios of Toronto radio station Q107. "My generation, baby…"
Wow! YUNGBLUD just unleashed the ultimate two-chord punk anthem, a real statement of purpose for the youth, right?
Well, indeed, he does...the youth of 1965! "My Generation" was written by Pete Townshend as a springboard for his band the Who to smash their gear at the end of the gig every night—the ultimate fuck-you statement...
Just goes to show you: Before punk rock, there was punk rock. Before that, there was punk rock. And if you dig further, there was punk rock. The punk impulse and attitude ("You don't need permission for anything," Johnny Rotten once posited) is as old as time itself. YUNGBLUD just firmly placed himself in The Punk Tradition. He isn't covering the Sex Pistols. He's covering the Pistols' fathers, the Who.
But who fathered the Who? Or grandfathered the Pistols? You have to go back to the 1950s, rock 'n' roll's dawn. Essentially, anyone playing punk rock is a descendant of Link Wray.
Link Wray
Sure, old blues guys cranked their tinny, cheap tube amps until they screamed with distortion in the '40s. But Link Wray, a Native American of the Shawnee tribe, was so badass, he sliced his amp's speakers with a razor blade and blasted 'em out of annoyance with his anaemic tone. Chords were reduced to two fingers, two strings and two frets, thereby uncovering those blown speakers' dark beauty as they revolted against the volume he was pumping through the shards. This invention was later dubbed the power chord, creating the sonically violent guitar sound you recognize in all hard rock, heavy metal and punk rock since. Wray was so badass, he issued a two-chord stomp in 1958 called "Rumble" that got banned in several U.S. cities for fear it would incite violence and juvenile delinquency. Pretty punk rock, eh? 
Here's Wray playing "Rumble" in 1984—55 years old, still skinny, all-black leather, shades and attitude, prowling the stage with a sideways grin, playing those two chords louder than God and with more menace than a man his age is supposed to deliver. He was ageless then and ageless to his 2005 death, playing and looking exactly like this. Once a punk, always a punk...
The Kinks
It's a straight line from Link to the Kinks. Guitarist Dave Davies also hated the sound of his cheapjack practice amp and carved up his speakers, rediscovering the same blasted-out overtones Wray pioneered. He feuded with his brother Ray constantly, even when the lead singer developed into a songwriter of such sophistication, he rivaled Lennon and McCartney for emotional and melodic sophistication and storytelling power. But what's of interest here are the Kinks' beginnings as a two-chord riff machine who essentially invented what we now know as garage punk. "You Really Got Me," is the best, Dave revelling in his bonehead crunch and Ray delivering the lyrics with a flat sneer every U.K. post-punk singer would later rip-off wholesale.
The Who
Ray Davies helped convince the Who's Townshend of the combined power of two distorted chords and a song about real things rather than idealized teen romance. That'd been the purview of pop up to this moment (and let's face it, has been since, as well). As noted in his Who I Am memoir, Townshend realized early on he was an artist with patrons—the pilled-up, sharp-suited mods populating his shows. So he combined his destructive, feedback-riddled guitar ethic and Keith Moon's explosive drums with well-crafted tunes such as "Anyway, Anyhow, Anywhere," an anthem of teenage autonomy like none heard before ("Nothing gets in my way/Not even locked doors/Don't follow the lines/That've been laid before"). The interviews interspersed with this 1965 performance from vintage U.K. pop show Ready Steady Go! see Townshend winding up all adults: "Our group has no quality—it's just pure musical sensationalism!" 
The Sonics
Soon, this badass attitude and guitar action the Brits learned from Wray would travel back to the States, absorbed by suburban teens with pawnshop Fenders, fuzzboxes and rock 'n' roll dreams, learning those two chords in the family garage. This led to their British Invasion reaction getting called "garage rock" or "garage punk" in later years. You won't find a squarer punk root than Tacoma's garage kings, the Sonics. They'd formed in 1960 as another typical teen combo of the day. By the time lead screamer Gerry Roslie brought them "He's Waitin'" in 1965, they'd become something nastier and raunchier—note the lyric about Satan taking vengeance on a cheating girlfriend: "It's too late/You lied/Now you/Will fry!" Sadly, no footage seemingly exists of the Sonics aside from their reunited form, members now 70-something and still playing demonic riff rock.
The Stooges
Four Ann Arbor teens also felt juvenile delinquent rock's cudgel being passed onto them, almost literally. Young Ron Asheton traveled to England in 1965 where he picked up a piece of Townshend's wrecked Rickenbacker from the Marquee Club stage after another typically torrid Who set. Iggy Pop, meanwhile, confessed recently on Epix's Punk docuseries that as young Jimmy Osterberg, he'd pull the sheets over his head as his transistor radio screeched out "You Really Got Me." Soon, they applied their lessons to a mutant white suburban blues they'd jacked up and distorted beyond recognition, alongside Ron's brother Scott on drums and bassist Dave Alexander. The Stooges, heard here with the 1969 eternal "I Wanna Be Your Dog," would forevermore be the soundtrack to saying "fuck this."
MC5
The Stooges learned plenty from Detroit spiritual older brothers MC5, who'd absorbed those same two blown-out chords from overseas as Iggy and co. But Wayne Kramer on lead guitar, co-guitarist Fred "Sonic" Smith, Dennis "Machine Gun" Thompson (a drummer with chops and power to rival the Who's Moon), bassist Michael Davis and singer Rob Tyner added a strong dash of free-jazz exploration and the radical politics of the day to their loud R&B mutations. For kicking out the jams so intensely, the band were under surveillance/harassment by local police and government intelligence agencies, had their living quarters bombed and got banned by major department stores. MC5 died for your sins. Literally. And all we get are glorious anthems such as "Ramblin' Rose," "Kick Out The Jams," and "Looking At You."
New York Dolls
The apotheosis of these 15 years of channeling Wray was the New York Dolls. It's a very short drive from the Dolls to the Ramones and Sex Pistols: The dark-horse glam band, they resembled five transvestite strippers parodying the Rolling Stones, mixing black leather with the entire contents of several thrift stores' women's departments and their girlfriends' makeup bags. Singer David Johansen and guitarist Johnny Thunders particularly resembled Looney Tunes caricatures of Mick Jagger and Keith Richards, while Thunders' slashed-speaker power chords and Chuck Berry leads became the blueprint for every punk guitarist to come. Johansen articulated the basic attitude best, telling Rolling Stone, "We like to look 16 and bored shitless."
Rolling Stones
Perhaps the Dolls spent their brief four years on Earth reproducing the 1968 "Jumping Jack Flash" video, repeatedly? Dig the rudimentary riff, black leather, makeup and swagger. Yep—the Rolling Stones are Fathers Of Punk.
So really, punk rock's an ancient art form that remains eternally vital. Anytime you blare a tube amp until it screams, play a minimal chord progression and snarl "fuck you" to a mutated rhythm-and-blues format, then dress it in black leather? That's punk rock. Exhume Wray's corpse and ask him about it.