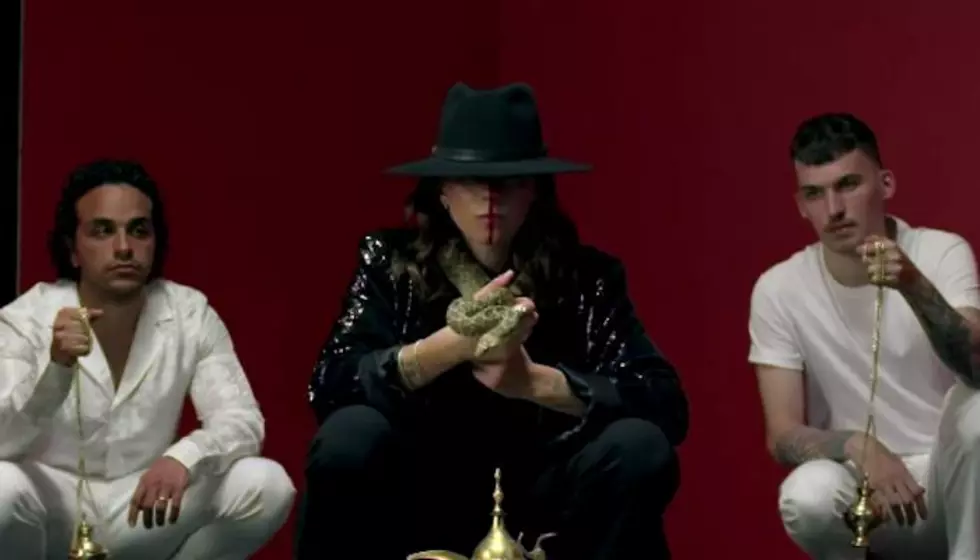 Do you know the lyrics to "Hallucinations" by PVRIS?
[Photo via YouTube]
Following up their summer single, "Death Of Me," PVRIS just released "Hallucinations" after spending a week sending exclusive vinyls to fans with the new song on it. 
The band recently announced that their upcoming EP will drop Oct. 25. A full-length release is also expected in early 2020. For the meantime, we hope you've been spinning the new PVRIS track enough to know all the words. Do you know the lyrics to "Hallucinations"? Take the quiz below to find out!
More on PVRIS
This week, pop-seared darkwave enthusiasts PVRIS released "Hallucinations," their second new tune in as many months. As with the band's previous single, "Death Of Me," the dynamic song is full of tiny sonic detailing—oscillating guitars, wobbly electronic effects, shimmering percussion—and an explosive chorus, from which deep dance grooves and propulsive beats rain down like confetti.
"Hallucinations" had an interesting piecemeal genesis: Vocalist/multi-instrumentalist Lynn Gunn started the song in Los Angeles last year during a co-writing session with Marshmello and Amy Allen and later finished it at a separate session in Nashville with JT Daly. Gunn especially found a kindred spirit in Daly, the frontman for Paper Route who's also co-written songs for K.Flay; in fact, he's become her go-to musical collaborator for this current round of recording.
The "Hallucinations" video is quintessential PVRIS. It includes references to the occult and alien abduction, among other things. ("We wanted to have the video look like a really bad trip," Gunn tells AP.) However, longtime fans will certainly recognize that both "Hallucinations" and "Death Of Me" show off a poppier side of PVRIS. This isn't necessarily a new direction. Instead, it represents the band amplifying different existing elements of their sound—and seamlessly leaning in more to their pop side.
"The drums are a lot tighter," Gunn says of the new music. "They're a lot less reverb-y, but they're still booming. They're still really locked in and heavy-hitting. The guitars are a lot tighter and a lot drier and crunchier. They really, really pop perfectly with the drums. It leads to a lot slicker and a cleaner production, which in my opinion bops a lot more." [Laughs.]
Gunn assures that more new PVRIS music is "guaranteed" to come within the next year. "It's just a matter of when," she says. "Absolutely within the next year. There's a lot of new stuff coming." As per usual, these songs will demonstrate that trademark PVRIS diversity. "No one song is going to be similar to the other," Gunn says. "So [fans should] keep their ears peeled for a few different flavors."
AP spoke with Gunn as she was heading to the airport to catch a flight to Vienna, Austria, as PVRIS were due to kick off a string of appearances at major festivals. You can read the full interview here.