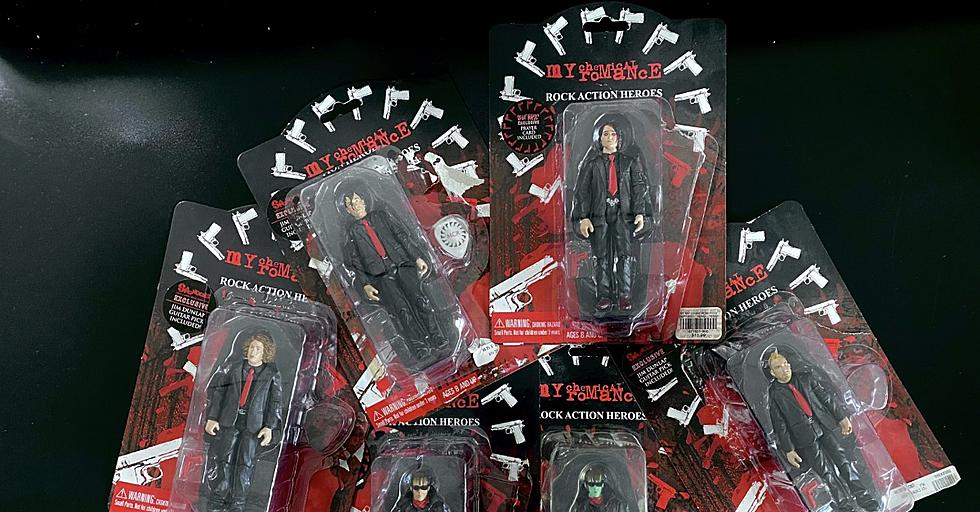 From action figures to jumpsuits, these are the 23 rarest My Chemical Romance collectibles
Pick any given day to search "My Chemical Romance" on eBay, and you will be bombarded with thousands of exorbitantly priced listings. But is that Danger Days: The True Lives Of The Fabulous Killjoys California 2019 boxset actually worth $3,000? 
Some of the MCRmy's most devoted collectors and yours truly scoured our inventories for some true rarities…
My Chemical Romance Rock Action Heroes
Limited To: Unknown
Rarity:
99.873%
In 2005, MCR teamed up with SEG Toys to create their very own action figures. Each came equipped with a tiny handgun and a coffin for storage. If you were lucky enough to have bought yours at Spencer's or Hot Topic, you will have also received a retail-exclusive Revenge guitar pick or a prayer card designed by Gerard Way himself. And let us not forget the super-rare zombie variations. The only full set we've witnessed was from a fleeting Instagram story post by MCR booking agent Matt Galle.
¡Venganza! Bulletproof Vest and Bullet USB Flash Drive
Limited To: 5,000
Rarity:
99.920%
Honestly, we're including this one so you can watch the bananas commercial Warner put together for it. In all seriousness, though, these were fairly limited, and the bullet-shaped USB featured the Three Cheers For Sweet Revenge portion of MCR's "The Black Parade Is Dead!" performance in Mexico. For those unfamiliar with the Black Parade tour: MCR would play through the entirety of TBP as the fictional band the Black Parade, "opening" for MCR.
I Brought You My Bullets, You Brought Me Your Love White Vinyl
Limited To: 100
Rarity:
99.998%
According to Killjoy extraordinaire Devan Mickell's records, one of the rarest MCR vinyl is the white
Bullets
variant. Released in 2009, this bad boy was limited to only 100 copies. Potentially even rarer, though, is the "Honey, This Mirror Isn't Big Enough For The Two Of Us" seven-inch. However, pressing counts have been lost to time, and we are unable to confirm as of this writing.
Conventional Weapons Seven-inch Vinyl Box Set (Misprint)
Limited To: Unknown
Rarity:
99.841%
From Oct. 30, 2012 to Feb. 5, 2013, My Chemical Romance dropped 10 tracks from their scrapped 2009 album Conventional Weapons. Two new tracks were rolled out monthly, pressed on seven-inch vinyl. Shipped with the final record, Number 5, was a box to store all the albums inside. Said box, however, has the track name for No. 2 and 3 switched on the back, technically making every one issued a "misprint," should they choose to repress in the future. Hang onto these if you have them!
Danger Days: California 2019 Deluxe Edition Box Set
Limited To: Unknown
Rarity:
99.682%
The limited-edition box set for MCR's Danger Days: The True Lives Of The Fabulous Killjoys was an online exclusive that had a bit of a storied entry into collectors' hands. It was only sold for a limited time, and eventually shipping was postponed because of quality issues with the original run of rayguns. WBR emailed those of us who ordered: "[W]e want your rayguns to be perfect. What arrived here was not up to our standards for you, so we sent them back to make them better." The sets included the album, a "bad luck beads" bracelet, one of four masks and guns modeled after each band members' and — perhaps the most coveted of its contents — The Mad Gear And Missile Kid EP. Three raucous punk songs from the fictional band the Killjoys will have been listening to while speeding across the desert in their old Trans-Am.
Danger Days Replica Jackets
Limited To: Unknown
Rarity:
99.992%
In 2011, with Killjoys' fever in full effect and the band's World Contamination tour underway, MCR released jackets modeled after each of the band members' Killjoy characters, delighting cosplayers and alt-fashion enthusiasts alike. While exact quantities aren't available for these, a couple of the designs sold out quickly, leading us to believe they were relatively limited.
Return Show "DEVOTION" Blankets
Limited To: Unknown
Rarity:
99.998%
When it came to witnessing MCR's December 2019 return at LA's The Shrine, fans were absolutely not playing around. Many camped in line for several days, which led to an unexpected happy surprise the night before the Dec. 20 show. After soundcheck that night, the band members themselves passed out blankets to the waiting fans. The black blankets feature the then-new sun symbol and text reading "DEVOTION." The following morning, crew members handed out the remaining blankets, but those first fans to receive this token of empathy have a moment and an item they will cherish for a lifetime. 
 

View this post on Instagram

 
"Famous Last Words" Promotional VHS
Limited To: Unknown, distributed to broadcasters
Rarity Rating: 99.999%
This piece of MCR history was a particularly interesting Discogs find on the part of Twitter user @LIET0ME. "I found it while looking for MCR VHS tapes (I have 'The Ghost Of You,' too!)," they say. "It comes with a dated and signed tech sheet from IMD and Warner Bros. that says it's the final version for broadcast." IMD Fastrax is a music video delivery service, meaning the company is responsible for getting music videos into the hands of relevant broadcasters — both terrestrial and online — across the world. Because most companies now work with digitized media rather than VHS, it's unlikely that many of these still exist.
Frank Iero Lithographs
Limited To: 200 per photo
Rarity:
99.996%
Prior to the release of Danger Days, My Chemical Romance released a series of photos taken behind the scenes by guitarist Frank Iero. Each print was limited to 200 copies, individually stamped, signed and numbered. Because of that, and because of the lithographic printing method, no two are the same. If you own one of these, congratulations: It's a one-of-a-kind art piece! Later, the band would release another litho titled "From Shibuya With Love" featuring the band in Japan. It was sold to benefit tsunami relief and was also limited to 200 prints.
Gerard-designed MASScanvas Charity T-shirt
Limited To: 774 or 2019
Rarity Rating:
99.987% or 99.967%
In 2011, design contest company MASScanvas teamed up with MCR to give fan artists the chance to create their own MCR shirts under the design prompt "Good Vs. Evil." Gerard led the way with the Party Poison portrait shown above. Five final designs were chosen by the band, then sold with all proceeds going to the Make-A-Wish Foundation. Each fan design was limited to 2019 shirts and Gerard's to 774.


Limited-edition Blood Sand Hourglass
Limited To: Unknown
Rarity Rating: 99.873%
We have to give it to them: MCR have always been creative when it comes to their specialty merch. This hourglass (seriously, who makes an hourglass?) trickles blood-red sand and features a lyric Gerard Way once said was among his favorites ("Oh, how wrong we were to think/That immortality meant never dying") on top. While this hourglass was listed as "limited edition" and seemed to have sold out quickly, fans have noted that it later reappeared on the website. Perhaps some got lost in a warehouse initially? It's a mystery.
Hurley Prom Knight Jacket
Limited to: 600
Rarity Rating:
99.990%
In 2006, Gerard Way joined forces with Hurley to create a limited-edition blazer — a garment that would be dubbed "The Prom Knight Jacket." The collaboration came about as a result of Hurley marketing director Greg Teal's eagle-eye for details. Hurley had released a blazer in 2004 that Gerard was known to sport, but Way didn't just sport it: He distressed it, ripped holes in it and even got creative with spraypaint. Inspired by Way's DIY alterations, Hurley asked Way to work with them on a blazer. "I wanted something casual yet formal...kind of sleek. Something a gentleman would wear to a duel," Way explained in an early press release. 
I Brought You My Bullets, You Brought Me Your Love Mariachi CD Misprint
Limited To: 100
Rarity Rating:
99.998%
When
we asked Iero
what the rarest piece of MCR merch is, he revealed that it's the original CD pressing of
Bullets
. "It was limited and numbered to 100 copies and only sold at the record release show at the Loop Lounge in Passaic, New Jersey," he says. "Most, if not all, of those CDs are misprints and contain 12 tracks of unknown mariachi music and no MCR tracks."
The "Mark Carson" Promotional CD
Limited To: Unknown
Rarity Rating:
99.999%
Record labels have been known to pull some pretty sneaky tricks to avoid music leaking ahead of its official release date. When it came to advance copies of The Black Parade being dispatched to the media, it arrived on an unassuming CD by "Mark Carson." Pictured here is the copy sent to former AltPress Editor-In-Chief Jason Pettigrew, complete with "The Sharpest Lives" listed under its working title "A Kiss Before She Goes." This packaging definitely makes us wonder: How many of these got tossed aside without anyone knowing it was the then-new MCR album?
 

View this post on Instagram

 
On Raven's Wings
Limited To: Unknown
Rarity Rating:
99.992%
Who the f*%k is Garry Way? In 1994, at age 16, Gerard Way published his first comic book under the name "Garry Way," for some reason. And, whoa buddy, the lore on this one is pretty wild and includes Way appearing on the Sally Jessy Raphael show and, later, some truly whack-a-doodle internet drama created by Boneyard Press' founder Hart D. Fisher. That, however, is a story for another time. The two-part series originally retailed for $2.94, but you can now find the issues being resold online for upward of $200.
Return Show VIP Swag
Limited to: Unknown
Rarity Rating:
99.999%
If you were a VIP at MCR's Return show at the Shrine in 2019, you might have had the chance to snag one of these exclusive Christmas ornaments featuring either the "Merlin" MCR logo or the candle, hand, water or sun symbol. Those closest to the band also received a bottle of vintage Dom Pérignon champagne etched with the details of the show.
 

View this post on Instagram

 
"Ring Of Fire" Armband
Limited to: Unknown
Rarity Rating: 99.992%
In the Revenge days, these armbands were a badge of honor of sorts, and highly sought-after within the MCRmy. Considering how coveted these were in 2005, we can't even imagine how rare they are in 2022.
The Roxy Secret Show Merch
Limited To: 1,000
Rarity Rating:
99.984%
In 2009, My Chemical Romance surprised us all by going rogue and doing two "secret shows" at Hollywood's 500-capacity Roxy Theatre in the middle of recording what would become Conventional Weapons. The show flyer was an incredible mugshot-style character drawing designed by The True Lives Of The Fabulous Killjoys comics' illustrator Becky Cloonan and sold exclusively at the show. In addition to the poster, the pictured raglan shirt was also made just for the show.
Shirts For A Cure Tees
Limited to: 112
Rarity Rating:
99.998%
My Chemical Romance have always been strong supporters of charity — especially those benefiting cancer patients and research. Founded by rock photographer Mark Beemer in 2002, the Syrentha J. Savio Endowment, or Shirts For A Cure, donates proceeds of limited-edition merch to assist underprivileged breast cancer patients. While all MCR x SFAC shirts were limited, Beemer told devoted merch archivist Kri Knight that the shirt pictured below was "printed and sold only once for 2011 Bamboozle On The Beach when the festival returned to Asbury Park. [We] printed maybe 112."
Black Parade Tour Crew Jumpsuit
Limited To: < 50
Rarity Rating:
99.999%
Every now and then, actual MCR gear- or crew-exclusive items show up online, often to benefit charity. Kri, creator of an extensive MCR merch masterlist and creator of Instagram merch archive @onlydressthatway, managed to snag one. When they asked longtime MCR guitar tech Matt Cortez about the jumpsuit, he explained, "It was super hot, and the crew got sick of wearing it!"
The Black Parade Is Dead! Pine Box Set
Limited To: 10,000
Rarity Rating:
99.841%
In addition to The Black Parade Is Dead! CD/DVD combo, fans also received a randomly selected Dia De Los Muertos mask in a pine coffin for the release's box set. To verify authenticity and rarity, the coffin also holds a signed and numbered death certificate. There were five versions of the masks, each designed by a member of the band. The mask pictured in the photo below was Ray Toro's.
The Fuzzy Box
Limited To: Unknown
Rarity Rating:
99.683%
The Black Parade's special-edition boxset, referred to by the band themselves as "the fuzzy box," includes the CD, art prints and a book featuring testimonials from the band members about each track and the abridged story of their writing at the infamously haunted Paramour Estate in Los Angeles. By the way, does anyone else remember the black slipcase version of TBP? With the gray cover being the one featured on all streaming platforms, it's easy to forget the CD originally came with our beloved Pepe marching on both gray and on black backgrounds.
Tokyoflash x MCR Seikatsu Koujou Kyokusen Watch
Limited to: Unknown
Rarity Rating:
99.992%
We would apologize for the amount of Danger Days-era items on this list, but the MCR merch team really stepped it up for that particular release, so sorry, not sorry. The band's collaboration with Japanese watch company Tokyoflash yielded a hyperfuturistic timepiece that felt like it came straight from the BL/ind headquarters. All Tokyoflash designs are original and produced only for a limited time, meaning fan preorder numbers will have directly influenced manufacturing numbers. Because several of these were faulty, you can still sometimes find them being sold at their original price of $125.