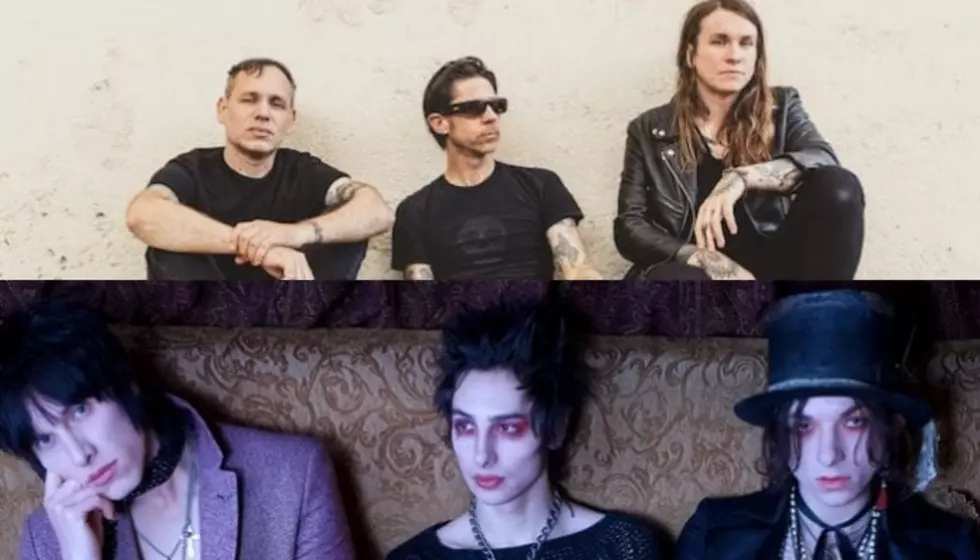 Reading & Leeds adds Palaye Royale, Laura Jane Grace to lineup
[Photos: Laura Jane Grace and the Devouring Mothers/Katie Hovland, Palaye Royale/Giselle Dias]
Reading & Leeds Festival has added more than 40 acts to the lineup including some of our favorites such as Laura Jane Grace & The Devouring Mothers, Palaye Royale and more.
The new names join our other favorites like twenty one pilots, Post Malone, Foo Fighters, Billie Eilish and the 1975.
Last month, the festival unveiled many additional acts including Machine Gun Kelly, Mayday Parade, SWMRS, Boston Manor, PUP, Basement and Of Mice & Men.
Over the three days, the 1975 will headline Friday, Aug. 23 in Reading and Saturday, Aug. 24 in Leeds. Foo Fighters will headline Leeds on Friday, Aug. 23 and Reading on Sunday, Aug. 25. Finally, Post Malone and twenty one pilots will share the headlining spot in Reading on Saturday, Aug. 24 and in Leeds on Sunday, Aug. 25.
You can check out the full lineup below.
Also, check out the full list of artists below.
Reading & Leeds Lineup
Æ MAK
Aitch
Anteros
Anti Up
Bad Child
Bakar
Barny Fletcher
Basement
Belako
BiG Heath
Black Honey
Blade Brown
Bleached
Blood Youth
Boston Manor
Brunswick
Cemetary Sun
Childcare
Clairo
Counterfeit
Danileigh
Dappy
Dave
Deno Driz
Dig Dat
Dillon Francis
Dimension
DJ Target
Dreamers
Dream State
Geko
Georgia
Ghostmane
Higher Power
Himalayas
Hobo Johnson & The Lovemakers
Hot Milk
Jaguar Skills
James Organ
Jeremy Zucker
Just Banco
Kawala
Kenny Allstar
Kim Petras
King Princess
K-Trap
Laura Jane Grace & The Devouring Mothers
Loski
Mabel
Machine Gun Kelly
Maleek Berry
Masicka
Mayday Parade
Mella Dee
Milk Teeth
Mini Mansions Moontower
Mtrnica
Muzzy
Nahmir
NAV
Night Riots
Oddity Road
Of Mice & Men
Oocean Ally
Palaye Royale
Palgue Vendor
Pink Sweat$
Paris
Patent Pending
Picture This
Pip Blom
Press Club
Prospa
PUP
Puppy
Queen Zee
Roddy Ricch
Saint JHN Sea Girls
Smokesac
Sons Of Raphael
Sophie And The Giant Sports Team
Stand Atlantic
SWMRS
Teddy
The Faim Fidlar
The LaFontaines
The Snuts
Tiffany Calver
Tion Wayne
Tommy Genesis
Truemendous Valeras
Tyla Yaweh
Unkown T
White Reaper
YBN
Zuzu
You can purchase tickets for this year's festivals here.
In other news, the festival's new addition, Laura Jane Grace and the Devouring Mothers, just released a Wayne's World-inspired video for "I Hate Chicago." 
You can watch that below.
Laura Jane Grace is not the only person bringing Wayne's World into 2019. At this year's Oscars ceremony the stars of the film reunited to present Bohemian Rhapsody.
Also, Palaye Royale, who were just added, unveiled a fan-made video for "Hospital Beds" earlier this month.
The new music video features old footage layered on top of each other. According to a message put out by the band, fan Ansley Wiederholt created the art film.
Additionally, the band say the music video is meant to replicate "the outer depths of thinking, feeling, creating and existing."
Check out the band's statement, which is present at the beginning of the video, below:
"Four years ago in a basement in Los Angeles, Sebastian and Emerson would work endlessly editing art films for every song on Palaye Royale's first EP 'The Ends Beginning.' In this time developing a style that mixed experimental footage to accompany the music. A sort of historical utopia. Including footage of humanity in its glory and destruction, ranging from the 1920s-1970s, this film footage is overlaid on one another to explore the outer depths of thinking, feeling, creating and existing.
"Now to see the fans continue these ideas we developed as art films and to add their own personal touch into the editing and message of the visual is absolutely inspiring to us. This art film for "Hospital Beds" was created by the very talented Ansley Wiederholt, a Soldier of the Royal Council. We are thrilled to see this community of revolutionists come together and strive to create something bigger than all of us. This is the greatest family we have ever known. A place where it is safe to create and help one another grow and evolve past the expectations of normality."
What do you think of the new additions to Reading & Leeds? Sound off in the comments below!
[envira-gallery id="199143"]