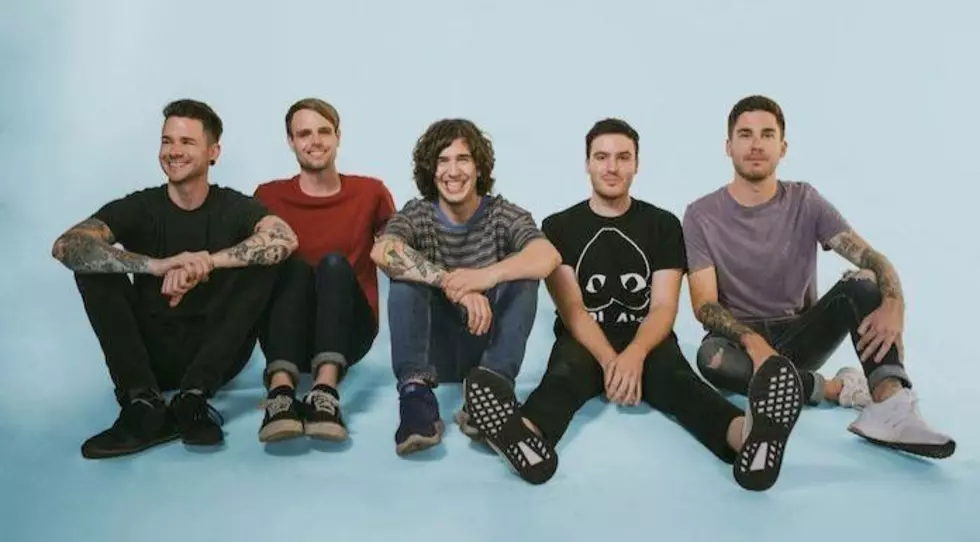 10 things Real Friends want you to know about 'Composure'
[Photo by Megan Leetz]
Stoked for the release of Real Friends' new record, Composure? Yeah, us too. We're so excited about the new LP, in fact, that we recently sat down with vocalist Dan Lambton and bassist Kyle Fasel and got them to dish the dirt on Composure's recording process. Below are 10 facts about the album that any Real Friends trivia expert ought to know.
Read more: Is Ron Jeremy a Real Friends Fan?
COMPOSURE IS NOT JUST ABOUT THE BAND MEMBERS THEMSELVES, BUT THOSE AROUND THEM.
"Some of it is self-reflection," says Fasel of Composure's lyrics. "But a lot of it is about people close to me and watching them end up where I didn't expect them to. That stuff is really personal to me, and I hope people can relate to it."
IT WAS RECORDED OVER TWO SEPARATE SESSIONS IN SEPTEMBER AND JANUARY.
"We recorded the bulk of it in January with [producer] Mike Green," Fasel explains. "We'd also been in the studio in September to give ourselves a head start, and that really helped us. It was nice to not feel like we were running out of time."
"UNCONDITIONAL LOVE" IS KYLE FASEL'S FAVORITE SONG ON THE RECORD, BUT IT NEARLY DIDN'T MAKE THE CUT.
"We pushed the boundaries with it," he states. "It's got a slow vibe and doesn't sound like anything we've done before. It's got a real groove to it, and at first I wasn't sure if it could even go on a Real Friends record. But now, it's one of our favorites."
COMPOSURE FINDS DAN LAMBTON CONTRIBUTING MORE LYRICS THAN ON PREVIOUS RELEASES.
"I contributed on [previous album] The Home Inside My Head, but before then, I'd only written lyrics for two songs," Dan Lambton recalls. "Previously, I'd been Kyle's editor: I'd paraphrase stuff or change the odd thing. But on Composure it's a 50-50  split between me and Kyle, and I'm happy that I was able to contribute more."
THE DECISION TO CANCEL TOURS POST-RECORDING WAS BOTH CRUCIAL AND ESSENTIAL.
"It got to the point that I couldn't have a conversation with Dan, because his behavior was so manic," Fasel remembers. "But Dan has always had a good heart. It was never a case of my being, 'I hate this guy.' It was more like, 'This guy needs to get help.' Having been around that situation, canceling the tours was sort of a relief."
THE TITLE TRACK  WAS WRITTEN BEFORE THE ALBUM TITLE WAS DECIDED.
"We were trying to come up with album names, and we thought Composure was cool and accessible," Fasel outlines. "The song says, 'I'm reclaiming my composure,' and that represents us as a band. The Home Inside My Head didn't really help us––I don't think we advanced any further in our career. And I don't want to come off as ungrateful––we're very lucky to be where we are––but this record is us moving forward and reclaiming our composure."
THE RECORD WASN'T COMPLETELY WRITTEN BEFORE GOING INTO THE STUDIO.
"Normally, we have everything done by that point," Lambton explains. "But this time, we did a lot of writing in the studio with Mike. People think that writing with a producer equates to label manipulation, but we were in complete control throughout, and Mike works in a very similar manner to us, anyway. He was like the sixth member of the band."
JEREMY MCKINNON AND ANDREW WADE WORKED ON THE TRACK "RIPCORD."
"We did some vocal production with them on two songs, one of which was 'Ripcord,'" Fasel says. "A thing we really wanted to hone in on with Composure was the catchiness of the vocals, and Jeremy and Andrew are so talented at that. They showed us new ways to do things."
AND WHEN WORKING ON "RIPCORD," MCKINNON AND WADE PUT DAN LAMBTON "ON TRIAL."
"Jeremy and Andrew were questioning Dan about the lyrics and the situation they describe," Fasel recalls. "It was as if they were in a courtroom, but it was done in order to drag the emotion out of him. They really got to grips with the story of the song."
THE MESSAGE OF THE RECORD IS SOMEWHAT AMBIGUOUS.
"I'm really keen on people attributing their own meanings to songs," Fasel says. "As long as people can listen to the music and connect with it in some way, then I'm happy. I'm all about people coming up with their own interpretations."
Composure will be released July 13 and can be preordered here. The band will be on Vans Warped Tour this summer, and you can check out the full list of dates here.