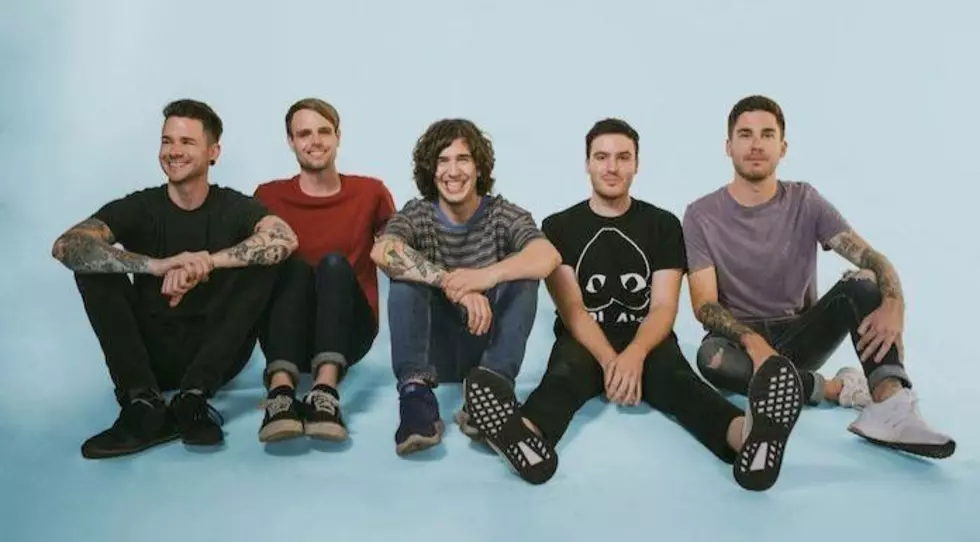 Real Friends admit questioning their future while recording new album, 'Composure'
[Photo by Megan Leetz]
Real Friends' last album, 2016's The Home Inside My Head, spawned tracks the band's fans fell in love with and saw the Chicago natives once more touring the world with their earnest brand of pop punk. On the outside, all seemed fine, but internally, the band were not happy with the music they'd put together.
Read more: Real Friends' bassist Kyle Fasel published debut poetry book
"We were not stoked on our last record," begins bassist and chief songwriter Kyle Fasel. "After recording, I immediately knew it wasn't our best album. We learned a lot of lessons from that, one of which was that we needed to work on the catchiness of our songs. And that wasn't us wanting people to like the songs more––we wanted to be better songwriters. Looking back on The Home Inside My Head, we really weren't satisfied with it. It's not a good representation of our capabilities."
For their third album, Real Friends set out to rectify those mistakes, aiming to craft a catchy, accessible pop-punk record made up of the most well-rounded material they'd ever written. This new album, titled Composure and set for release  July 13 by Fearless Records, is indeed Real Friends' best work yet. Recorded with Mike Green, Andrew Wade and Jeremy McKinnon, it's a huge step up in terms of both quality and mass appeal—it's the sound of the band branching out like never before.
Given the strength of the music, one might assume Composure was the result of a seamless, stress-free writing and recording experience. However, like Home, Composure is the product of a tumultuous period in Real Friends' career. Only this time, rather than struggling with the songwriting, the band—specifically frontman Dan Lambton—were struggling to come to terms with far more personal problems.
"I was going through a lot of change very quickly," Lambton says of the period leading up to Composure's recording. "I moved out of my parents' house for the first time, so I was living on my own, and then I broke up with my longtime girlfriend. There were all these changes going on, and I just couldn't make sense of it. We went out to L.A. to work on the album, and it was a seriously over-stimulating environment; I was going out all the time and taking advantage of the situation. I stressed out everyone around me by being super-energetic and really highly strung. I was all over the place––I was really unsure of what was going on with me."
"Dan's illness made him very difficult to be around."—Kyle Fasel
For Fasel, watching his bandmate go through personal struggles was hard. But not only was the bassist concerned about the problems Lambton was causing for himself, there was a band and an album to think about, too.
"Dan's mental health issues really came to a head when we were recording Composure," Fasel remembers. "His illness made him very difficult to be around, and after we finished recording, I definitely questioned the future of the band. Things really did get that bad."
In terms of contemplating Real Friends' demise, Fasel wasn't alone in wondering if their vocalist's ongoing struggles would lead to the end of the band.
"It got to a point where enough was enough."—Dan Lambton
"It definitely got bad," Lambton outlines. "I was smoking constantly, and while I wasn't binge-drinking, I was drinking a lot. At first, that can seem harmless, but it nearly developed into something really bad. The things I was talking about were really concerning everyone. Last year, I dealt with a psychiatrist who really scared me about medication, and consequently, I stopped taking my prescription and seeing my therapist. That led to me being untreated for the month leading up to making the record, and everyone around me could tell something wasn't right. It got to a point where enough was enough; the only time we were productive in any way was when we were in the studio."
Rather than repeat their last studio experience where Real Friends let their problems get the better of them, this time, despite the drama surrounding their singer, the quintet rallied and focused on their mission to take the band to the next level.
"Honestly, what went on was bad, but we didn't let it affect the end product," Fasel says. "The performances on Composure are phenomenal. I know every band says it, but I truly believe this is our best album yet. We've stepped it up, and I'm excited to show people a more developed side to the band. We wanted the songs to be ones that'd get stuck in your head, but we haven't lost the emotion along the way."
Similarly, Lambton is positive about the record despite the dark atmosphere it was created in.
"A lot went into this record, and I think it's our best album to date," he agrees. "It's more aggressive, yet more pop at the same time. In terms of my performance, my vocal range is bigger and better, and the credit for that goes to Mike Green. This record skews toward uncertainty and negativity in an introspective fashion, like on the single 'From The Outside,' but there are also songs like the final track, 'Take A Hint,' which was written to end the record in an optimistic manner."
Real Friends have been through a hell of a lot to make it to this point, so perhaps it's unsurprising that Lambton characterizes a key theme of Composure as that of uncertainty. But having taken time off recently to enter a therapy program (canceling overseas touring in the process), the Real Friends singer has a message for the band's fans, and it's one of hope.
"We in Real Friends are dealing with a lot of the same things you're dealing with, and it will get better," he offers. "There's uncertainty in everyone's lives––we aren't invincible. Everybody goes through hardships and deals with bullshit. Everybody is unsure of where they fit in. But you're not alone." ALT
In this month's issue of AP, Lambton recalls his early encounters with bullies to remind us how crucial perseverance is to our lives for out IT GOT BETTER feature. Pick up a copy here.
Composure is released July 13 via Fearless.