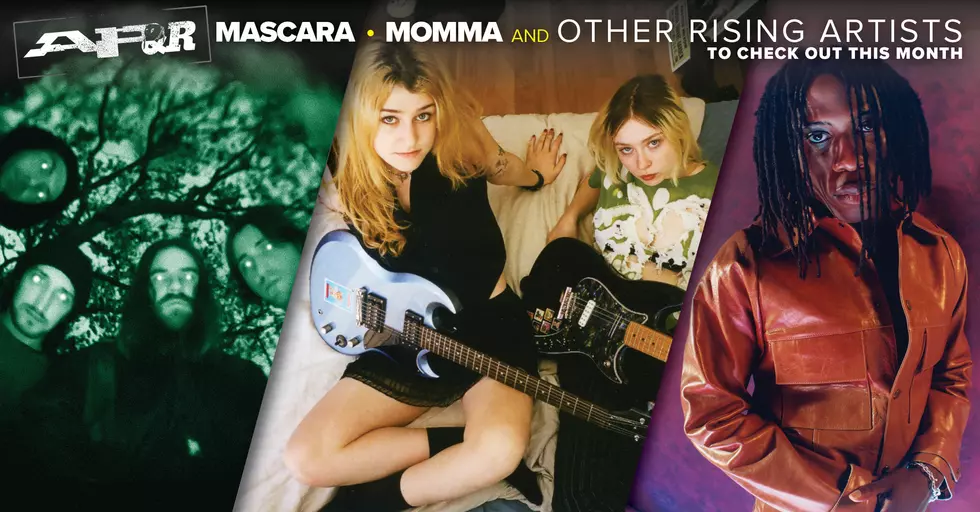 AP&R: Mascara, Momma and other rising artists to check out this month
Every month, Alternative Press is sharing some of our favorite new releases. From soul and Afrobeat to hypnotic dream pop, this month's AP&R list spans various genres, bringing you a unique list of up-and-coming artists. Check out these rising artists who will soon become your new favorite below.
Quinton Griggs
CHECK OUT: "Crazy Devotion"
Quinton Griggs' "Crazy Devotion" describes just that: someone who's hopelessly committed to their partner, even if it's all in vain. Griggs belts, "I don't think I can let go/Can I find a way back to you?" atop modern pop-punk beats. The Georgia native got his start where many young musicians have started blowing up recently: TikTok. "Crazy Devotion" is current enough to slide into any modern emo kid's playlist while remaining nostalgic enough to fit into any elder emo's just as easily.
Momma
CHECK OUT: "Speeding 72"
Every part of Momma's "Speeding 72" was carefully constructed to transport listeners into the right mood for the track — which is about driving in a car and intended for driving in a car. It begins with the sounds of Aron Kobayashi Ritch getting into his vehicle and turning on the ignition. "We wanted it to be the sort of summertime anthem that you can turn on during a drive to impress your crush," the band explain in a press release. Allow Momma to take you on the ultimate joyride with their new album, Household Name, out July 1.
Mascara
CHECK OUT: "Half Light Aftermath"
"Half Light Aftermath" is one-half of Mascara's new EP, HLA-11TF. The French band have cemented themselves as a group that are hard to define and even harder to categorize. Their music falls somewhere in the alternative-metal genre but has plenty of grunge, post-metal and dream-pop influences. "Half Light Aftermath," in particular, takes listeners through a sonic voyage. The track opens with hypnotic vocals before jumping into heavy riffs, the two balancing and playing off each other through the entirety of the song. You surely don't want to miss out on the journey Mascara will take you on.
Horse Jumper Of Love
CHECK OUT: "I Poured Sugar In Your Shoes"
Horse Jumper Of Love capture the feeling of staring longingly out a window, rain streaming down the glass, in "I Poured Sugar In Your Shoes." The track tells a sorrowful, Hansel And Gretel-esque tale of someone who poured sugar in their lover's shoes to "follow a trail of sweetness." Dimitri Giannopoulos sings, "What do I do?/I got my spirit hooked on a fishline baited with no reason why." The sinking melodies combined with the yearnful, almost self-deprecating lyrics produce a bittersweet love song perfect to soothe any aching heart.
Obongjayar
CHECK OUT: "Tinko Tinko (Don't Play Me For A Fool)"
Obongjayar was born and raised in Nigeria and moved to London as a teenager. His debut album, Some Nights I Dream Of Doors, spans everything from alternative and indie to soul and Afrobeat. The track "Tinko Tinko (Don't Play Me For A Fool" is packed full of artful layering. The soulful swagger of both the vocals and the production intertwine to create a world of sound that is deceptively upbeat. Obongjayar sings "Don't be fucking with my head," as he wonders if he and his partner are truly in love.
Calabasas
CHECK OUT: "The Mend"
Calabasas' "The Mend" accomplishes many feats in three minutes. To start, the track is refreshingly vulnerable. "I wrote this at a tough time in my relationship for the woman I love," Watrcup, one-half of the duo, says of the song. "It's a chance to get vulnerable with our fans and let them know that we are all humans and we make mistakes." But aside from the vulnerability of the lyrics, "The Mend" is simply a joy to listen to. The track shines with the laid-back, surfy sounds of the Golden State.
Exit Dream
CHECK OUT: "kaleidoscope"
"kaleidoscope" may take listeners by surprise. The Exit Dream track begins with a shimmering piano melody. Then, all of a sudden, it bursts into a heavy guitar riff. Listeners can hear the fairy-tale-like melody break through the guitar riffs at points, like the sun shining through the clouds, as the two sounds swirl together in perfect harmony. The name "kaleidoscope" is fitting, as fans can discover something new with each listen, just as one might when looking through the optical device.
Witch Fever
CHECK OUT: "Blessed Be Thy"
Witch Fever bassist Alex Thompson perfectly describes "Blessed Be Thy" in four words: "It just goes heavy." And we can't argue with that. The track opens with vocalist Amy Walpole declaring, "Blessed be thy shame/It's time to let it go/Resentment makes me yours, baby/And I'm afraid it makes you glow." Walpole uses cadence and language to tailor a traditional hymn and make it their own. That, in addition to fuzzy guitar riffs and the aggressive thumping of the drums, flips the religious symbolism heavily embedded in the track on its head.
This story first appeared in issue 406, available here.