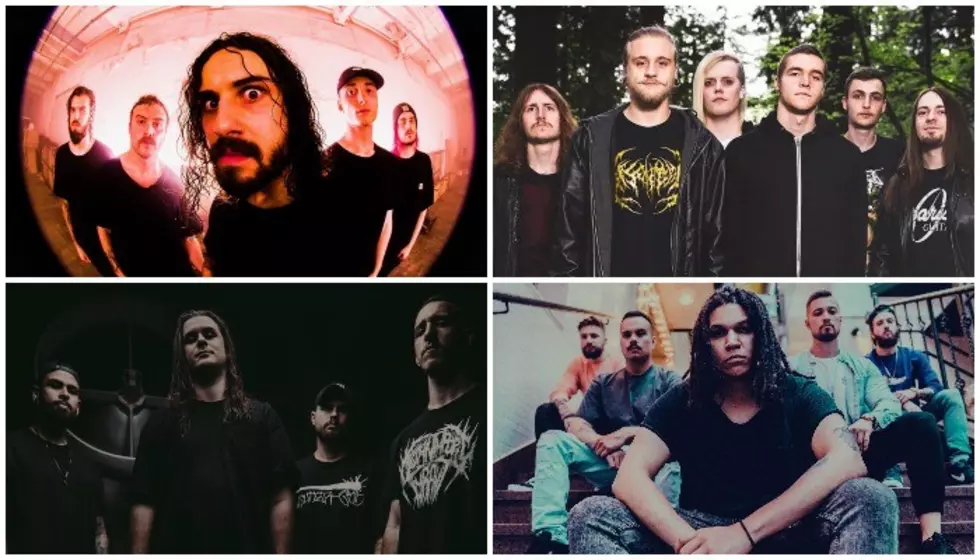 10 up-and-coming deathcore bands to watch in 2020
[Photos via Spite/Spotify, AngelMaker/Facebook, Traitors/Facebook, Brand Of Sacrifice/Spotify]
Deathcore has had a resurgence in the last couple of years, with veteran acts such as Whitechapel, Thy Art Is Murder and Carnifex putting out top-notch albums in 2019 and up-and-coming bands showing a new pack is here to build the next movement in the genre. Including a wider range of influences, young bands are proving they're hungry for the same level of success as the groups who built the genre into a household name in metal.
Take a look below for 10 up-and-coming deathcore bands to watch in 2020.
1. Shadow Of Intent
HQ: Connecticut, United States
Facebook | Instagram | Spotify
Shadow Of Intent are easily one of the biggest breakout acts of the past five years. Their latest album, Melancholy, takes their brand of symphonic deathcore and mixes other extreme metal influences for a well-rounded sound that few bands manage to achieve without shoehorning in certain riffs and elements. In addition, the band are capable of writing nuanced stories, with their new album building a concept around a wave of mass suicide controlled by a demonic goddess.
2. Brand Of Sacrifice
HQ: Toronto, Ontario
Facebook | Instagram | Spotify
Toronto's Brand Of Sacrifice started through a meme but turned their viral status into a serious band who are sure to be one of the biggest deathcore bands within the new decade. With a ridiculous amount of range and versatility, Brand Of Sacrifice are reinvigorating the genre and have landed a ton of major touring opportunities, bringing them to increasingly larger audiences.

3. Signs Of The Swarm
HQ: Pittsburgh, Pennsylvania
Facebook | Instagram | Spotify
If there's one band who will be leading brutality in deathcore next year, it's Signs Of The Swarm. They take the crushing noises of slam death metal and give a more developed approach by writing riffs that hook themselves into your mind, coupled with brutal low gutturals and tightly arranged drumwork. 
4. AngelMaker
HQ: Vancouver, British Columbia
Facebook | Instagram | Spotify
Although they've been around for nearly 10 years, AngelMaker are just now hitting their stride and made waves within deathcore with their latest self-titled record. They manage to pull together an incredible sound through early 2000s elements and modern melodies in the vein of acts such as Oceano or Fit For An Autopsy. 
5. Hollow Prophet
 Facebook | Instagram | Spotify
With a nasty raw tone and technical death-metal sensibilities, Hollow Prophet are bringing some of the extremities of the genre to a new level. With just a few releases under their belt so far, the band have come to impress right out of the gate, with each song holding memorable blasts of brain-melting aggression.
6. Shrine Of Malice
HQ: West Coast, United States
Facebook | Instagram | Spotify
Shrine Of Malice pull of an incredibly brutal sound through ominous, doomy deathcore, with tightly built anticipation for the heavy drop in each breakdown. They've been consistently putting out better releases each year since 2017, and if they keep up the pace, they'll be one of the best ones to check out next year. 
7. Spite
HQ: California, United States
Facebook | Instagram | Spotify
Signed to Attila vocalist Chris Fronzak's Stay Sick Recordings, Spite bring a heavy-handed approach to groove-induced deathcore. The band bring nü-metal sensibilities to the genre, similarly to many of the leaders such as Suicide Silence and Emmure without falling prey to corny material like so many others have in the past. 
8. Mental Cruelty
HQ: Karlsruhe, Germany
Facebook | Instagram | Spotify
Mental Cruelty play into the extremities underground metal fans praise so much, with a lightning-fast approach to laying down brutal breakdowns. Their vocals really set them apart, with a vast range of disgusting sounds that come across like a swamp creature snarling as it attacks its prey. 
9. Traitors
HQ: Florida, United States
Facebook | Instagram | Spotify
Despite the band seeming like it was coming to an end a few years ago, Traitors have made a huge comeback since regaining their vocalist Tyler Shelton. The frontman's burly vocals coupled with tight slam riffs led to some of the heaviest breakdowns of the past five years on their latest record, Repent, and you'll want to follow what the four-piece are up to in the near future. 
10. I Am
HQ: Dallas, Texas
Facebook | Instagram | Spotify
Bringing a hardcore touch to deathcore that's more prominent in their sound helps I Am stand out as one of the most interesting bands in the genre coming out right now. The band have landed some incredible touring opportunities as of late, and their knuckle-dragging riffs feel like a kick in the teeth, earning them a place in the underground metal scene's collective minds for the foreseeable future.