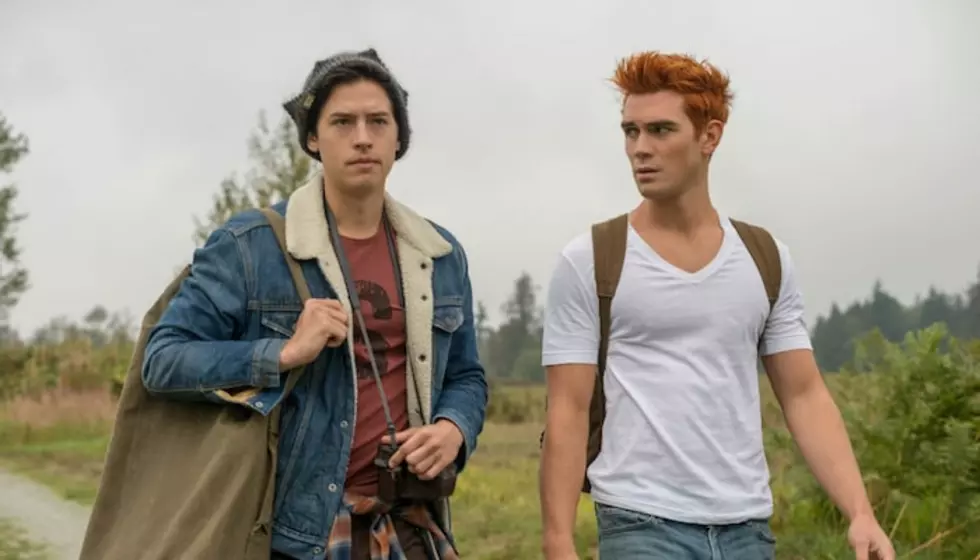 'Riverdale' showrunner may have just hinted at Archie's fate in season 5
[Photo via The CW]
Due to coronavirus, season 4 of Riverdale ended on a suspenseful cliffhanger with a lot of storylines unresolved.
Now, showrunner Roberto Aguirre-Sacasa has unveiled the title pages for the first four episodes of season 5. The pages hint at what's to come in the highly-awaited season including how Archie's (KJ Apa) storyline may play out.
Season 5 of Riverdale will include a seven-year time jump, taking the characters from their late teens to their mid '20s. However, since season 4 ended early due to the pandemic, the first three episodes of season 5 will take place during the characters' senior year.
Aguirre-Sacasa revealed that Riverdale held its first Zoom table read on Sept. 2 and Sept 3. As well, Aguirre-Sacasa has unveiled the title pages for the first four episodes of the new season.
The season's first episode is "Climax" and according to the comic strip, Betty (Lili Reinhart) excitedly accepts a promposal from Jughead (Cole Sprouse).
The second episode is called "The Preppy Murders" and the comic strip seemingly implies that Archie and Veronica (Camila Mendes) break up.
The strip is from a 2018 installment of Archie where Veronica confronts Archie about his feelings for Betty. Then, she breaks up with him and gets rid of all of the gifts he's given her. Jughead has Archie flip a coin to determine which girl he should be with. In the end, he picks Betty.
"Graduation," season 5's third episode, is obviously about the characters' high school graduation.
"Sometimes I feel like standing in the middle of Main Street and screaming, 'Archie Andrews grew up," the comic strip says. "He's not an innocent teenager anymore, so stop treating him like one!' But I guess you don't really care about that!"
Following the third episode, the characters leave high school behind. As Aguirre-Sacasa previously shared, he was originally hesitant about the time jump.
"At the beginning of the season we said that we were going to focus a little bit more on the high school stuff," he says. "I feel like we did. Like the last football game and the last Vixens. Then prom and getting into college and a lot of those things. Really, I'm asking how do we keep that franchise going? High school, it's so important to the characters and the brand. And I guess in a way I'm not ready to say goodbye to it, is the truth."
Episode four of season 5, however, is what's worrying fans. Called "Purgatory," the comic panel is taken from the Archie 1941 miniseries, released in 2018 and 2019.
Archie 1941
This comic strip could mean Archie is joining the army in season 5. As well, viewers may need to prepare for another fake death storyline, just like we saw with Jughead in season 4.
Are you excited to see Riverdale's fifth season? Let us know in the comments below.