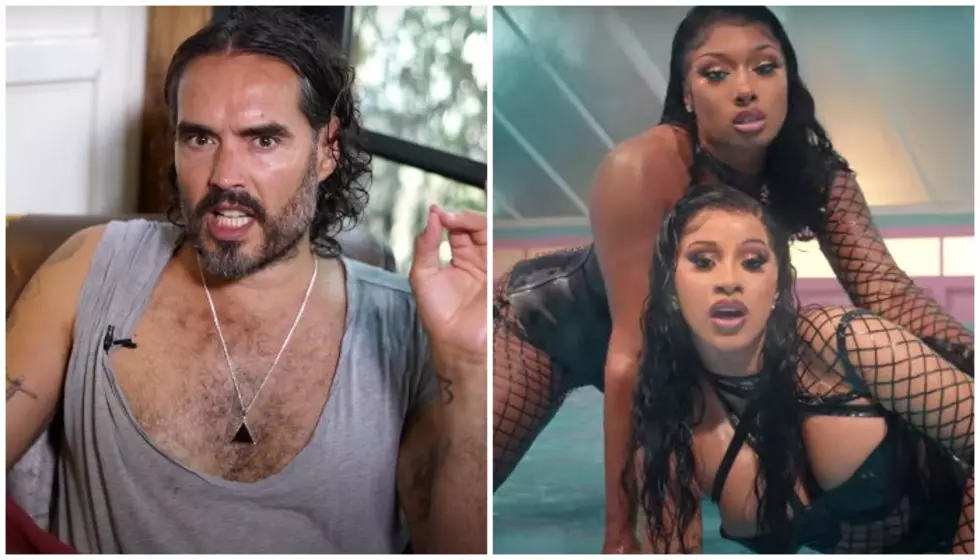 Russell Brand's critique of "WAP" went down as well as you'd expect
[Photos via Russell Brand/YouTube, Megan The Stallion & Cardi B/YouTube]
Comedian Russell Brand is being accused of "mansplaining" Cardi B and Megan Thee Stallion's viral collab "WAP."
Brand shared a 17-minute long video on YouTube discussing the single and some aren't happy with what he had to say.
Since its release last month, "WAP" has been at the center of controversy. Amidst comments from Tiger King's Carole Baskin and petitions to remove Kylie Jenner from the video, there's a whole lot going on.
Now, Brand is including himself in the "WAP" controversy. In a lengthy video, Brand tries to argue on if the video is a "feminist masterpiece" or simply "porn." He opens up his video with two main questions.
"Do we achieve equality by aspiring to the values established by the forces, or authors, of the hierarchy and system itself? IE, do women achieve equality by aspiring to and replicating the values that have been established by males?"
He then references an article by the Guardian that calls "WAP" a celebration of the "sensuality and sexuality of women." However, Brand counterargues that the Cardi B and Megan Thee Stallion collab is a concept already established by their male counterparts.
"If male hip hop tropes are about the potency of male sexuality… and then the female video is a sort of celebration of sexual potency… it's an emulation of a template that already exists. And is established by males."
Brand then goes on to argue that women in music shouldn't celebrate their bodies and lives through the anti-feminist "male gaze." Instead, they should find other ways of feminist liberation within their music and creative projects.
"I wouldn't be so reductive and simplistic to say that women celebrating their bodies using an aesthetic that's conventionally been associated with the male gaze means it's impossible that these tools could be used as a vehicle for liberation," he says.
As well, he says that "WAP" is nothing particularly groundbreaking. In fact, if anything, it's just another "capitalist objectification" we see in music.
"But I am saying that, in a sense, it's still the same metric — it's still the same aesthetic, it's still the same values, it's still the same ideals. It's still ultimately a sort of capitalist objectification and commodification of, in this case, the female."
Of course, his video has outraged many over the past week.
Russell Brand's video and the "WAP" video are both available to watch below.
What are your thoughts on Russell Brand's comments? Let us know in the comments below.