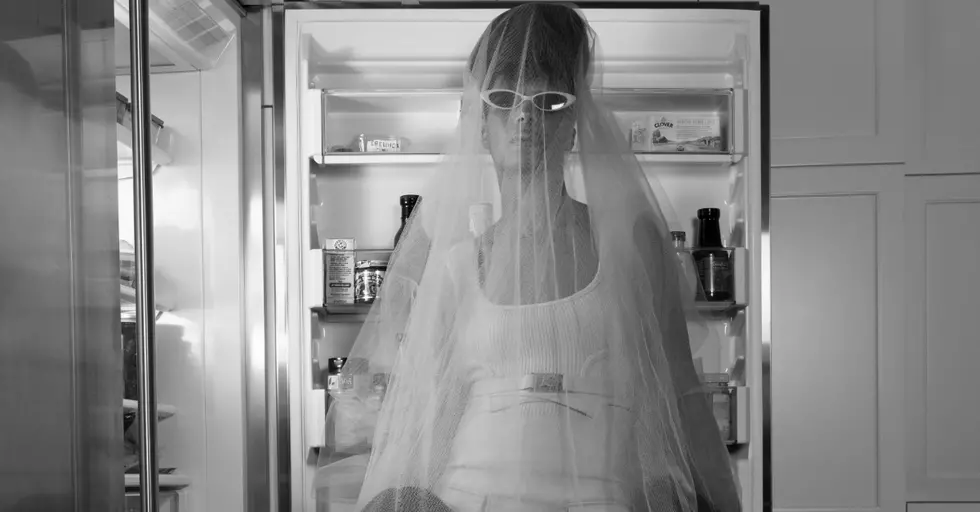 How Santigold channeled religious ecstasy to create her comeback album Spirituals
[Photo by Frank Ockenfels]
Santigold didn't go to church as a kid without a fight.
The musician born Santi White recalls hiding under the bed covers from her mom every Sunday to try to get out of the "boring and not cool" Christian services they attended in Philadelphia.
But the church in Baltimore her great-grandmother helped run was a different story. Ushers stood in the aisles clad in white, holding and fanning members as they convulsed in religious ecstasy.
Read more: How Sudan Archives reclaimed the concept of prom with Natural Brown Prom Queen

Looking back, the theatrics of it all remind her of the traditional Haitian Vodou drumming she studied as an undergrad at Wesleyan University. Drumbeat-synced dances "beat the spirit" into a person.
The visual influence of those early Baltimore church memories is strong on White's fourth album, Spirituals. 
In the video for the SBTRKT-produced single "Shake," White trades dainty usher gloves for plush cat ears and sneakers while jiving on the street with a tambourine. She channels peaceful civil rights protesters who kept their heads held high as they endured physical abuse from authorities. 
"In my vision, I'm the person that's doing the falling out, but I'm also the ushers catching me," she tells Alternative Press. "That's how I envisioned what this record was."
A cheeky lyric about speaking in tongues also appears on the track entitled "High Priestess," and on "Shake," White's voice echoes gospel church choir backup vocals, but, ultimately, the artist's latest album isn't about that kind of old-time religion. Rather, the title is evocative of the transformative power songwriting had for her during the COVID-19 pandemic, and how it reminded her of the Negro spirituals that carried Black people toward freedom.
"It's very much this visceral experience of a spirit taking over," White says. "That's the type of spirituality I'm talking about. People can experience that in so many different ways."
Church and meditation can also bring people to that state, but it exists in performing a range of activities from playing music, dancing or painting, she explains. She's tapped into it at the ocean or while snowboarding, too.
The musician who pioneered the indie genre-crossing sound of the mid-aughts with hit singles "L.E.S. Artistes" and "Shove It" (sampled on Jay-Z's "Brooklyn Go Hard") continues to play by her own rules on Spirituals. She shares her journey to ascension and invites us to participate with tropical rhythms that simultaneously haunt and uplift, weaving supernatural electronic beats through in-your-face lyrics that capture the malaise of quarantine while actively fighting against it to rise above. 
After over two decades in the music industry — with a career that began in A&R and segued into solo success with her 2008 debut album Santogold — White didn't want to force herself to crank out new music until she was ready.
[Photo by Frank Ockenfels]
"I don't think it was as much of a hiatus as much as just life happening in between, you know?" she says of the six-year lapse since her last album 99¢, released in 2016.
An old interview with folk icon Joni Mitchell, in which she explains her process as only creating music when she has something to say, resonates with White, who took a beat after having twins in 2018.
"It's like allowing for a fallow field to reenrich itself by giving it a break," she says. "And it's the same thing with me — I just feel like sometimes it's not time for me to be making new songs."
Overwhelmed with the round-the-clock duties of mothering three children that left her constantly changing diapers and sleep-deprived, White craved creative space. The idea for a new album started percolating a month before the pandemic, but it was the need to allot sacred time for self-expression that accelerated momentum for Spirituals.
"I didn't feel free because I was locked in the house," she says. "But I also didn't feel free to be myself to exist outside of this tiny little part of me that's being a mother."
Mostly recorded at home on Zoom during 2020 lockdown with a list of buzzy producers and contributors that includes names like Rostam and Boys Noize, the album was a cathartic and healing undertaking for White. Songwriting provided a reprieve from the demands of parenting three young children without help, the reality of climate change in her backyard as California burned from wildfires, a public health crisis nobody knew much about and racial reckoning in the wake of George Floyd's murder.
When White wasn't writing songs to stay sane, she leaned into new grounding techniques like color and nature visualization meditations. 
An artist whose breadth of work includes collaborations with visual artists Kehinde Wiley and Wangechi Mutu, as well as acting stints on the shows The Office to Adult Swim's NTSF:SD:SUV, White's juggling act amassed street cred that earned her a shoutout on Beyoncé's "Break My Soul (The Queens Remix)" alongside a roster of influential Black women. But building her stacked resume also took a toll on her body. She reached a point of chronic exhaustion and overtaxed adrenal glands manifested in stress-induced chest pains. 
"Being in survival mode, you don't really allow yourself to experience your feelings that much because you think maybe if you do feel, then you won't make it through," she says. "And I think that's where I was."
Per the recommendation of her meditation guide, she stepped away from transcendental meditation — a mantra-style modality beloved by the stars — and focused instead on how to listen, let feelings flow.
"I was learning to be in my body in a different way than I've ever been," she says. "I learned that I was running on willpower; I was running on adrenaline in my life. I had taught myself to shut down my recognition of my body's limits."
In the early stages of writing Spirituals, she also revisited timeless musicians from Fela Kuti and Bob Marley to Nina Simone and John Coltrane for guidance. Contemporary music felt too difficult to digest.
"I was listening to music that fed my spirit at the time and that was talking about real stuff about humanity and change and revolution," she says.
Reflecting on her own position within the music industry, White finds there is still a ceiling for Black female artists who don't neatly fit into the boxes of mainstream R&B and hip-hop.
"If you look, the biggest artists are still the ones who are mostly naked and shaking their butt," White says. "And those are the ones who are the most successful. That's been like that forever. To be a Black female artist, who's still trying to talk about real, topical stuff in my songs and who's not oversexualized, it's still hard."
The double standard that rewards white artists who make music in Black genres and pushes back against Black artists who enter white-dominated genres is fully intact, she explains. She's struggled to protect her own work against the hold white privilege has on the industry.
White even claims pop mogul Taylor Swift plagiarized her on the 2019 single "London Boy." 
"It's a blatant ripoff of my song 'Disparate Youth,' blatant. And it was not cleared with me," she says. "For an artist at that level to need to take advantage of a Black female artist, where it's already so hard."
White reached out to musicologists and a lawyer who couldn't offer assistance on the issue, citing a conflict of interest. She interpreted their response to mean Swift's team beat her to it and altered the song just enough that it'd be too expensive for White to carry out a lawsuit.
Despite the lack of significant progress and challenges for Black women in the mainstream, White welcomes the new avenues the internet has opened up for musicians.
[Photo by Frank Ockenfels]
"You can immediately [go directly] to your fanbase and step around the people telling you what you can and cannot do and who you can and cannot be as a Black artist," White says. "So that's better. But there's a lot of changes that still need to happen."
Once White brought on more help for her children and travel restrictions halted tours, after wrapping up the album, she gave herself permission to pour the extra time into other projects in unfamiliar territory. She has plans to build a multisensory experience out of Spirituals by venturing into teas and body products and is exploring a podcast, film and a book. 
"If I just allowed myself to take in all the crazy heavy stuff that was happening around me, I could just sit there and just be so weighed down that I just couldn't move by all that," she says. "Or I could just focus on creating light and beauty for us to move towards."