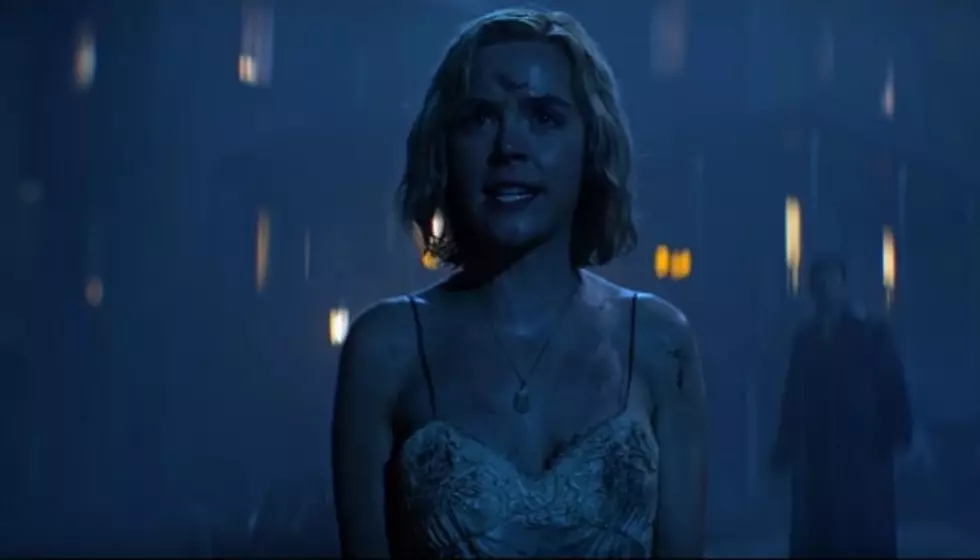 Satanic Temple says 'Sabrina' copied statue, threatens legal action
[Photo via Netflix/YouTube]
The Satanic Temple is reportedly taking legal action against Netflix for a statue in the new Chilling Adventures Of Sabrina.
According to the group, the show uses a copyrighted design of their Baphomet figure.
On Monday, Oct. 29, The Satanic Temple co-founder and spokesperson Lucien Greaves tweeted that the group was taking legal action against Netflix for "appropriating our copyrighted monument design to promote their asinine Satanic Panic fiction."
mission
The monument Greaves mentions is a Baphomet figure. In Sabrina, the statue is in the Academy of Unseen Arts and is a representation of Satan. The group isn't happy with the portrayal.
In a statement sent to Broadly, Greaves explained that the Satanic Temple's mission "has been to fight back against witch-hunts and irrational mob panics" and that Satanists need to go against "negligent and harmful representations."
Due to their views, TST would be filing a copyright claim against Netflix because Satan's representation in the show.
"Our lawyers sent a letter informing the show that they have violated our copyright in using our own central image as an icon for some evil cannibalistic cult," Greaves tells Broadly.
TST co-founder Malcom Jarry also spoke to Broadly, explaining the group will be taking legal action depending on Netflix's response. They made the decision because, although the Baphomet is a cultural figure, the group's depiction is original and very distinct.
In addition to that, the group plans to take legal action to protect the copyright if they can't reach a resolution with the streaming service.
"We hold a copyright that was filed with the Library of Congress," he continues. "Statues and their subsequent representations are protected."
Netflix's response
VICE also reached out to Sabrina's production designer Lisa Soper. She claims TST's statue didn't influence the one in the show.
"I think that's kind of a coincidence," Soper says. "When you look at Baphomet, there's really only a couple of statues of him—which, they have their statue, and we've got our statue in the show."
"It's no different from, in my opinion anyhow... from any other of the mass amounts of iterations of him that have been around," she continues.
Here's a screenshot of the monument in Sabrina and, below, some pictures of the TST Baphomet for comparison.
Watch more: ROAM Tell the Terrifying Story of A MAN WEEING ON CHRISTMAS DAY and Other Chilling Tales!!