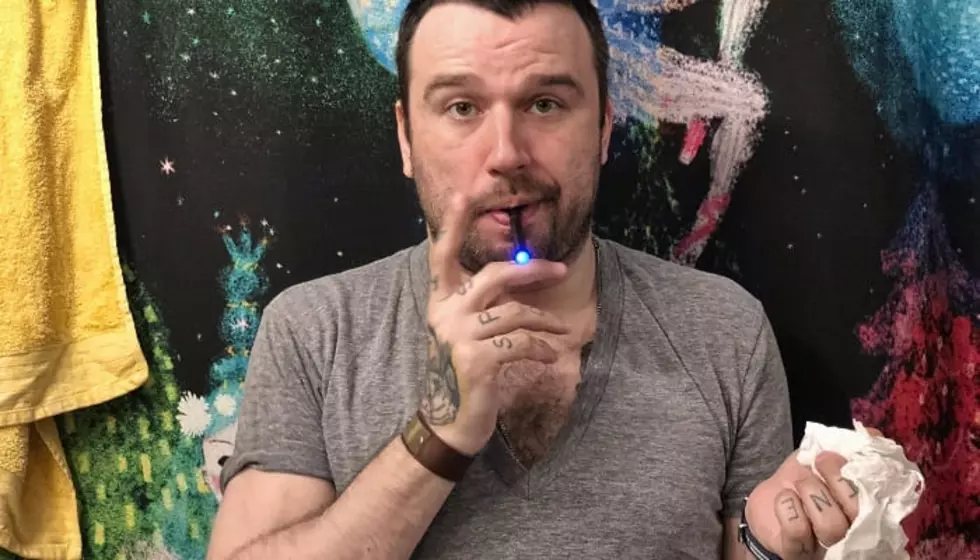 Max Bemis shares plans to "kind of sort of, end Say Anything"
[Photo by: Say Anything/Facebook]
Say Anything are calling it quits (sort of). Before that, the band will release a new record, Oliver Appopriate, which is a sequel to 2004's ...Is A Real Boy.
Frontman Max Bemis wrote a lengthy statement on the forthcoming album, the future of the band, and more.
The band dropped the news on Facebook, explaining their upcoming LP, Oliver Appropriate, "is not far off in the future."
More information is yet to come, but Bemis is sharing "A Goodbye Summation," a 10-page document explaining how the album came together, the story he wanted to tell and why Say Anything aren't exactly breaking up.
His wife, Sherri DuPree-Bemis, also shared some words on Bemis' plans and state of mind.
"Max is doing great. We're all loving on him and supporting him through this whirlwind of change and a huge career shift," she explains. "I'm here to let you know, the narrative doesn't stop here. It's just the beginning. So stay tuned. And you (like me) will always be pleasantly surprised."
Say Anything going on hiatus
In his statement, Bemis shares his struggles with drug and alcohol abuse, PTSD and anxiety attacks. He continues to say that, although he can't actually quit Say Anything, he's "done being a touring musician." So, this is just the end of "the first era of Say Anything."
"I need a break. We'll return one day to play festivals and scoff at our career. But I want to say goodbye," he writes. "Say Anything is retiring in the sense that Jay-Z did. It's not an indefinite hiatus or a breakup because that's impossible."
That said, the Oliver Appropriate release won't be followed by a tour.
Later in the statement, Bemis also shares some heartfelt words about Say Anything and the support he received throughout the years.
"If you're a fan and you're reading this, I finally came to love my own band. I mean that.
So that must mean something to you, and closing this chapter is my ultimate way of thanking you and saying 'I know you wouldn't want me to be in pain anymore'," the musician writes. "So if you guys are like my kids, I'm doing this for you, too. And
I couldn't have done this, since I was 15, without you."
"Say Anything will probably make music again, and I'm not claiming this is our actual last record, but it may be," he continues. "Who knows. That's up to me and my family."
Oliver's story: From ...Is A Real Boy to Oliver Appropriate
Say Anything's upcoming album is a sequel to ...Is A Real Boy. It follows a character, who Bemis named Oliver, 14 years after the first story took place.
"This record is the story of what would happen to the Real Boy many people thought I was. His band did well but then fell off, hard," he explains. "He'd be my age, of course, but he'd still be living in Brooklyn, struggling with financial woes, single and strung out."
Oliver Appropriate, then, follows this character around for two days. "The first song kicks it off with Oliver waking up on a hungover Sunday in his filthy Bushwick apartment and
follows him to a contrived dive bar where he meets the first boy he allows himself to fall in love with," Bemis shares.
"The album ends with Oliver's ascension after death and his acceptance of what he's done to himself, Karl, and the world," he continues. "I would like to think he is reborn and goes somewhere better and since I believe in the power of story, I believe this to be (fictionally) true, since I did write the damn thing."
Bemis goes on to explain this is Say Anything's first inclusive album and its lyrics "can be sung by girls, boys and anyone under the sun without correcting the endlessly pervasive dude pronouns."
Max Bemis' future endeavors
Although he's done with traditional music, Bemis teased there's more coming from his project Song Shop. Plus, he will focus more on working with comic books.
"READ MY WRITING. Say Anything is a writer's band," he pleads. "So catch up on my comics and know there is more coming. A LOT coming, and not just comics. I'm going to dive in headfirst, just as hard as I did with music, but it's got to be safe and healthy from now on."
"I'm not a god, but I am a creator. I created Oliver in 2004, though he wasn't named. And I'm sorry, Oliver, but I have to live… and you're fucking dead," he concludes. "Real Boy, you helped save me. It was your purpose in the end. The real heroes of the story are not me and certainly not you, a fictional character."
You can download Max's statement in full here and read Sherri's note below:
Watch more: SAY ANYTHING, NEW FOUND GLORY, more answer: WHAT IS EMO?