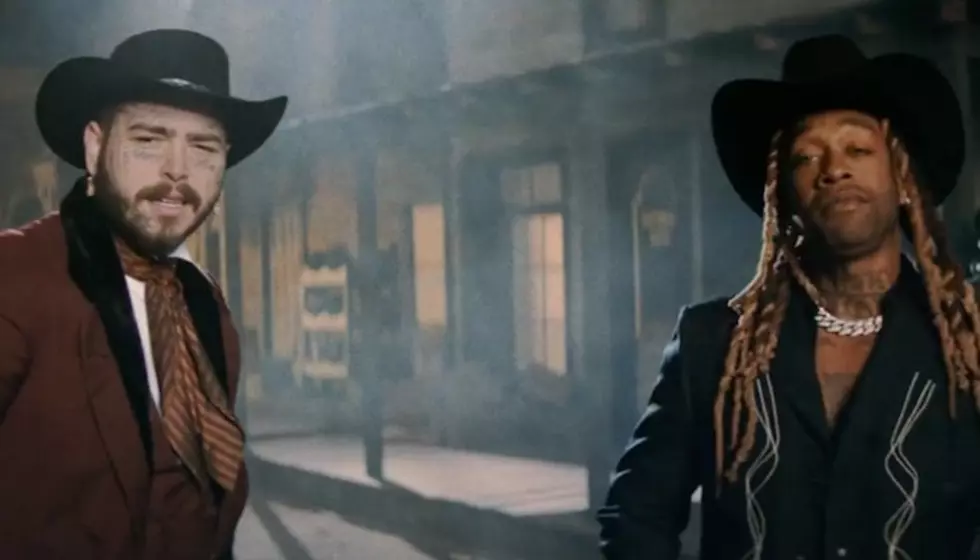 See Post Malone and Ty Dolla $ign become space cowboys in "Spicy"
[Photo via YouTube]
Halloween may be over, but Post Malone and Ty Dolla $ign are still channeling their inner space cowboy for their Western-inspired new video for "Spicy."
Their latest collaboration appears on Ty Dolla $ign's new album Featuring Ty Dolla $ign.
It's definitely been a busy few months for Post Malone. Not only has he launched his Celebrity World Pong League and is continuing to work on his new album, but he somehow found time to team up with Ty Dolla $ign for "Spicy."
This week, the duo unveiled their cinematic new video for the collab that transports viewers to a galaxy far far away. The video opens up with a little background on Posty and Ty Dolla $ign's intergalactic characters.
"Way out west in a galaxy far away, there's a story of two fellas I want to tell you about. They call them Ty Dolla $ign and Post Malone. This here story I'm about to unfold takes place when Ty was on his way west to meet up with his day one amigos, the Taylor Gang, he was hoping to begin a new life away from all the sin that was near him. But unfortunately for Mr. Dolla $ign, his past wasn't quite ready to say goodbye."
The action-packed "Spicy" video includes a heated game of cards, an intense saloon fight and even a romantic ending you probably aren't expecting. Posty and Ty Dolla $ign can also be seen riding some robotic horses and throwing back a drink or two in the entertaining Western-inspired video.
According to Ty Dolla $ign, he loves collaborating with Post Malone so much that the two may release a collaborative album in the future. Earlier this month, he told HiphopLE that the possibility is there.
"Who knows if I might do it again, but I'm sure it's possible," he said. "Posty and Ty Dolla $ign album coming soon."
Along with Post Malone, Ty Dolla $ign has plenty of other collaborations on his latest album Featuring Ty Dolla $ign. Quavo, Nicki Minaj, Big Sean and Kid Cudi are just a few of the other artists featured on the 2020 album.
As for Posty, he's remaining busy in other ways. He is currently working on his follow up to Hollywood's Bleeding, which earned a few Grammy nominations this week. He recently revealed that his new music is heavily inspired by the COVID-19 pandemic and may feature sounds fans haven't heard before.
What are your thoughts on the "Spicy" music video? Were you expecting a Western-inspired video about space cowboys? Let us know your thoughts in the comments below.