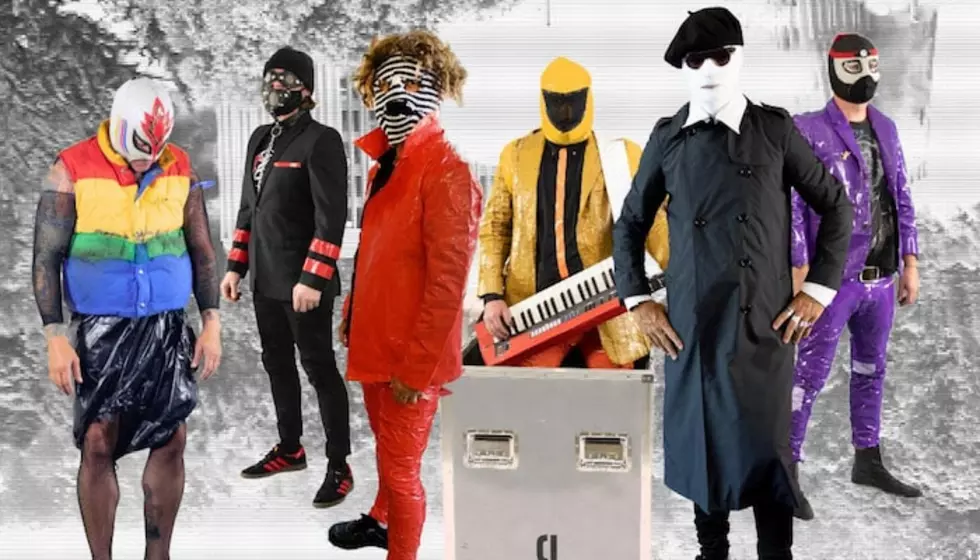 See The Network's (who swear they aren't Green Day) new "Trans Am" video
The Network, the group pretending not to be Green Day, are treating fans to plenty of new music this week.
The mysterious group have not only dropped their new EP Trans Am, but they have also unveiled a chaotic new video for the title track. As well, it looks like their new EP isn't the only new music on the way.
Back in 2003, The Network formed and went on to release their first, and only, album Money Money 2020. Throughout their career, the band have often been mistaken for the iconic rock trio Green Day. The Network's frontman Mongo Fink even "hacked" Billie Joe Armstrong's Instagram account this week to further show the groups' ongoing rivalry.
 

View this post on Instagram

 
In the midst of the ongoing theories and rivalry, The Network are cranking out some new music this week. On Friday, they released their new EP Trans AM and unleashed a chaotic new video for the title track. "Trans Am" is joined by three other new politically-titled songs "Flat Earth," "Fentanyl" and "Ivankkka Is A Nazi."
Along with this, The Network are releasing a follow-up to 2003's Money Money 2020 next month. Money Money 2020 Part II: Told Ya So! marks the band's first full-length release in 17 years and debuts on Dec. 4.
"Back in 2003 we, The Network, warned mankind of the fate they would meet in the year 2020," The Network say. "To no surprise 2020 is upon us and it looks exactly as our prophecy predicted. As one final warning on December 4, 2020 we will release Money Money 2020 Pt II: We Told Ya So! We are at Threat Level Midnight For now, hop in and set your transistors to the Trans Am EP, out everywhere now."
Nearly 17 years ago, fans first began speculating that The Network are really Green Day in disguise. It's believed that Armstrong is actually the Network's frontman "Fink" while Mike Dirnt is "Van Gough" and Tre Cool is "The Snoo." As well, it's also rumored that frequent Green Day collaborators Jason White and Jason Freese play in the band as guitarist "Captain Underpants" and keyboardist "Z."
The true identity of The Network has confused many over the years most likely because Mike Dirnt seemingly revealed that Green Day are actually the secret band years ago. Back in 2013, he confirmed to Rolling Stone that Green Day wrote and recorded the mysterious group's debut album.
"Because we were working so hard, since [2004's] American Idiot," he said. "We haven't stopped moving forward: the [2003] Network record, Foxboro Hot Tubs, the [American Idiot] musical, the live records, 21st Century Breakdown. There is so much stuff we have written and done, in between records, that hasn't even come out. I look at it and go, 'What kind of pace is that?' Anybody would crack under half of that."
The Network's "Trans Am" video and their new EP are available to stream below.
What are your reactions to The Network's "Trans Am" video? What's your favorite song off of their new EP? Let us know in the comments below.