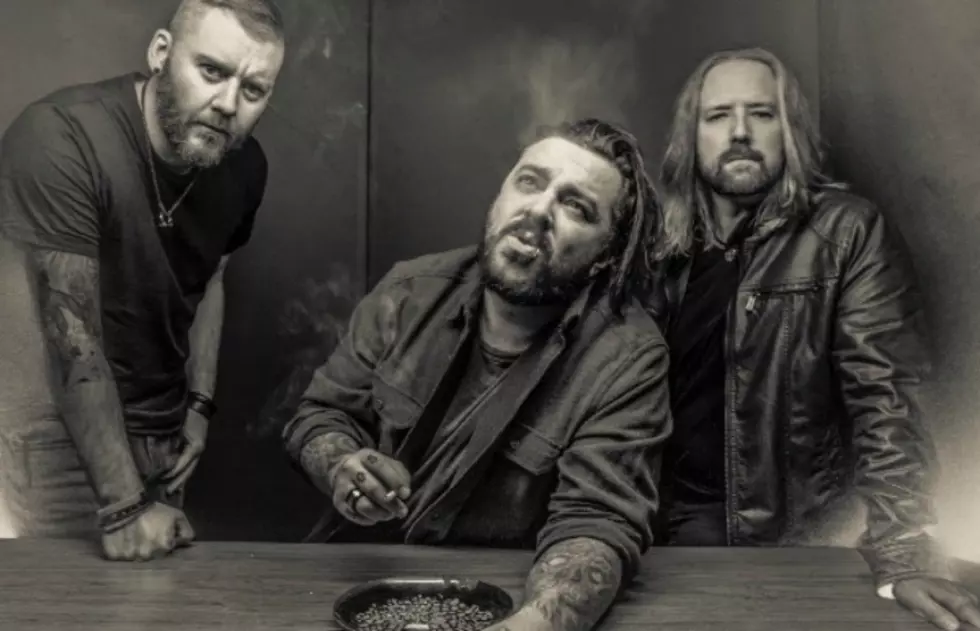 Seether announce headlining tour in support of new album
Days after announcing their seventh album, Poision The Parish, Seether has announced a new headlining tour that you're not going to want to miss.
Check out the dates and supporting acts below!
Read more: Seether reveal "heavier" new album, debut video for single "Let You Down"—watch
Poision The Parish is being self-produced by vocalist and guitarist Shaun Morgan and is set to release on May 12.
"Goddamn, it's good to be back!," says Morgan. "We spent the better part of a year writing and recording Poison the Parish, and now it's time to get out there and play that fucker to the fans."
Seether will also be joined by Sevendust guitarist, Clint Lowery, for the entire tour.
A portion of all tickets being sold will also go to the Rise Above fund. The Rise Above fund is a subset of Suicide Awareness Voices of Education. The charity's namesake comes from the Seether song, "Rise Above This" which is about Morgan's brother committing suicide.
Seether will be supported on tour by Letters From The Fire, Through Fire, Kaleido and Big Story.
"We want this tour to be exciting and different — a departure from what people expect from us, while retaining the qualities that make us unique, in order to entertain the fans. It's going to be loud, heavy, old school Seether with a couple of twists thrown in to keep things exciting," said Morgan.
Tickets for this amazing tour will be on sale Friday Mar. 3 at 10 a.m. local time. If a ticket wasn't enough, you'll also receive a physical edition of the band's newest album Poision The Parish.
You can preorder Poision The Parish here.
Check out the dates below and tell us what show we'll see you at!
Tour dates:
4/29 — Ft Meyers, FL — Monster Energy Fort Rock at JetBlue Park*

4/30 — Jacksonville, FL — Monster Energy Welcome to Rockville at Metropolitan Park*

5/2 — Lancaster, PA — Chameleon Club**

5/3 — Lancaster, PA — Chameleon Club**

5/5 —Tuscaloosa, AL — Druid City Music Hall**

5/6 — Nashville, TN — War Memorial Auditorium

5/7 — Concord, NC — Carolina Rebellion 2017 at Charlotte Motor Speedway*

5/9 — Asbury Park, NJ — Stone Pony**

5/10 — Asbury Park, NJ — Stone Pony**

5/11  — Wallingford, CT — The Dome at Toyota Presents Oakdale **

5/14 — Boston, MA — House of Blues**

5/16 — Clifton Park, NY — Upstate Concert Hall**

5/17 — Niagara Falls, NY — Rapids Theatre**

5/19 — Pittsburgh, PA— Stage AE**

5/20 — Columbus, OH —Rock on the Range 2017 at Mapfre Stadium*

5/22 — Grand Rapids, MI — 20 Monroe Live**

5/24 — Detroit, MI — St. Andrew's Hall**

5/25 — Detroit, MI — St. Andrew's Hall**

5/27 — Omaha, NE — Sokol Auditorium**

5/28 — Pryor, OK — Rocklahoma*

6/1 — Boise, ID — Knitting Factory Concert House***

6/2 — Portland, OR —RoZone Waterfront Stage — KFBW Radio Show*

6/3 — Seattle, WA — 2nd Annual Crazy Beverage Bash at Showbox SoDo*

6/5 — San Francisco, CA — The Fillmore***

6/6 — Anaheim, CA — House of Blues***

6/7 — Tempe, AZ — Marquee Theatre***

6/10 — Saint Louis, MO —The Pageant***

6/11 — South Bend, IN — The Bear's Big Growl Six*

7/15 — Bridgeview, IL — Chicago Open Air at Toyota Park*

7/16 — Indianapolis, IN  — Egyptian Room at Old National Centre^

7/18 — Cincinnati, OH — Bogart's^

7/19 — Cleveland, OH — House of Blues ^

7/22 — Bangor, ME — Rise Above Fest at Darling's Waterfront Pavilion*

7/24 — Baltimore, MD — Baltimore Soundstage^

7/25 — Baltimore, MD — Baltimore Soundstage^

7/27 — Philadelphia, PA — The Fillmore^

7/29 — North Myrtle Beach, SC — House of Blues^

8/1 — Oklahoma City, OK — Diamond Ballroom^

8/2 — Springfield, MO — Gillioz Theatre^

8/4 — Saint Paul, MN — The Myth^

8/5 — Milwaukee, WI — Eagles Ballroom^

8/6 — Peoria, IL — Limelight Eventplex^

8/8 — Kansas City, MO — Uptown Theater^

8/9 — Sioux Falls, SD — The District^

8/11 — Glendive MT — Dawson County Fairgrounds ^

8/14 — Boulder, CO — Boulder Theater^

8/16 — Wichita, KS — The Cotillion Ballroom^

8/17 — Dallas, TX — House of Blues^

8/19 — San Antonio, TX — The Aztec Theatre^

8/20 — Houston, TX — House of Blues^

 

*Festival Date

**Featuring Letters From the Fire + Kaleido

***Featuring Through Fire + Kaleido

^Featuring Letters From the Fire + Big Story