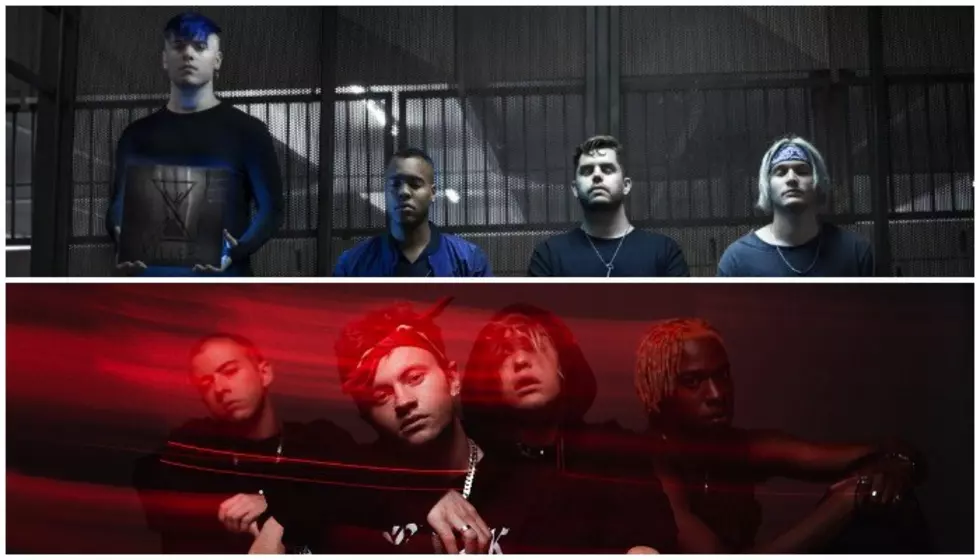 Set It Off remove L.I.F.T. from tour following allegations—UPDATED
UPDATE: MARCH 26, 2019, 6:01 P.M. EST
Earlier today, Set It Off removed L.I.F.T from the upcoming second leg of their Midnight world tour following what SIO described as  "allegations and stories."
L.I.F.T. have now shared their own statement regarding the allegations, which you can view in full below:
"In the last few days we've been made aware of situations where people felt that we have been inapporpriate at a show. When we first heard about it we were shocked to find out that anyone had left out interactions feeling uncomfortable. To those who have walked away from meeting us feeling disrespected or unsafe in any way, please know that would never be our intention, and we're genuinely sorry. We want you to know that we are listening, and we want to do everything in our power to help make our shows a safe space for everyone, especially women.
"This is all new for us—meeting fans, signings—and while it's a dream come true, we also realize that our inexperience led to trying to take photos and sign for people without any order. Moving forward, we will take extra precautions needed to make sure everyone is comfortable and self.
"We really hope this helps put some of you at ease and again. We are incredibly sorry to anyone who has been made uncomfortable. Thank you to our fan base for being there for us—just know we would never do anything to jeopardize this family. It is everything to us."
ORIGINAL STORY: MARCH 26, 2019, 5:20 P.M. EST
Earlier this week, L.I.F.T wrapped up the first leg supporting Set It Off on the Midnight world tour alongside With Confidence and Super Whatevr.
Since then, "allegations and stories" against the band have surfaced, as described by Set It Off, and they have removed L.I.F.T from the upcoming second leg of their tour.
You can view the band's statement below.
"After allegations and stories were brought to our attention by our fans, we have made the decision to remove L.I.F.T. from our upcoming headline tour. Having a safe and fun environment at all of our shows is a top priority for us and something we take seriously. We believe that it is important for every voice to be heard and we support that notion wholeheartedly. We promise we will always listen."
Set It Off did not reveal details of the allegations, and L.I.F.T. have not shared a statement of their own at the time of publication.
The band were set to join Bearings and Vukovi on SIO's second leg of the Midnight world tour in the U.K. and Europe. The tour will continue without them, and there is no word of a replacement act at this time.
You can view Set It Off's full list of upcoming dates (along with their recently announced third leg in the U.S.) below. Check out the tour's namesake album Midnight here and grab your tickets for the tour here.
Dates:
04/10 – Dublin, IE @ Workman's Club
04/12 – Glasgow, UK @ G2
04/13 – Leeds, UK @ The Key Club
04/14 – Newcastle, UK @ O2 Academy 2
04/16 – Manchester, UK @ Academy 3
04/17 – Birmingham, UK @ O2 Institute 2
04/18 – London, UK @ The Garage
04/20 – Paris, FR @ Backstage by the Mill
04/21 – Antwerp, BE @ Kavka Oudaan
04/23 – Amsterdam, NL @ Melweg
04/25 – Cologne, DE @ MTC
04/26 – Hamburg, DE @ headCRASH
04/27 – Berlin, DE @ Musik & Frieden
05/01 – Singapore, SG @ Zepp@BIGBOX
06/11 – Colorado Springs, CO @ Black Sheep
06/12 – Lawrence, KS @ The Bottleneck
06/14 – Burnsville, MN @ The Garage
06/15 – Milwaukee, WI @ The Rave
06/16 – Des Moines, IA @ Wooly's
06/18 – St. Louis, MO @ Fubar
06/19 – Nashville, TN @ The Basement East
06/21 – Indianapolis, IN @ The Citadel
06/22 – Columbus, OH @ Newport Music Hall
06/23 – Grand Rapids, MI @ Elevation
06/25 – Buffalo, NY @ Rec Room
06/26 – Poughkeepsie, NY @ The Chance Theater
06/28 – Hartford, CT @ The Webster
06/29 – Richmond, VA @ The Canal Club
06/30 – Atlantic City, NJ @ Atlantic City Beach*
07/02 – Pawtucket, RI @ The Met
07/03 – Amityville, NY @ Revolution
07/05 – Reading, PA @ Reverb
07/06 – Silver Spring, MD @ The Fillmore
07/07 – Charlotte, NC @ Amos' Southend
07/08 – Orlando, FL @ Sad Summer*
07/09 – Lake Park, FL @ The Kelsey Theater
07/12 – Pensacola, FL @ Vinyl Music Hall
07/13 – Austin, TX @ Empire Garage
07/16 – Tucson, AZ @ 191 Toole
07/18 – Los Angeles, CA @ El Rey
07/20 – Mountainview, CA @ Shoreline Amphitheatre*
*festival date