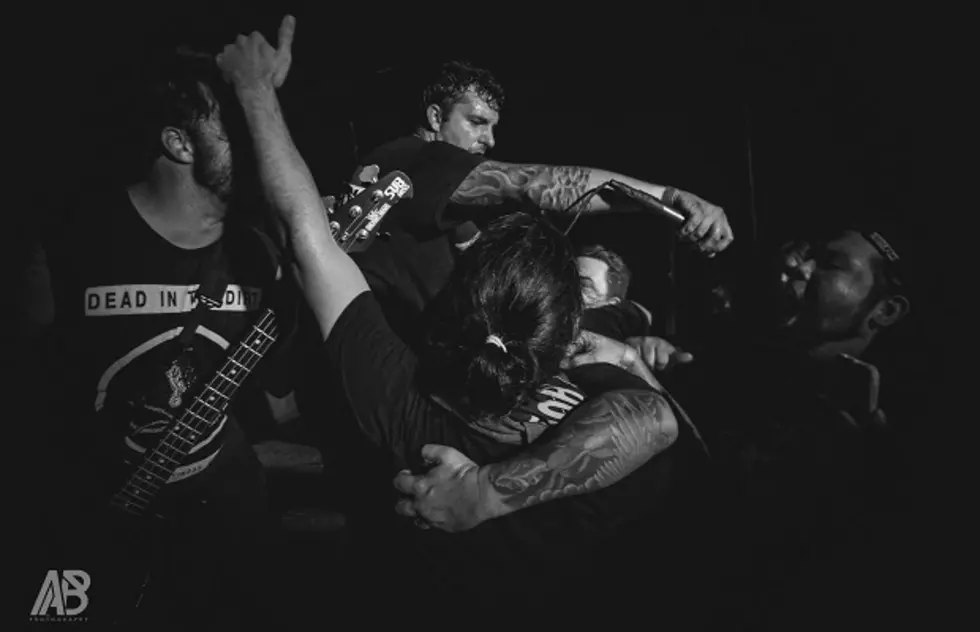 Shai Hulud cover Propagandhi with Stick To Your Guns' Jesse Barnett (exclusive)
Eternal hard/metalcore fixture Shai Hulud will release a "hate"-themed EP this winter of originals (both new and re-recorded) and cover songs. They're calling it Just Can't Hate Enough X 2 - Plus Other Hate Songs and it'll be delivered by No Sleep Records - click to preorder. Meant to bridge the gap between 2013's Reach Beyond The Sun and whatever the next album will be called, guitarist Matthew Fox went into further detail:
"The cleverer of you may have already gleaned the EP's running theme. Keeping that in mind, we were a bit limited in regard to the songs we could choose to cover; sadly, Vader's "Xeper" just didn't match up. Fortuitously, Propagandhi's "Hate, Myth, Muscle, Etiquette" did. There were certainly other songs with "hate" in the title that would have been easier for us to take on. However, Propagandhi being an all-time favorite band of ours, and said song providing an interesting challenge, we tackled it. Definitely made it our own, brazenly put our stamp on it, and had a blast in doing so. Having our pal Jesse join in on the fun made it that much more awesome for us as he's just as big of a fan as we are. We hope you enjoy it."
Enjoy our exclusive premiere of "Hate, Myth, Muscle, Etiquette" originally by Propagandhi, with guest vocals from Jesse Barnett of Stick To Your Guns.
COMPLETE TRACK LISTING:
"Sincerely Hated" (guest vocals: Rachel Aspe of Eths)

"Colder Than The Cold World" (guest vocals: Mike Perez of No Bragging Rights)

"How Hates The Heart - Or: The Fucking Silence" (guest vocals: Andrew Neufeld of Comeback Kid)

"A Profound Hatred Of Man" (guest vocals: Chad "The Moose" Neptune of Strongarm / Further Seems Forever)

"Just Can't Hate Enough" (originally by A Chorus Of Disapproval, guest vocals: Isaac Golub of A Chorus Of Disapproval)

"Just Can't Hate Enough" (originally by Sheer Terror, guest vocals: Shawna Potter of War On Women)

"Blaze Some Hate" (originally by Excel)

"Hate, Myth, Muscle, Etiquette" (originally by Propagandhi, guest vocals: Jesse Barnett of Stick To Your Guns) 
TOUR DATES (WITH SUCH GOLD IN BOLD):
10/9 Warren, NJ @ Warren American Legion 

10/10 Pittsburgh, PA @ Altar Bar (Sincerity Fest)

10/11 Detroit, MI @ The Sanctuary 

10/12 Chicago, IL @ Live Wire

10/13 Mishawaka, IN @ Smith's Downtown

10/14 Louisville, KY @ Highlands Taproom

10/15 Johnson City, TN @ The Hideaway 

10/16 Virginia Beach, VA @ Shakas

10/17 Fayetteville, NC @ Drunk Horse Pub

10/18 Charleston, SC @ Joe Pasta

10/19 Odessa, FL @ The Goat House

10/20 Lake Worth, FL @ Propaganda

10/21 Mebourne, FL @ Mclure Event Center

10/22 Panama City, FL @ A&M Theater

10/23 New Orleans, LA @ Siberia

10/24 Austin, TX @ Empire Control Room (TR Fest)

10/26 Little Rock, AR @ The Rev Room

10/27 Huntsville, AL @ The Lowe Mill

10/28 Ringgold, GA @ Cold Springs Deli

10/29 Morgantown, WV @ 123 Pleasant Street