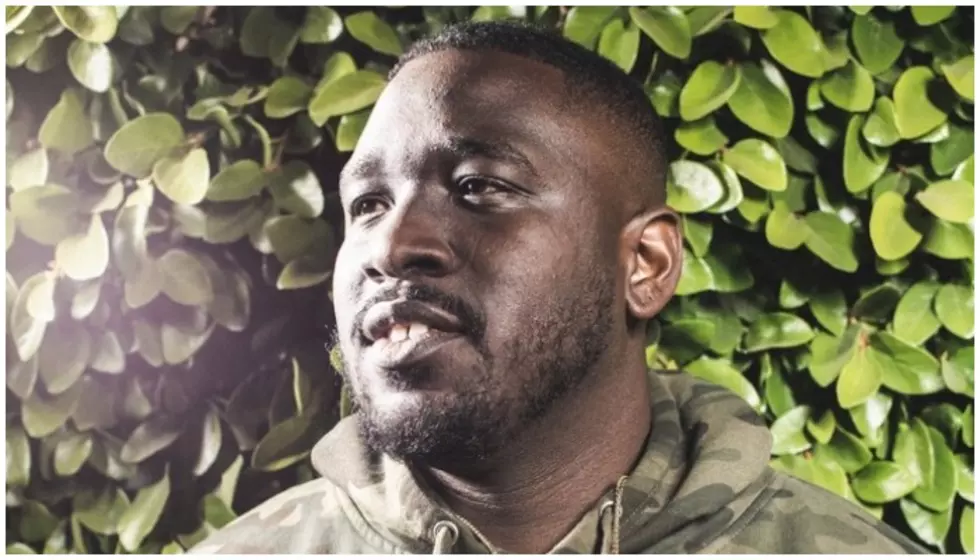 Shapel Lacey perfectly weaves the DIY attitude into his comedy work
[Photo by: Andrew Max Levy]
Shapel Lacey, an L.A. by way of Arizona stand-up comedian, is a true-to-form alternative fan. Onstage and behind podcast mics, he never shies away from sharing his love of Oasis, Rancid and beyond, knowing full well that acts such as these inform his whole life and art form. 
Lacey may have come to your attention through his videotaped sets on Comedy Central and at the Laugh Factory. Perhaps you've caught him on Theo Von and Brendan Schaub's King And The Sting podcast or even his own podcast, It's Managed. As a podcast host, Lacey has explored his love for dialogue, jokes and music by interviewing artists such as Arctic Monkeys' Matt Helders, H2O's Toby Morse, the Ghost Inside's Andrew Tkaczyk and more.
Whether you're familiar with Lacey or not, it's more than likely that you will be seeing his name more and more. His authentic, unique view of the world lends itself to both hilarious and heartfelt messages that comedy nerds and casual listeners alike need to hear. Lacey candidly shares his worldview as a graduate of anger management, coping with the loss of family members, balancing strained relationships and more. 
His comedy routines burst into the spotlight in 2019, with promises of 2020 being a breakout year for the already well-loved comic. In some ways, the momentum stopped, but in other ways, his creativity flourished. Using the break as a time to heal past relationships and create his own merch line was a highlight of quarantine that is only growing. With the help of the Maine's manager Tim Kirch, Lacey's Love Is Tight brand is soaring to new heights. Beyond designing T-shirts, hats and more, the comedian had the chance to have jam sessions with friends, tuning into his punk-rock roots and tuning out the stresses of the world. 
With 2021 revealing the light at the end of the tunnel for entertainers, Lacey has many plans in store. He's securing show dates and hoping to launch his own TV show and record an album. A man of many talents and a comic with even more stories to share, Lacey revealed his connections to the alternative world, how music and comedy aren't that different and how curiosity is essential when it comes to creativity.
How did you and the Maine originally meet?
It goes way back. So, [when] I met Garrett [Nickelsen, bassist], I think I was 16, and I think he was 13 at the time, and he was in a band called Shortbus with Tony Pizzuti, who is [now] in the band the Word Alive. Garrett's girlfriend at the time, I cheered with her. I was a competitive cheerleader. She knew I liked music. She was like, "My boyfriend is in a band. You should come check him out at this battle of the bands." And then I was just so fascinated and stuck by Garrett's side and stayed friends with him ever since. And then the Maine came along, and it was 2008 when I met them. And I was just fascinated by these dudes because it was awesome to see someone in Arizona [and] being that close to them and seeing them really doing something. They were on tour with Good Charlotte at the time. That was like their first big tour. So, it was just awesome to see that up so close, and it just inspired me to [say], "Yeah, I can do something!" I could get out of Arizona and make something of myself.
You've clearly loved music your whole life and shared that you play guitar, which raises the question: How did you transition into comedy?
It was just a dare, to be honest. Someone dared me to try out stand-up comedy, and I went for it. I remember right after my first time ever going onstage, I messaged John O'Callaghan. I was like, "Yo man, I just got done doing my first stand-up set. I'm super stoked." It was an instant love for [stand-up] after that. And then I was like, "I don't know what to think." I kept saying that, and John said, "Don't think about it. Just embrace it." And ever since then, it's been that. Wise words from John O'Callaghan. 
So, you started comedy in about 2010. You're over a decade strong then?
Well, it's weird because I stopped in 2013 or 2014, shortly after my brother passed away. That's when I was trying to figure out me as a person again or just me in general. And so I stopped for basically two years, [and I] got back onstage in 2016. And then 2016 is when boom, I just kept going. So, I say eight years total because when I stopped, I didn't think I was going to get back into it. I didn't think I'd ever do it again. Obviously, you're depressed, you're sad and you're trying to figure out how to deal with this new event in your life and how to continue to live. With that, you just start to find out what really matters to you, important things in your life at that moment or [things] you could take with you to help you through such a tragic situation. Getting back onstage in 2016, that was the first time I ever felt just so authentic onstage. It was the first time I was real with myself and real with the audience. 
How would you describe your style and the themes that you like to discuss most?
A lot of it's about me. So if anyone gets offended by that, that's their fault. [Laughs.] A lot of it is about me and my life and just my weird takes on things. I just bring people into my world. It's not like I got a hot take on something in the news or anything like that. I don't even pay attention to that stuff at this point.
[Photo by: Andrew Max Levy][/caption]
Yes, comedy can show listeners another perspective in a unique way. Comedy is about escapism, and honestly, punk is about that, too. When you were listening to all these bands growing up, were you inspired by their raw takes, and do you see that DIY attitude fused into your work now?
100%. Listen, no one strictly does everything by themselves. A lot of people do get help along the way, but DIY is what sets your foundation. If you go out there, you just do it. You're not relying on anybody—you're just going for the damn thing. People see that, especially people that are in a place where they can help you out. They see that, and they go, "Man, I see what you're doing. I was there, too. You're actually really talented. Let me help you out with this." And that's what you want. When I moved to L.A. from Arizona to pursue this, I said, "Just be good onstage and good to people. And after that, everything else will fall into place." Just work hard on those things. Then you can go anywhere from there.  
I love that attitude. When you're in the alternative/punk space at a young age, it does inform the rest of your life. So I really like that attitude that you carry with you. 
I've just seen great results from it. I think that's why I'm stuck with it. It's the one thing I know that I can always count on more than anything else because it's always been there. That's how I like to think. So [it's] one thing I know will always be there for me. If the whole world was just like, "I don't like Shapel Lacey anymore," I could be content with that because I know I got this thing over here that is always accepting. 
I think punk's just taught me [to] control what you can control. There's a lot of things we can't control, but I can control what's right here. I can control my reactions to things, I can control this individual self right here. I can't control what people do over here, what people do over there, what people see over here. If I could control myself, then that's the biggest thing. That's the reward. If I drop the ego, chill out and understand what the situation is for me, I can just find my zen after that.
You shared with Andrew Tkaczyk from the Ghost Inside on your podcast that you tend to "geek out" over musicians more than you do over other entertainers. Which musician have you been the most starstruck over?
When I met Henry Rollins. When I saw my first Black Flag video, when it was his first year of Black Flag and the power in his performance. In what I saw, the whole aura, I was like, "Man, I like this dude." I don't know why, but I connected to this dude. I think I was 13 or 14 years old when I saw this Black Flag video that a buddy of mine showed me, and that took me to another level. I've seen him do spoken word. I've been able to perform with him. I just couldn't believe he was one that I was literally standing next to. I've been following this guy for years and just always appreciate everything he's ever done. 
He's always trying to learn. He's always staying curious. Any time I've ever heard him speak, he's always come back with just so many new things to talk about. It's because he's just curious. He's staying curious and trying to understand everything. That's how I think of it.
So, have you ever been starstruck by a comedian, even though you've been working in the industry for a decent chunk of time?
Dave Chappelle. I was pretty starstruck over that. That was one where I didn't know how to talk. I forgot how to talk. I remember we were at the Comedy Store, and he walks in, just walking in my direction. And he was like, "What's up, man?" He shook my hand, and I was like, "Uh, I'm a comedian. My first name is Shapel." That's all I could say. [Laughs.] And then he started laughing and was like, "Hell yeah." And then he's like, "Are you going up tonight?" I was like, "Yeah." He goes, "Make sure you have a good set." And then I was like, "Oh, OK. Thank you, Dave." So that was probably the most starstruck I've been over meeting a comedian.
Music and comedy are worlds that overlap much more than we give them credit for because, again, you are speaking your truth, and some people are speaking truth to power. Comedians, musicians and artists are doing a really important job despite how we're all paid. Using your experience to show people a different world is essential. With all of that being said, what would you consider your favorite part about your job?
It's the constant learning. It makes you want to learn. [It] makes you want to continue to discover because I feel like when you do that, you'll always have something to talk about. As long as you're always trying to discover and trying to understand and staying curious, you'll always have something to talk about. Always.
Obviously, this year was odd for many performers with venues being shut down and touring grinding to a halt. You're slated to perform in L.A. again soon, however. How did you stay creative throughout all of this?
I feel like I've been doing fine the whole time, you know what I mean? I think I just found ways to keep my sanity other than thinking about the thing that's going on because, like I said, that's not in my control. So to me, I think of it differently than most people would. I've been able to create a merch line that was really cool. It's called Love Is Tight. It's just something I came up with. Everyone thinks it stems from being in a relationship because I'm in my first relationship ever. But it goes deeper than that. I grew up with an abusive stepfather. Over the years, I've been able to get to this point where I've been able to forgive that whole situation, forgive him and forgive him with love. And the result I've seen from doing that has just pushed everything in this awesome forward motion. So, I was able to do that and said, "Love is tight."
You can take those situations [and] you can let them stem into this hectic thing the whole time, or you can take it and you can make it into something great. And I learned that also from punk. I was watching a Ramones documentary, and one of the people they were interviewing at the end said, "That's what punk is—you take something crazy, you take all these hectic things and turn it into something great."
You can read the interview with comedian Shapel Lacey in Issue 395 featuring cover star Willow Smith, available for purchase here.