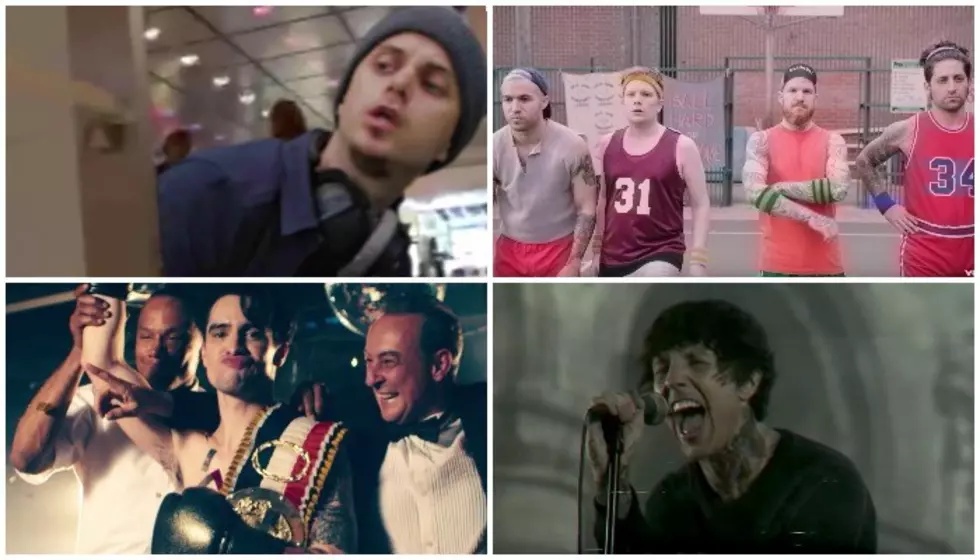 9 Shark Week-ready songs that aren't "Baby Shark"
It's that time of the year where we binge on shark documentaries and geek out on the latest underwater shenanigans. Last year, Shark Week celebrated its 30th anniversary, and this year the week-long Discovery Week special runs through July 28 to Aug. 4. With Shark Week already creeping out of the waters, here are 9 shark-centric songs that'll keep you rocking throughout the week—"Baby Shark" not included.
1. Fall Out Boy – "Irresistible"
"Too many sharks, not enough blood in the waves"

Despite undergoing drastic style changes, Fall Out Boy's lyrics remain to be their strong suit, having been praised throughout their career. Among iconic one-liners and Pete Wentz's poetic artistry, the shark reference in "Irresistible" is a classic example of a Fall Out Boy metaphor that can be applicable to various real-life situations.
2. Panic! At The Disco – "Victorious"
"Throw the bait/Catch the shark/Bleed the water red"

"Victorious" sees Brendon Urie boasting his triumphant career in more ways than one, celebrating his fame through flashy vignettes of his lifestyle. Among the many decadent moments in the Panic! At The Disco song, Urie characterizes a shark as a risky reward, ultimately portraying his charismatic confidence in pursuing his desires and "bleeding the water red" as a sign of victory.
3. Adept – "Shark! Shark! Shark!"
"The sharks will be feeding of your souls in the night"

During an era of hilariously random song titles, Adept took the opportunity to dedicate their obsession with sharks in this ripping metalcore track. "Shark! Shark! Shark!" is riddled catchy guitar riffs, enormous breakdowns and multiple shark references that reflect the ferocity of their music.
4. Dance Gavin Dance – "Petting Zoo Justice"
"Shark dad ate a baby calf"

Throwing back to "Shark Dad" from Instant Gratification, Dance Gavin Dance's "Petting Zoo Justice" gets more hysterical and nonsensical than ever. With unclean vocalist Jon Mess taking the reins, this song is arguably the heaviest from Mothership, pulling listeners into Mess' wacky realm of hogwash lyricism which some might even call modern poetry.
5. Watsky – "Pink Lemonade"
"If I'm a shark I'm not your great white I'm maybe a mako"

"Pink Lemonade" is Watsky's analysis on modern media and consumerism, exploring the hypocrisy and ignorance that plagues our society. His short bursts of lyrical imagery are packed with his intriguing outlook on today's social and political issues. Still, he manages to keep his flow fun and quirky, comparing himself to a mako shark, which is believed to be the ancestor of great white sharks.
6. Bring Me The Horizon – "Go To Hell, For Heaven's Sake"
"Feed 'em to the sharks/And throw 'em to the wolves"

If metalcore lyrics were reanimated to life, a good portion of it would be a bloodbath of vicious animals preying on our helpless emotions. Many bands have given in to this lyrical trend in the past, but Bring Me The Horizon make it count in "Go To Hell, For Heaven's Sake" as Oli Sykes tears his throat with passion delivering this satisfying line.
7. Machine Gun Kelly – "Till I Die"
"Catch me on Lee, up at Shark's eating/Whippin' with the hot sauce like I'm street leaguin', And1 though"

Machine Gun Kelly reps his hometown of Cleveland, Ohio, (also the home of AP) in "Till I Die." Giving multiple shout-outs to the city and its renowned artists, MGK also pays tribute to a seafood restaurant, Shark's Seafood & Deli, located on Lee Road as mentioned in this banging rap anthem. The sequel for this song, "Till I Die: Part II," goes just as hard, and it's definitely worth a listen.
8. Ice Nine Kills – "Rocking The Boat" (feat. Jeremy Schwartz)
"With sharks like you among us/We'll need a bigger boat"

Right off the bat, Spencer Charnas makes it clear that they're paying homage to the classic thriller Jaws, screaming "shark" at the top of his lungs. Taken from Ice Nine Kills' horror film-inspired album, The Silver Scream, "Rocking The Boat" is dramatic and heavy like the film's creeping atmosphere of impending doom.
9. Highly Suspect – "Lydia"
"I am the hungry shark, fast and merciless/But the only girl that could talk to him just couldn't swim"

"Lydia" from Highly Suspect reveals a battle of love, drug abuse and all the complications that emerge in between. Unraveling the vicious cycle of drug addiction and being unable to keep up with love, this shark-inspired metaphor hits the nail right on the head and sums up the main concept of the song.