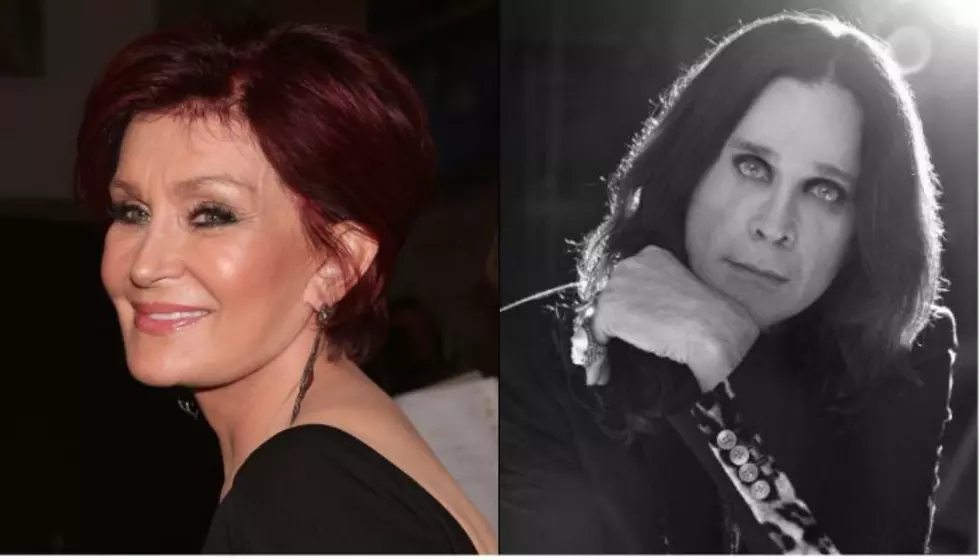 Sharon Osbourne talks Ozzy biopic hopes among 2020 plans
[Photos by: Eva Rinaldi/Wikimedia Commons, Sam Taylor-Johnson]
On her daytime talk show, The Talk Sharon Osbourne dropped some details about a film project she's working on. The film will center around her relationship with her husband Ozzy Osbourne.
Last year, rumors began to circulate about an Ozzy film, and they appear to confirmed today as Sharon placed the production on her 2020 vision board.
While sharing her goals for 2020 on her talk show, Sharon pointed to a picture of her husband and said: "I want to produce a movie on my husband."
Rewind to the summer of 2019, Sharon was speaking with Variety about rumors of an Ozzy Osbourne script floating around Hollywood.
'What a load of crap,'" Osbourne said. "It didn't make sense. It didn't have a heart, it just wasn't me."
Next, she proceeded to comment about how she was making her own film about her childhood, career and early days with the rockstar that would end with their marriage.
"I don't want to do another rock and roll, sex, drugs and money movie about a musician," Sharon said. "That's not what I'm doing. There hasn't been a movie about a woman that actually works on the management side — that's a true story — and somebody that succeeds through the struggle and you come out the other side."
"It's everything before we get married, Sharon continues. "It's the madness of my childhood, growing up in the industry with a powerful father who was somewhat violent."
A few months later in an interview with Celebrity Access, Sharon claims to have found a writer when asked if she planned on using the script she called "a load of crap."
"Oh my God, no. We are doing our own movie. We've got a deal and we are working with a writer right now, Ozzy and I"
Unfortunately, that's all of the information we have about an Ozzy and Sharon Osbourne biopic. Knowing how hard working the two are though, we're sure we'll have some more news soon.
A sneak peek of the themes of the film might warrant a watch of one of Ozzy's recent music videos for "Under The Graveyard."
The music video is an intimate portrayal of a darker time in Ozzy's past
Ozzy Osbourne's music video for "Under The Graveyard" is rather tough to watch. It's a mini-documentary of sorts. The video opens with a young Sharon Osbourne talking about how Ozzy had gone missing. Taking place in the late 1970's we see a young Ozzy drinking and doing drugs and partying and drinking some more.
This spirals out of control we see Sharon going to look for Ozzy, who is incapacitated in a hotel room. She finds him and they begin a journey back to recovery.
Ozzy Osbourne commented about how intimate of a portrayal director Jonas Akerlund and actors Jack Kilmer and Jessica Barden pulled off.
"For 'Under the Graveyard' Jonas (Akerlund) developed the story into a 'mini movie,'" Osbourne says. "But, to be quite honest, it's hard for me to watch because it takes me back to some of the darkest times in my life. Thankfully Sharon was there to pick me up and believe in me. It was the first time she was there to fully support me and build me back up, but it certainly wasn't the last."
Watch "Under The Graveyard" below and maybe get a taste of what the (hopefully) forthcoming Sharon and Ozzy documentary will be about.
The release date of Ozzy's upcoming album Ordinary Man is Feb. 21. The album can be preordered here. It features collaborations with Slash of Guns N' Roses, Post Malone, Tom Morello of Rage Against The Machine and Elton John.
Would you like to watch a movie about the early days of the Osbourne's? Tell us in the comments below!
[envira-gallery id="199143"]