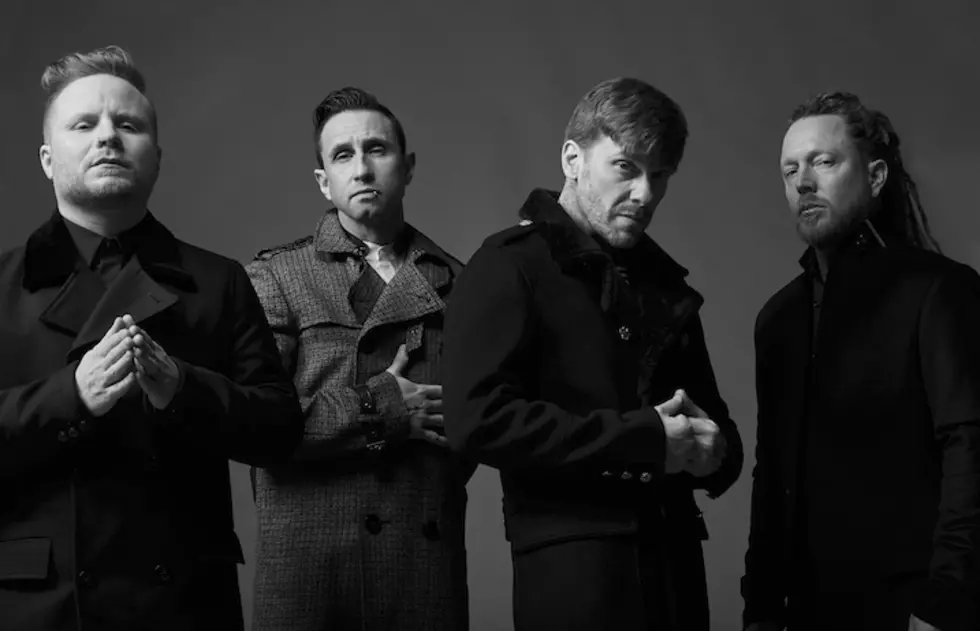 Shinedown stare down the beast on new song "THE HUMAN RADIO" — listen
[Photo by Jimmy Fontaine]
[Photo by: Jimmy Fontaine]
Your attention, please.
Melodic hard-rockers Shinedown are back with their sixth studio effort, ATTENTION ATTENTION, out May 4, and today they reveal the album's triumphant second single, "THE HUMAN RADIO." Check it out below.
Following lead-off stunner "DEVIL," the new song—an explosive and encouraging call to arms—is emblematic of Shinedown's staying power. While the band trail just two other acts for the most No. 1 hits on Billboard's Mainstream Rock chart, they prioritize the humanity in the airwaves ahead of radio-play accolades. "Keep your eye on the prize and your feet on the ground," singer Brent Smith wails on "THE HUMAN RADIO," and the battle cry is key to what's brought the band this far: Their storytelling power connects the crowd, and it's led to an inspiring, open-door relationship with their fans.
After all, what every effective artist needs is an audience who's listening. Speaking to AP, Smith recites his personal motto about who Shinedown answer to. "We only have one boss," he says. "It just happens to be everybody in the audience." That idea extends to the narrative thread of ATTENTION ATTENTION, a loose concept album of relatable, redemptive power. It's Shinedown's turn-the-corner moment of creative triumph, but it stays true to the group's roots and to their longtime fanbase. "This is an album that is not solely about me," Smith offers. "This is an album that's about a lot of different people."
Some of those people are the very contingent who've supported the Florida-born outfit since their early-2000s inception. In a sterling instance of band-to-fan feedback, a recent encounter with one longtime listener left a huge impression on the frontman—one that directly fed the greater arc of the album. "There was this young man who was at a meet-and-greet," the singer recalls, "and he asked for more time with me, because he wanted to ask me a question." The fan's unhampered appeal—delivered in the middle of the band's recording sessions for the new record—was, "Can you make it heavier?"
"He's like, 'I want it to punch me in the chest,'" Smith summarizes of the request, which was heeded in both sound and scope. "So, even though we were in the studio and we were writing the album, what that young man said stayed with me." The singer, after nearly two decades of music business success accompanied by his own mortal struggles, is reaching out to the human radio. It's the link that propels the singer and keeps the Shinedown Nation wanting more. "Listening to our audience is so, so crucial. Because they're the ones who decide whether we stay or go," he says.
Smith allows that ATTENTION ATTENTION isn't quite a rock opera in the vein of "Pink Floyd's The Wall, or even Operation: Mindcrime by Queensrÿche," but the cerebral saga within Shinedown's sixth album is what he calls "a very necessary record for the world right now." A self-contained story that starts at rock bottom and claws its way to the top, the album is driven by the musician's learned perspective on trying, failing and ultimately succeeding—on one's own terms. It's a message he feels listeners need to hear right now.
Read more: Underoath aren't throwing shade at God, really
"As you get older, thinking back to your youth—or even if you're in your youth—there's a lot of times where you'll question who you are, what you're about and what you represent. This is a psychological journey into that," Smith elucidates. "To simplify it a bit, it's a record about not being afraid to fail. It's a record about understanding that you're going to make mistakes. You can't paralyze yourself into a corner and not attempt anything because you don't think you can accomplish it."
"You can't paralyze yourself into a corner and not attempt anything because you don't think you can accomplish it."
The candle of intention was lit with last month's drop of "DEVIL," the first proper song on the album (after a scene-setting intro) and the ominous ingress that finds our everyman protagonist "psychologically digging in the dirt," as Smith puts it. "The devil in the song is the other side of you," he explains. "If you know anything about me and my history, you know I had a lot of problems with substance abuse at one point in time. There's a guy inside of me who would do anything in his power to sabotage my entire life."
The destructive, self-sabotaging power found in "DEVIL" is "different for everybody," the musician admits, but he warns it's "a part of you that sometimes remains dormant, and then sometimes, if you're not careful, it gets out. That part of you does not want to see you succeed or even survive. That part of you wants to kill you." Smith has seen the lowest lows, but he respects the pilgrimage that's placed him here, even the painful blows.
"I would've never been able to write this record if I hadn't gone through those things," he continues. "When I'm saying, 'The devil's in the next room,' it builds up to the fact that on the very last chorus, I say, 'The devil's right beside you.'"
Smith's opinion of his journey, as Shinedown fans are aware, is epitomized in a tattoo on his hand that reads, "Your pain is a gift." And for such a deeply personal endeavor as ATTENTION ATTENTION, the band turned further inward, producing the album in-house for the first time ever. The band's bassist, Eric Bass, recorded and mixed the set at his studio in Charleston, South Carolina.
The crackling, attention-grabbing sonics of the album couldn't be better served by Bass' nimble production. From the dirty, swaggering drive of the title track, to the symphonic bombast of "EVOLVE," Shinedown's well-honed craft as rock 'n' roll record-makers hits a new level—one that's thematically mirrored by the album concept's rise-from-the-ashes gusto. Also boosting ATTENTION ATTENTION's brave chronicle is the band's plan to create a music video for every track on the album, an undertaking already underway with the tension-ratcheting clip for "DEVIL" and today's premiere of "THE HUMAN RADIO."
Directed by Bill Yukich, who's done shoots for Marilyn Manson and Beyoncé, the new clip incorporates Shinedown's aforementioned "boss"—their audience—in an inquisitive, eerie look at society: A Hollywood casting call from February results in the vid's cutscenes of wary bystanders amid the moody context. But the song and its video, according to Smith, is a paean to the human spirit. "Not only is it a symbol of the humanity inside all of us, it is a beacon of hope and prosperity," he says, adding that it was "an honor to have our Shinedown fans—family—make the journey to California to be a part of the video."
Asked for his favorite song on the new album, however, Smith says the record's pinnacle may be ATTENTION ATTENTION's closing track, the firecracker finale of "BRILLIANT," wherein the singer illustrates the victory of self-acceptance over life's crushing defeats. "Let me clear my throat/Let me catch my breath/Let my heart bleed out/Til there's nothing left/It's my day to be brilliant," he resounds on the tune, celebrating another hard-won chapter in Shinedown's history.
"Don't be afraid to fail," Smith reiterates, just in case you weren't paying attention. "But don't ever forget that it's your day, you know? Don't forget that you are necessary. The world needs you. Don't lose sight of that."