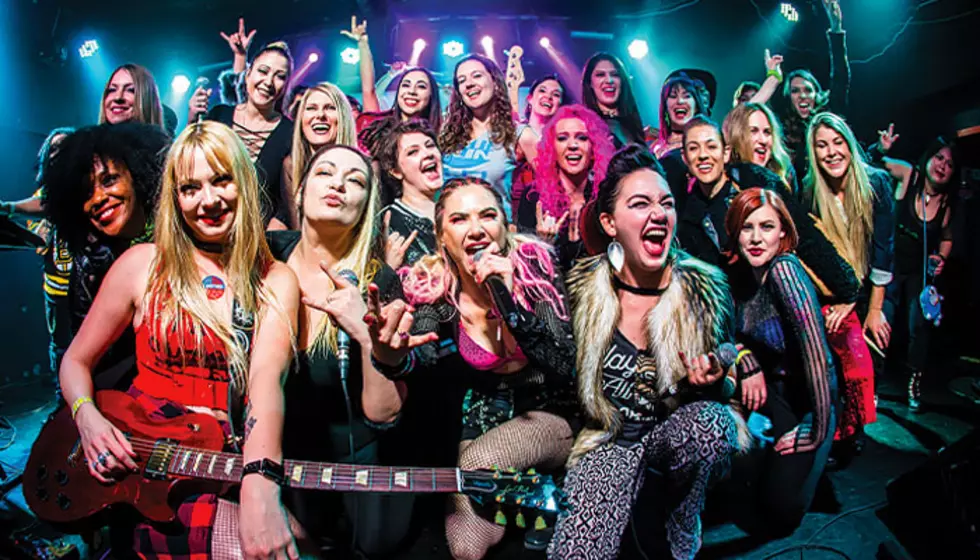 Shiragirl's Shira Yevin launches the female-forward Gritty Rocks Live tour
When it comes to building community and rocking out, there is nothing Shiragirl's Shira Yevin won't do. That includes facing down the pandemic. Tonight, Yevin's new platform, Gritty Rocks Live, will livestream its first showcase of women artists. The "virtual tour" will feature women artists in eight cities, playing in various configurations.
Yevin is well-known as the founder of the Shiragirl stage which set up on Warped Tour every summer. Gritty Rocks Live was intended to be a touring extension of Yevin's Los Angeles-based "Gritty In Pink" club nights. The events were open to both new women artists and established names. When the pandemic decimated the live music industry, Yevin stepped up to make it a digital event. Gritty Rocks Live happens every Tuesday in July and August. Today's show will feature New York City-based artists. Gritty Rocks Live's schedule includes Atlanta (7/14), Nashville (7/21), Chicago (7/28), Austin (8/4), Denver (8/11) and Phoenix (8/18) before ending in Los Angeles on Aug 25.
"We had this great monthly event going," Yevin says. "It was a magical night at the Satellite in Silverlake. Gritty Rocks Live became this community, all the female all-stars in L.A. coming out every month to play. When the pandemic hit, it was like, 'Oh, shit. Now what?' We can't perform, we can't have band practice.' I said to my team, 'Let's make it a livestream.' We could do a live fundraiser on Instagram, and we wanted to work with various charity partners.
"We thought this was a cool way to bring the country together," she continues. "One good thing that came out of it was that we could work with musicians from all over. And it took on a life of its own."
Gritty Rocks Live has planned for a wide array of female artists in all genres. Bad Cop/Bad Cop, Shea Diamond, Whitney Peyton and Eyes Set To Kill will be participating along with many other talents, socially distanced and safe. "The performances are usually stripped-down and acoustic,' Yevin says. "Some people play solo or as two people. People are doing different things."
When Yevin was running her Shiragirl stage on Warped Tour, she experienced both extreme highs and soul-crushing lows. Warped may be over, but her conviction has ramped up even harder. Gritty Rocks Live is the means to a much greater end.
"My endgame with Gritty In Pink is to build community," Yevin says. "Our team has been talking about what that is. Is it online or is it IRL? It's really a platform for women to connect with each other. I've had managers tell me I'd be further along in my career if I just focused on my project. I've always seen this as a movement and bigger than myself. This is about empowerment and holding each other up."
Tonight's Gritty Rocks Live starts at 10 pm ET from New York tonight. Learn more about GRL here and check out the show via Instagram.