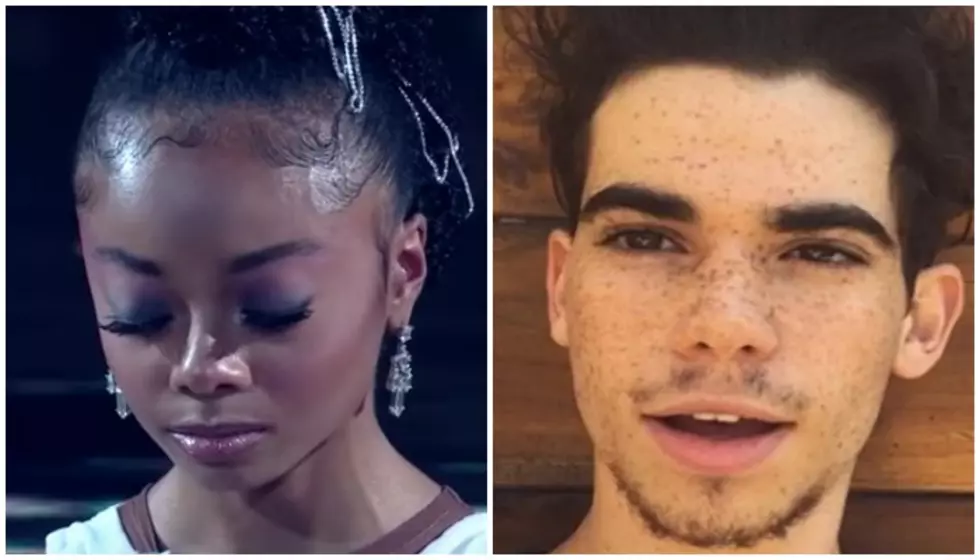 See Skai Jackson honor Cameron Boyce in emotional 'DWTS' routine
[Photos via Skai Jackson/YouTube, Cameron Boyce/Instagram]
Disney star Skai Jackson used her latest performance on Dancing With The Stars to honor late actor Cameron Boyce.
Jackson's emotional foxtrot to John Legend's "Ordinary People" earned the first 10 of the season.
Boyce, who had epilepsy, tragically passed away in July of 2019 after suffering a seizure in his sleep. He was best known for his roles in the Descendents series as well as Jessie and Mrs. Fletcher.
Both Jackson and Boyce became friends on the set of Disney's Jessie which also starred Debby Ryan. The two acted opposite each other from 2011 - 2015. During the Dancing With The Stars episode, Jackson opened up to her pro dancing partner Alan Bersten about her friendship with Boyce.
"He was in my life for half of my life, which is crazy," she shares. "I met Cameron, obviously, on Jessie, and we just really built this bond for years and years and years. And he was kind of like a big brother figure to me."
Jackson also emotionally shares that Boyce helped her become the actress and person she is today.
"He always looked out for me through everything," she continues. "He really molded me into the person that I am now. Of course, I miss him every day. But I have him on my phone case, so I get to see him."
She then shows off her phone case that features a photo of the two of them while on the set of Jessie. Although Boyce is gone, Jackson knows that he would be so proud to see her perform on Dancing With The Stars.
"He would be really proud of me," Jackon says. "I know that he loved Dancing with the Stars and he loved dancing. So that's why I'm really excited, just to do this dance, because it is for him."
Jackson and her pro dancing partner went on to perform a foxtrot to "Ordinary People" in honor of Boyce. The dance earned the first 10 in season 29 and was warmly received by the judges.
"First of all, for me, dance is always about the emotion, and I'm sure that Cameron is watching you right now and he is so proud of you," Carrie Ann Inaba says. "What you did, you were like an angel dancing the most beautiful dance. It was just sheer perfection."
One of Boyce's last acting roles before his death is in the upcoming American Satan spinoff Paradise City. For the first season, Boyce plays Simon Ostergaard, the frontman of the band The Flux. The character is described as a "young musician, bandleader and aspiring DIY executive in the music business."
Boyce joins Andy Biersack, Ben Bruce, BooBoo Stewart, Bella Thorne, James Cassells and more in Paradise City. Due to the coronavirus pandemic, the series' release has been delayed and the premiere date is still unknown.
Watch Skai Jackson's touching tribute to Cameron Boyce below.
What are your thoughts on Skai Jackson's Dancing With The Stars routine? Let us know in the comments below.