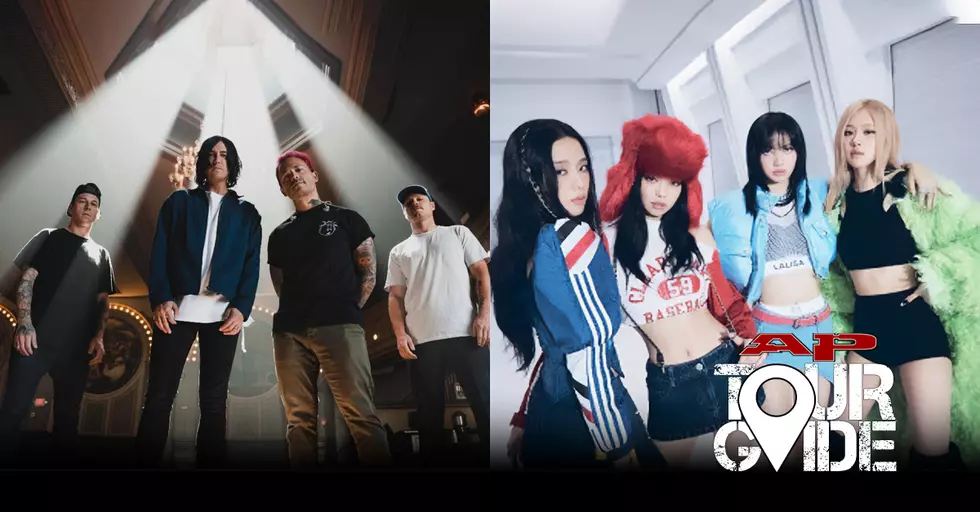 Catch Sleeping With Sirens, BLACKPINK and more on tour
[Sleeping With Sirens/Nick Stafford, BLACKPINK/YG ENTERTAINMENT]
This is Tour Guide, a weekly recap of the concert news music fans don't want to miss. Basically, run — don't walk — to get these tickets.
Sleeping With Sirens announce an intimate club tour for October 
To coincide with their upcoming album, Complete Collapse (out Oct. 14), as well as high-profile slots at this year's When We Were Young Festival, Sleeping With Sirens will embark on an intimate club tour in select cities across the U.S. this October. True North will join the band for the run, with the exception of the Fresno show featuring Seattle metalcore act Dragged Under. Sleeping With Sirens have also announced a special VIP experience for fans, which will take place on every date of the tour. Tickets and VIP information can be found here. 
BLACKPINK add additional North American Born Pink tour dates due to high demand 
At this point, BLACKPINK are unstoppable in every sense of the word. Not only did the K-pop group release their highly anticipated sophomore album, Born Pink, this September to great success, but their corresponding world tour has also been selling out across the board, leading the group to add additional dates to keep up with the high demand. BLACKPINK added bonus dates in Los Angeles, Atlanta, Houston and Dallas. In each of the aforementioned cities, BLACKPINK will perform back-to-back nights in an arena setting, and if you hurry, you can snag tickets here.
Drain will hit the "Northeast and Beyond" this October 
Santa Cruz, California's own Drain will embark on a special headlining run of shows in the northeast and Canada this October. Special guests include Long Island emo revivalists Koyo and metallic-hardcore juggernauts Life's Question. Drain have recently ascended to the top ranks of the hardcore scene, playing sold-out shows and headlining major festivals across the U.S. and Europe this past summer, so fans will not want to miss seeing the band in such intimate venues before they inevitably blow up next year. Tickets can be purchased here. 
Paramore add a special New York City show to their upcoming tour
Paramore's upcoming fall headlining tour continues to keep adding exciting new surprises and special announcements. Last week, the group announced that they would perform two special LA shows, and now this week they've revealed that they will hit Beacon Theater in New York City Nov. 13 for yet another intimate performance. Joining them is special guest Ogi, and once again the band will continue their philanthropic efforts by allocating a portion of ticket sales to the climate-conscious initiative Support + Feed in partnership with City National Bank. Grab tickets for their upcoming shows here.