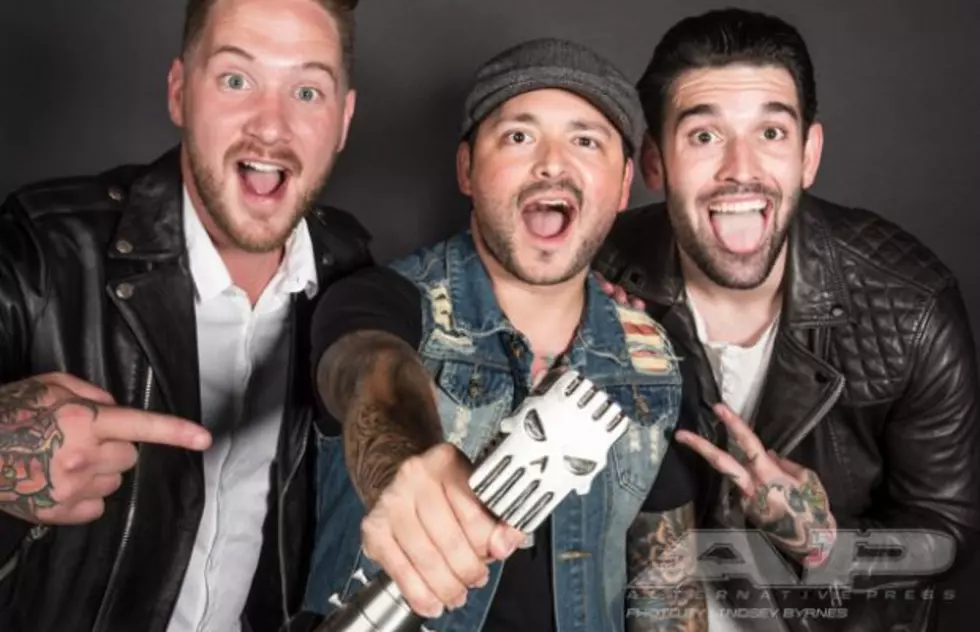 Sleeping With Sirens discuss Song Of The Year win, competing with friends in PVRIS, Beartooth
Sleeping With Sirens had some tough competition for Song Of The Year at the 2015 APMAs, but at the end of the night, the boys walked away with a Skully for "Kick Me." We sat down with drummer Gabe Barham and guitarist Jack Fowler right after accepting their award to talk about their friendly competitors, WWE, and careers in daycare.
Interview by Lee McKinstry, photo by Lindsey Byrnes. 
What did you think of your competition this year?

Fowler: Amazing bands.

Barham: I was a little bit nervous with...

Fowler: PVRIS.

Barham: I was a little bit nervous with PVRIS. They're some of our best friends. And also my boys in Beartooth.

Fowler: It's more nerve-wracking because they are our friends. So it's like, if they were to take it, I already told the guys, "I'm gonna stand up and fucking flick you off, go onstage, hang out, all that shit."

Barham: I was gonna be happy no matter what. I didn't know what to expect. We had no idea, so it's definitely cool. We're definitely excited.
So what's next for Sleeping With Sirens? Your song "We Like It Loud" was just named theme song for WWE NXT.

Barham: It's pretty awesome.

Fowler: Sleeping With Sirens is gonna tour, tour, tour. Sleeping With Sirens are gonna tour, and we are very stoked about the NXT thing. I'm a big wrestling fan; we actually all are.

Barham: After the NXT thing, the next thing for Sleeping With Sirens is we're all gonna become daycare moms. We're gonna watch people's kids when we're not on tour.
A lot of your songs are about motivating the underdog ("Kick Me," "The Strays"). Why is it important to speak for those people?

Fowler: It's important because in the underground, all those kids don't really know what they're getting into, then they experience life and shit is going on and they don't have anything to grasp onto, and then they grasp onto our music. They love it and they live with it and that's why we write it.

Barham: Kellin [Quinn] really does a good job at grasping onto those fans that maybe have insecurities and go through the same thing that everyone does, but might not have the balls to say it. We all go through it. We've all had our insecurities, we've all had our ups and downs, but people are scared to talk about it. They wanna act like they're fine, but really, sometimes they're not. Kellin has a good way about him of being able to connect to those fans in saying that we're not better than anyone else. Thankfully we've been successful enough to have a voice, and be a voice for these fans to be able to stand up and say, "We don't need to take that shit," basically "fuck you." We're all the same and we can all do whatever we want. We're all equal.
What's been your favorite performance of the night?

Barham: Sum 41 just crushed it. They just absolutely killed it. I was on the floor in the pit, rockin' the fuck out.

Fowler: My favorite part of all the performances was Gabe moshing to Sum 41.

Barham: Jack just loves me. He just likes watching me because he thinks I'm a really hot boy.