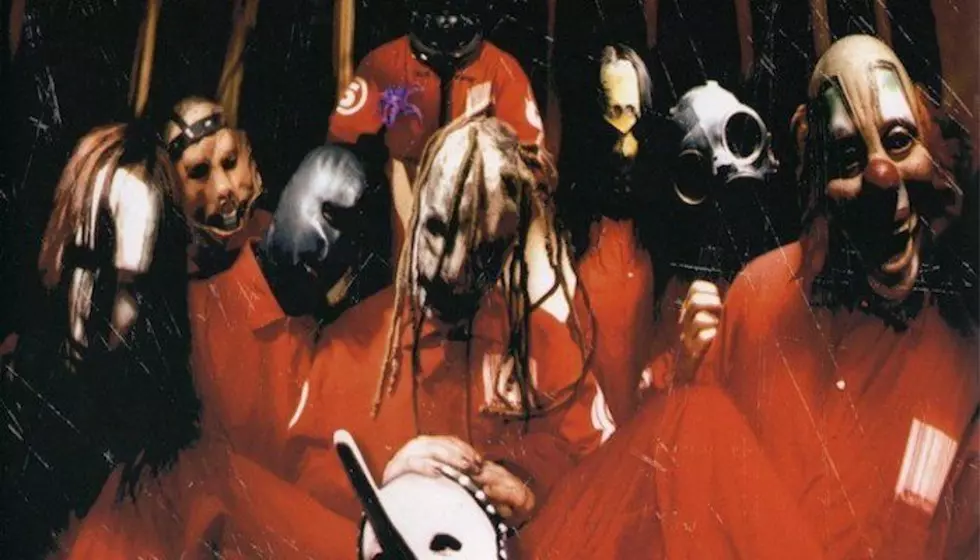 Slipknot masks transformation: 20 years of literal blood, sweat and tears
Twenty years ago, nine Iowans started a sickness with their self-titled debut that was unimaginably contagious. They fomented a revolution, took metal by the horns and crushed it to pieces with catastrophic energy. Slipknot were bound to wreak havoc in the best way possible as they came crashing down to the scene with an attitude like no other. 
Following decades of intense performances, crazy onstage antics and literal blood, sweat and tears, the band have mastered their craft as metal virtuosos, still furthering their legacy today. Among Slipknot's music, it's no doubt that their macabre disguises reflected their primordial spirit. They act as the ultimate centerpiece that captured the band's emphatic image.
Head below for the breakdown of each of Slipknot's eras as captured through their iconic masks.
S/T era (1999)
Upon their debut, Slipknot emerged on the scene in matching red jumpsuits and horrifying masks that cemented their unsettling image. Many of the masks during this era served as a basis of their looks and inspired the band members' later versions and adaptations.
Starting out with flailing dreadlocks, Corey Taylor's first mask had a ghoulish semblance that carried on to the Iowa era. Joey Jordison's original mask evolved from a white Kabuki mask that was featured on the cover of their first demo album, Mate. Feed. Kill. Repeat but was slightly altered with the addition of tribal patterns under the eyes. Similarly, Mick Thomson began with a hockey mask as seen on the album but changed shortly after to a leather mask that guised an intimidating metallic look. Jim Root marked his origins with a distressed jester mask, and Paul Gray wore a Halloween pig mask as a symbol of indulgence. Craig Jones hammered nails on a black helmet for his mask, while Sid Wilson kept it simple with a gas mask. Chris Fehn's iconic Pinocchio-inspired mask was already in tune, and needless to say, Shawn Crahan was the Clown. The band often made slight changes during the era such as jumpsuit color adjustments, but their initial look stayed fairly consistent.
Iowa era (2001)
Just when everyone thought Slipknot couldn't get any more punishing and heavy, Iowa aggressively shoved all the momentum in their faces with chaotic rage and brutality. The crew made minor tweaks, and their ambitious sophomore album spawned navy jumpsuits and new masks that marked phase two.
With a hauntingly dreadful expression, Crahan's clown mask went through a gruesome do-over with a bloody pentagram across the face. Gray changed his to a simple black mask after receiving backlash from a member of Cleveland metal act Mushroomhead who also wore a pig mask. Jordison and Wilson stuck to their original masks but had new variations—one of Jordison's masks featured blood running down the face, and Wilson had a skull mask in the shape of a gas mask. Jones abandoned the helmet but continued to embrace the Hellraiser look with an all-head mask. 
Vol. 3: The Subliminal Verses era (2004)
Winning their first Grammy with "Before I Forget," Vol. 3: The Subliminal Verses unveiled the inner counterparts with groundbreaking anthems and potent melodies that revealed their emotional side. Slipknot were well into  the metal pantheon by then, claiming fame in style with their new looks.
During this era, Taylor's mask was scarred with stitches and scratches, resembling a beaten, disfigured face. Crahan went through another horrific transformation—this time he was wrapped in a white bandage, all plastered in blood. Wilson's mask evolved fully into a skull, and Fehn's Pinocchio mask would frequently change colors. The rest of the masks retained the same style but with a cleaner finish to the details. The Vol. 3-era masks captured the band as metal icons and celebrated their career-defining milestone. 
All Hope Is Gone era (2008)
Following the triumph of Vol. 3, the nine were still cranking out heavy hits and sentimental tunes on their fourth album, All Hope Is Gone. They allowed themselves to explore different avenues, bringing in various metal and hard-rock influences that showed the band's new trajectory. 
Wilson had the biggest transformation of the crew, returning with a futuristic robot mask. Crahan had come a long way too; this time, his mask was black with thick stitches outlining the face. Taylor kept it simple with a white, expressionless mask, while Jordison's emphasized precise details and stitches added to the design. Fehn's mask stressed a more rugged look, and the rest of the band remained relatively the same.
.5: The Gray Chapter era (2014)
The tragic death of Paul Gray in 2010 left the band astray, resulting in a lofty hiatus. After a few years, , the band announced drummer Jordison's departure and the release of .5: The Gray Chapter. It was later revealed that Alessandro Venturella and Jay Weinberg replaced Gray and Jordison's roles, respectively. Although Slipknot had lost two of their core members, .5 The Gray Chapter was a heavy comeback that sprung the band right on their feet.
Taylor returned with a humane mask reminiscent to the Vol. 3-era mask minus all the damage, and Crahan reverted back to a classic bloody clown look. Wilson received an upgrade on his old gas mask, while Thomson, Root, Fehn and Jones' masks have stayed consistent. And, of course, new members meant new masks. Venturella and Weinberg were originally assigned the same masks but ended up with grisly, mangled ones  displaying pentagrams on the forehead.
We Are Not Your Kind era (2019)
It's been five years since we've heard new music from Slipknot. The band teased individual photos of the new masks on their Instagram the same day they announced We Are Not Your Kind. However, with the recent passing of Crahan's daughter and parting ways with Fehn, things haven't been going too smooth for them. But with their anticipated album in August and a mysterious member, we can't wait to see what the future holds.