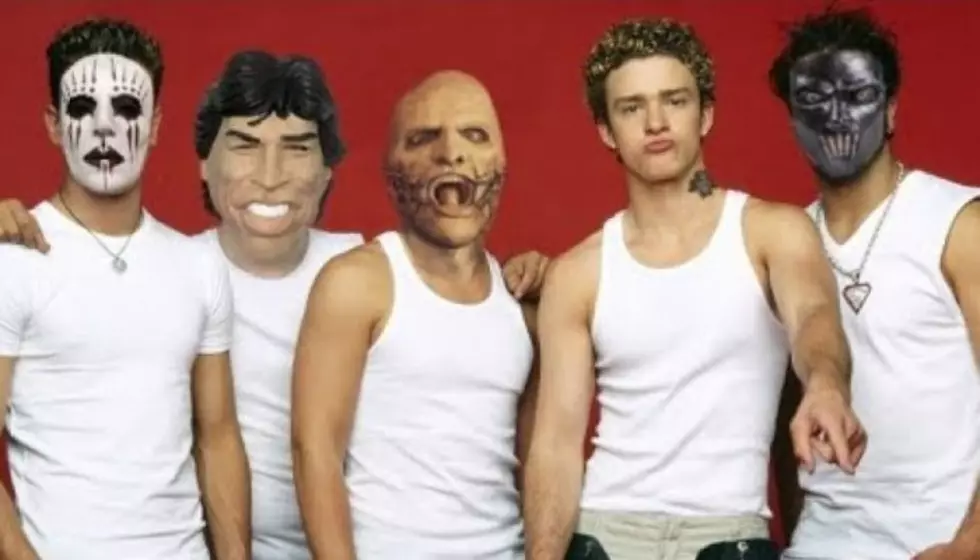 Slipknot, NSYNC "Before I Pop" mashup puts a new spin on pop-rock
[Photo via YouTube/DJ Cummerbund]
The world of mashups have continued to blow our minds as more and more emerge with a blend of artists that shouldn't work, yet somehow do. This time, boy band meets rock band in a Slipknot and NSYNC mashup that will leave your jaw on the floor.
Check out DJ Cummerbund's mashup "Before I Pop" below!
From combining Post Malone and Hawthorne Heights to mashing together Taylor Swift and Fall Out Boy, mashups have been defying genres to create tracks we never knew we needed.
Now, mashup mastermind DJ Cummerbund has merged together Slipknot's "Before I Forget" with NSYNC's "Pop" for an incredible concoction that is surprisingly perfect.
To make the "Before I Pop" mashup even better, the accompanying video will make you feel like you're watching a collaborative Slipknot and NSYNC performance.
According to the video's description, they're not the only ones making an appearance in this unbelievable video.
"ARTISTS FEATURED IN THIS POPPY POUNDER:
1. NSYNC
2. Slipknot
3. Randy "Macho Man" Savage
4. Merry Clayton
5. The Rolling Stones"
Call it Popknot or SlipSYNC, but there's no denying that this mashup actually works.
Check it out below!
More on Slipknot
Someone has reimagined a Slipknot track from 2008 in the style of twenty one pilots, Lil Nas X, Linkin Park, Tool and more.
Popular YouTube channel Ten Second Songs responded to fans' requests to take Slipknot's "Psychosocial" and reinvent it in 25 new styles.
The YouTuber also transformed the songs in the styles of the Cure, Gojira, Ghost and more. He also did it in the style of an 8-bit track, meditation music and more. You can see the track below.
Slipknot have spent the past few months touring and promoting their latest No. 1 album We Are Not Your Kind, which you can stream below.
[envira-gallery id="199143"]