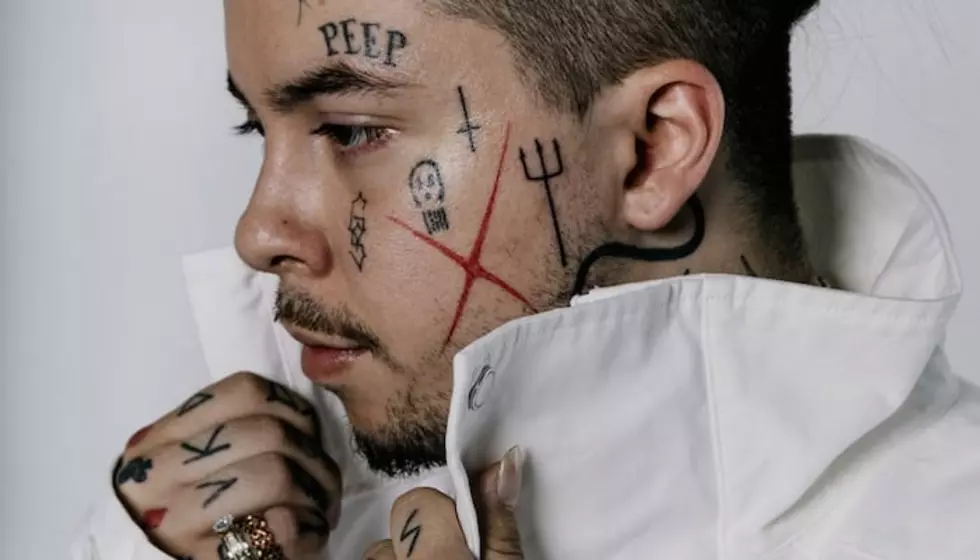 Lil Peep collaborator Smokeasac vows to keep rock music alive
[Photo via Smokeasac]
Smokeasac made a name for himself producing other's music, but the release of his new track "Leave You Behind" sees him stepping into the spotlight.
The 24-year-old Virginia native, born Dylan Mullen, was at the forefront of blending rock guitar melodies, hip-hop beats and heart-on-your sleeve lyrics with his friend and collaborator Lil Peep and continues to bring that fusion to listeners with his solo work. Although today marks the release of his very first music video, Smoke has been singing and recording his own tracks since he started making music seven years ago.
A huge fan of both early 2000s rock and hip-hop, he says his motivation to blend the two genres came from a desire to bring more guitars into popular music. "The truth was that I felt like more people were into trap instrumentals," he says. He noticed far more people gravitating toward rap as opposed to rock and music with live instrumentation and wanted to present those elements in a way that would connect with today's listeners.
"I just felt like there needed to be something that the new generation of kids could vibe out with and still have those elements of rock. I felt it was important to keep that alive 'cause I felt like it was like dying out."
When he started working with Peep, he put his focus on producing. Before that, Smoke says he was against sending his beats to other musicians, trying to make a name for himself as an artist. "Something about hearing [Peep's music] completely changed the way I thought about everything," he shared in a previous interview with AP about his friend. "All of a sudden, I just wanted to make him beats all the time."
He spent much of 2018 painstakingly working to honor Peep's legacy with the completion and release of the posthumous release Come Over When You're Sober, Pt. 2. While he still produced "Leave You Behind," recently he's been putting more attention toward writing and recording his vocals. "I'm definitely known for my production, but I've been singing and putting songs out since I started making music," he says. "The production became a big priority of mine because of meeting Peep and how well things were going; I just put it to the side. I have probably 500 songs I've recorded, maybe more. So [doing my own songs] doesn't seem that new to me but also, putting the production to the side [is new for me]."
For his solo effort, he's been working with other producers and musicians, including his friend Slight and guitarist brother Shane Mullen, who also played on Come Over When You're Sober, Pt. 2. "I like working with other people. I'm working with friends of mine that produce and understand my vibe," he shares. "People like my brother that play guitar. People that I can vibe with and just make good music with. I like to do it by myself, but it also feels good to work with other producers who hear things that I don't hear."
"Leave You Behind," inspired by Smoke's fascination with the full moon and the strange happenings it can bring, was born from a jam session with his brother. The accompanying visual component follows a modern-day Bonnie and Clyde narrative with a twist ending. It was directed by Gab3, who Smoke says he always knew he wanted to do his first music video because of his respect for his artistry, style and vision. Gab3 shared his excitement to be part of the project. "Smoke is one of my closest friends in the world. We've been through a lot. We were poor together; we used to record music in dirty motel rooms." Gab3 shares. "We lost one of our best friends last year, and Dylan has had a really big responsibility continuing the legacy. I'm so grateful to be a part of his journey."
While Smoke has appeared in music videos before (catch him driving the Benz in Lil Peep's "Benz Truck" video), he says being the focus was more fun than nerve-wracking and got him excited for the next one. "A lot of the takes, I was just busting out laughing," he says of the experience. "I couldn't hold it in because we're doing the robbery thing, and the guy who's getting robbed by the girl is actually my mixing engineer, so I'm good friends with him, too. The whole thing was funny to me, [but] I'm trying to keep this serious face on."
As for the future? He says there's definitely more to come on the horizon and hints at an upcoming track with a darker vibe on the way. "I've just basically been recording every night," he says. "Just experimenting and seeing where my sound is going." His ultimate goal, though, is to make a difference in the music world and his fans' lives.
"I want to be remembered as somebody who pushed music to a new level," he says. "[Also], the connection with the fans [is big for me] and being able to make music that people can relate to and help people out. That means the world to me."