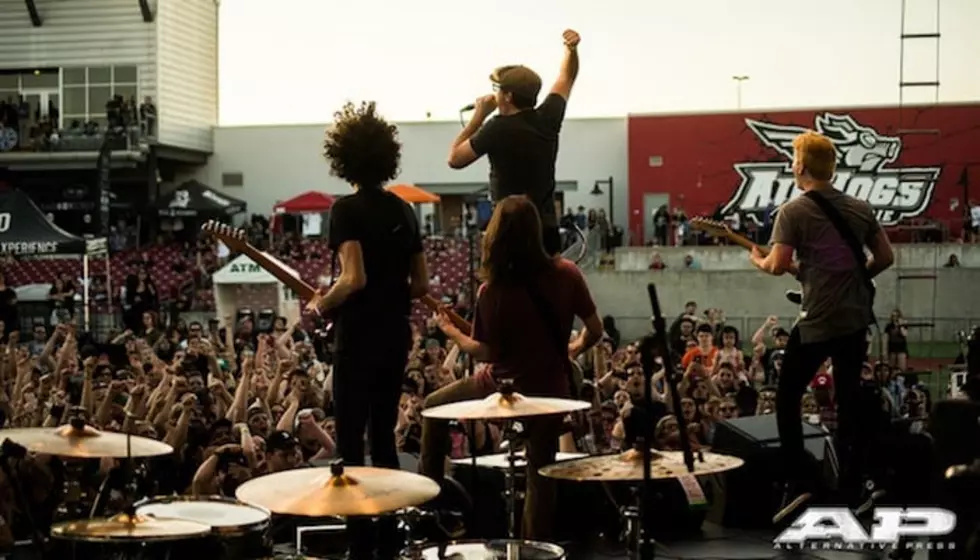 So What?! Music Festival reveals first lineup wave for 2019 return
Forever The Sickest Kids at So What!? Music Festival 2017. [Photo by: Lily McLaughlin]
The Texas-based So What?! Music Festival in is returning after taking a year off, and they're certainly coming back with a bang.
Formerly South By So What, So What?! announced four bands who will be joining them for their big return.
The previous festival in March 2017 included Attila, The Story So Far, Dance Gavin Dance, Every Time I Die and many more.
The 2017 event also housed some special album plays including Mayday Parade (A Lesson In Romantics), Forever The Sickest Kids (Underdog Alma Mater), We The Kings (self-titled), Set Your Goals (Mutiny), Cute Is What We Aim For (Same Old Blood Rush With A New Touch), Four Year Strong (Rise Or Die Trying) and Never Shout Never (Yippee EP, Me And My Uke).
In Nov. 2017, the festival posted the news that they were taking a break to their Facebook page:
"To address the elephant in the room, we wanted to officially announce that we will NOT be having So What?! Music Festival this coming March. 
"The last 10 years of the festival have been amazing and incredible and even life changing for our team. We have watched young bands like A Day To Remember, Sleeping With Sirens, Of Mice & Men, Beartooth, and more grow up through the festival and go on to do huge things while also being able to book the bands we grew up on like Taking Back Sunday, The Used and New Found Glory. We have been able to mix in artists we love that don't necessarily fit the mold like Riff Raff, G-Eazy, Pouya, Fat Nick, and more. 
"Our team is spending some time reflecting on the last 10 years and planning the next 10. We are working behind the scenes to bring the next chapter of So What?! Music Festival to life. Stay tuned for announcements."
The festival first teased a return in August 2018, posting a video with the hashtag #sowhatmf:

Today, they revealed the 2019 festival is set over two days, April 27 and 28, in Oak Music Hall Houston, Texas.
Beartooth and Of Mice & Men will play April 27, and Parkway Drive and Killswitch Engage will play April 28. The full lineup will be announced in January.
Limited early bird pricing applies to $39 one-day and $69 two-day tickets. The special pricing will be available through the end of 2018.
Two-day tickets are available now. One-day tickets will be available Monday, Dec. 17 at 10 a.m.
[envira-gallery id="194728"]