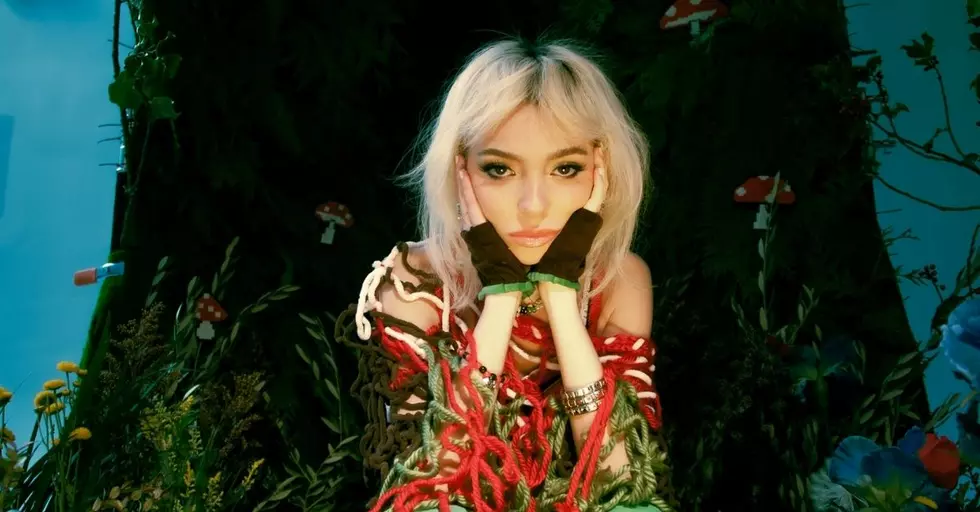 At 17, pop-punk newcomer Sophie Powers is already establishing her identity
A 17-year-old so richly invested in her emotional lyrics and keenly focused on her future is a music industry rarity. Toronto's newest export Sophie Powers has a bright-eyed view of the path ahead, having already collaborated with Kellin Quinn and DE'WAYNE on her fast ascension up the career ladder. From designing her own photo shoot and stage costumes to penning songs about mental health and equality from a teenage perspective, this rising artist is a breath of fresh pop-punk air. Playing her first-ever live shows in the U.K. supporting NOAHFINNCE in January and dropping her debut EP in February, Powers' year starts in top gear from the onset.
How old were you when you started out professionally? How fast has everything moved since then?
This all started when I was 15, so it's been a process of a year finding my sound, then going out to L.A. for six months to record all my songs, then coming home to Toronto and releasing the music. That itself has taken over a year, but where I am right now, I'm really glad I took my time with it because now I have really good music instead of it being rushed. Every day I'm still discovering who I am and what my goal is as an artist. I really like to sit down before I go into the studio and think, "Why am I doing this?" It reminds me to be grateful for what I have, and it also gives me great writing topics.
Has making your way in music been a dream come true for you?
This is something I've always wanted to do. In middle school, I lost sight of that because it wasn't cool. I got made fun of, so I never stopped writing, but I wouldn't showcase it to the same level. In grade nine, I found myself saying, "This isn't who I am. I just wanna make music every day for the rest of my life." I hid that artistic side of me and hopped from school to school just to be able to show it a little bit more and not get as bullied, thinking a fresh start would help.
I hid myself for so long, but now that I've been artistically able to come out of my shell, if I hadn't had those bad experiences at those schools or put up with social pressures or written music during a pandemic, I wouldn't have those songs. I'm very thankful for all that pain from my past, but it's also about writing in the present moment of what's happening around me so other kids can relate.
Is there anything you left behind in 2021?
I don't want to bring my past any further than I already have. A lot of the songs I've written are about hardships from the past, but after this EP, my next body of work will talk about a very transitional period and the closing of a chapter. I'm not angry at the world anymore — I've accepted it for what it is, which has been very hard, but that in itself is a completely different perspective to that of still being angry and frustrated. I'm still angsty and wanna rock out with my songs, but I'm writing it a little bit more from a place of love.
What questions would you like to ask your future self this time next year?
"Are you embracing yourself yet?" Self-confidence is another topic in my songs, and every day I'm still finding that self-confidence. I need to ask myself, "Are you finally putting yourself in a place where you feel good? Do you love yourself yet?"
What are your New Year's resolutions?
My No. 1 is to make my parents proud. My mom is the one I came to a week before school and said, "I want to drop out of school and pursue music full time." She didn't question me. She just let me go straight ahead. They've both been supportive, so I want to do whatever I can to make them proud. I also want to become a better songwriter and improve my craft, specifically in storytelling. Olivia Rodrigo and Taylor Swift are really great storytellers, and their recent bodies of work have inspired me to apply all of that to my music.
How would you like this year's Sophie Powers to look in comparison to last year's?
I want to take a bigger step in my career in terms of dedication. I want to be doing this a lot more often and perfect my craft rather than trying to just get things off the ground. Right now, I am a new artist, but in 2022, I hope to solidify my name and what I stand for. I think showcasing the things I stand for is really important to me, having those open conversations about mental health, global warming, about genuine experiences and important topics like equality.
I want to be seen as a candidate for parents to be like, "You shouldn't dress like that because now my daughter's gonna start dressing all weird." She should be who she is — I can be a cool big sister! My goal is to help change society's perspective on that, and in 2022, I'm gonna keep working on that.
All this success has come to you at such a young age. Where do you see yourself in five to 10 years?
I think I'll have my own clothing brand with my designs. Hopefully, I'll have my own tour too. I want to reach people who understand my message, but not just from an outsider's perspective — I want to build a friendship with anyone who supports my music because that's the most vulnerable piece of me. I don't really care if I don't have the same huge audience as Ariana Grande, but if I can have a small fraction of those dedicated supporters who will love her for who she is and support and uplift her, that's all I can ask for and all I can continue to work hard for.
This interview first appeared in issue #402 (22 for '22), available here.