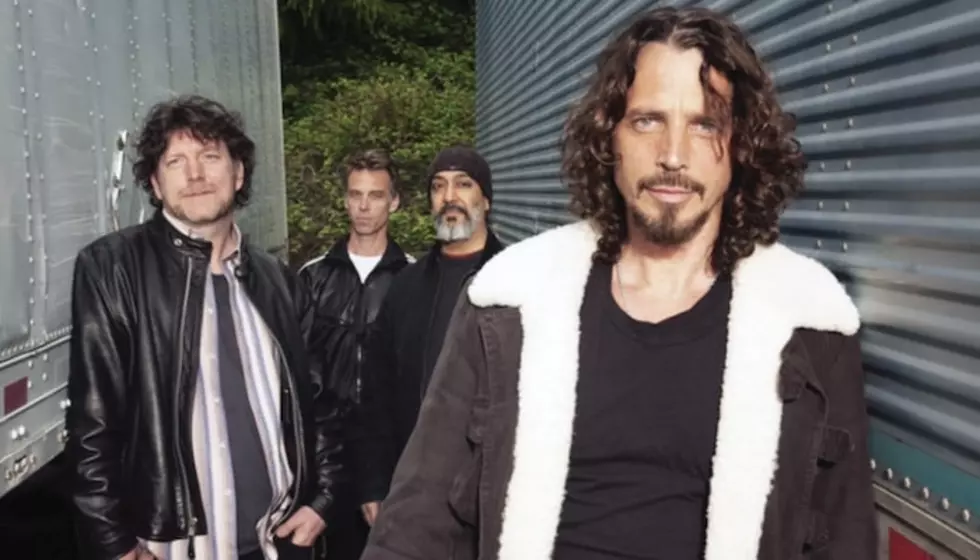 Soundgarden are countersuing Vicky Cornell over tribute concert revenue
[Photo via Spotify]
The last we heard regarding the ongoing lawsuit between members of Soundgarden and Chris Cornell's widow, Vicky was back in February. Soundgarden filed a response to an initial suit from Vicky Cornell regarding unpaid royalties. 
Now, in addition to another response to that suit, members of Soundgarden are countersuing Vicky Cornell and the Chris Cornell estate, accusing them of "fraudulent inducement" regarding a free tribute performance that Soundgarden played in 2019. 
Vicky Cornell filed the initial lawsuit against Soundgarden in December. She alleged the band was not paying her owed royalties. They were attempting to strong-arm her into releasing the rights to songs Cornell left to his estate before his passing.
Then, in February, the members of Soundgarden filed a response to the lawsuit. Within, they detailed exactly how Vicky Cornell gained possession of the recordings. But, they disputed the claim that Vicky had sole possession of them.
Soundgarden also state that they believed they were having productive and amicable conversations regarding the recordings. And that Vicky Cornell filed the lawsuit without warning. The entire motion can be read here.
Now, Soundgarden are countersuing Vicky Cornell and the Cornell Estate regarding the "I Am The Highway: A Tribute To Chris Cornell" concert in January of 2019. The tribute concert boasted an impressive roster of the Foo Fighters, Metallica, Taylor Momsen, Tom Morello and more. 
According to Rolling Stone, who obtained the lawsuit, Soundgarden and Vicky Cornell entered an "oral agreement" that Soundgarden would play for free and all funds would go towards the Chris And Vicky Cornell Foundation. 
The lawsuit alleges that Vicky Cornell used the revenue generated for "personal purposes for herself and her family."
That revenue is believed to be a sum of many millions of dollars.
The suit alleges "fraudulent inducement," which can be a bit tricky. It states  "Vicky Cornell did not have the intention of using some or all of the revenue from the Cornell Concert for charitable purposes, but rather for personal purposes for herself and her family."
It goes on to say that Vicky Cornell lied about the revenue being intended for charity saying her "representation was false, or [she] exhibited recklessness and negligence as to its truth or falsity, for the purpose and intent of inducing Soundgarden into agreeing to perform at the Cornell Concert without compensation." It further states that Soundgarden suffered "reputational harm" as a result. 
Vicky Cornell's lawyer, Marty Singer has responded to the allegations saying they are "salacious, scurrilous, and vicious."
"Their transparently desperate counterclaims … do not change the fact that they are the ones who have improperly asserted ownership of vocal recordings that were created solely by Chris and that they are the ones who have unlawfully withheld substantial sums of money from Chris' widow and children."
Singer says that Soundgarden was paid $78,000 for the concert. Plus the concert funds were appropriately attributed. He also attacks the characters of the Soundgarden members. 
"As Chris' former band members are well aware, every single penny of the proceeds generated by the concert were properly allocated and accounted for and their statements are not only false and defamatory but demonstrate the depths to which Chris' former bandmates are willing to sink to tarnish his legacy."
As stated, the countersuit also addresses the previous lawsuit regarding the vocal recordings. 
"The Complaint is an offensive recitation of false allegations and accusations," the countersuit retorts. "Soundgarden categorically denies every material contention lobbed by Vicky Cornell, who filed her complaint — rashly and without good cause — with the true purpose of extorting Soundgarden into conceding rights to which she is not legally entitled, and of coercing Soundgarden to prematurely distribute Soundgarden funds to her."
Vicky Cornell tweeted something that may be in response to the countersuit earlier today (May 7).
You were so wrong to think you'd silence me by lies, intimidation and fear. That you might break me because its a gutwrenching time. He is always with me and you can't change the truth by lying and for what to stir up crazies and legitimize them while attacking CC's legacy...
The full countersuit can be read here.
We're sure more updates regarding the ongoing Soundgarden lawsuits will come shortly. 
[envira-gallery id="197607"]