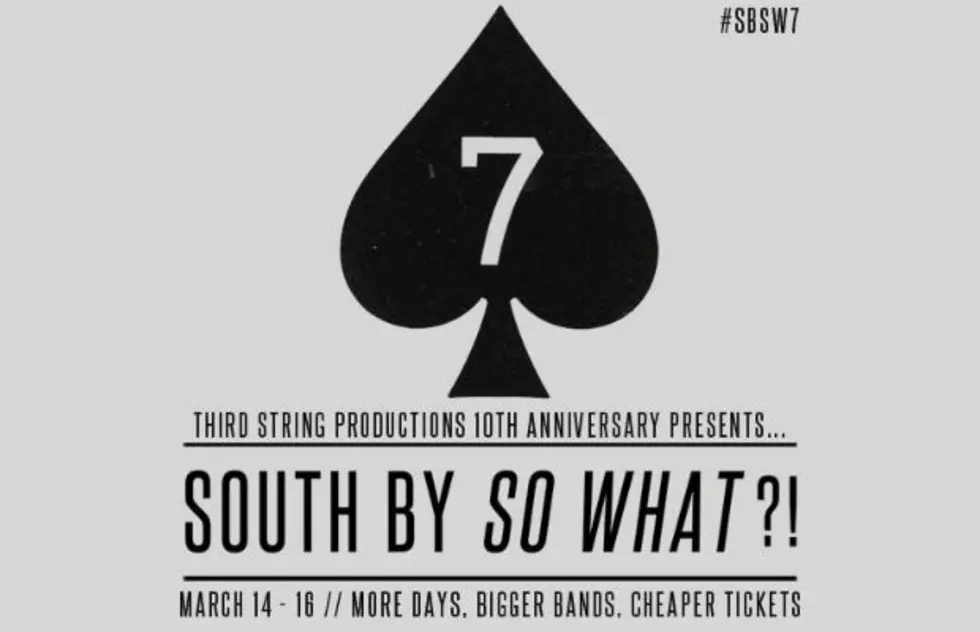 South By So What?! confirm final lineup
South By So What?! have confirmed the final lineup for their 2014 festival, and some important changes were made to the lineup that are worth noting: Hrvrd, I The Mighty, Upon A Burning Body and Wolves At The Gate have all been dropped from the festival. '68, A Lot Like Birds, Betrayal, From Indian Lakes, The Greenery, He Is Legend, Myka Relocate, Sylar and Thick As Blood have all been added to the festival.
South By So What?! will take place March 14-16 at Quiktrip Park in Grand Prairie, TX. Tickets are available at the festival's official website; you can check out the full list of bands below.
FRIDAY MARCH 14TH

Main Stage 1 Headliners: TAKING BACK SUNDAY & THE USED

Main Stage 2 Headliners: ASKING ALEXANDRIA & AUGUST BURNS RED
ALL BANDS IN ALPHABETICAL ORDER:

ASKING ALEXANDRIA

ATLAS MOTH

AUGUST BURNS RED

AVION ROE

BLEACH BLONDE

BRYCE GILBERTSON

CHIODOS

DEAR YOU

EMILY GREY

EMMURE

EVERYBODY RUN

FEVER DREAMER

GIDEON

HE IS LEGEND

HRVRD

I SEE STARS

ICE NINE KILLS

MIKE MAINS & THE BRANCHES

SCALE THE SUMMIT

SILVER SNAKES

SLEEPWALKER

SWORN IN

TAKING BACK SUNDAY

THE BUNNY THE BEAR

THE OCEAN

THE USED

THROUGH SLEEPING SIGHT

THY ART IS MURDER

UNDER DOG HOUSE

VOLUMES

WE CAME AS ROMANS

WITH SHAKING HANDS

YOUR PAST MY PRESENT
SATURDAY MARCH 15TH

Main Stage 1 Headliners: BRING ME THE HORIZON & OF MICE & MEN

Main Stage 2 Headliners: MOTIONLESS IN WHITE & MINDLESS SELF INDULGENCE
ALL BANDS IN ALPHABETICAL ORDER:

ADESTRIA

ALESANA

ATTILA

AZURAH

BORN OF OSIRIS

BRING ME THE HORIZON

CLOSE TO HOME

CROWN THE EMPIRE

ERRA

EVEN THE DEAD LOVE A PARADE

FAMOUS LAST WORDS

FEAR & WONDER

FIT FOR A KING

FOR TODAY

GET SCARED

GOODMORNING GORGEOUS

HEARTS & HANDS

HED PE

I THE MIGHTY

INDIRECTIONS

ISSUES

LAGUNA SUNRISE

LETLIVE

LIGHT THE WAY

LIKE MOTHS TO FLAMES

LIONS LIONS

MEGOSH

MINDLESS SELF INDULGENCE

MOTIONLESS IN WHITE

MY MY MISFIRE

MYKA RELOCATE

OCEANO

OF MICE & MEN

OSAGE HILLS

PSYCHOSTICK

SOUNDINGS

THICK AS BLOOD

THROW THE FIGHT

VIROSA

WE BUTTER THE BREAD WITH BUTTER

WITHIN THE RUINS

WOLVES AT THE GATE

YESTERDAY AS TODAY
SUNDAY MARCH 16TH

Main Stage 1 Headliners: THE DEVIL WEARS PRADA & BETWEEN THE BURIED AND ME

Main Stage 2 Headliners: THE STORY SO FAR & COMEBACK KID
ALL BANDS IN ALPHABETICAL ORDER:

A LOT LIKE BIRDS

AFTER THE BURIAL

ALPHA & OMEGA

ANIMALS AS LEADERS

BACKTRACK

BARRIER

BEING AS AN OCEAN

BETRAYAL

BETWEEN THE BURIED & ME

CHON

COMEBACK KID

COUNTERPARTS

CRUEL HAND

DANGER KIDS

DOWNPRESSER

EXPIRE

HANDGUNS

HUNDREDTH

I KILLED THE PROM QUEEN

IDLEHANDS

KNUCKLE PUCK

KUBLAI KHAN

LIGHT YEARS

LIZARD PROFESSOR

MISCONCEPTIONS

MY IRON LUNG

MYCHILDREN MY BRIDE

NECK DEEP

PERIPHERY

POLYPHIA

RELECTIONS

RESCUER

SLEEPING GIANT

THE DEVIL WEARS PRADA

THE GHOST INSIDE

THE GREENERY

THE STORY SO FAR

THIRD COAST

THIS WILD LIFE

TO THE WIND

VEIL OF MAYA

VULGAR DISPLAY

XIBALBA

YEARS SINCE THE STORM