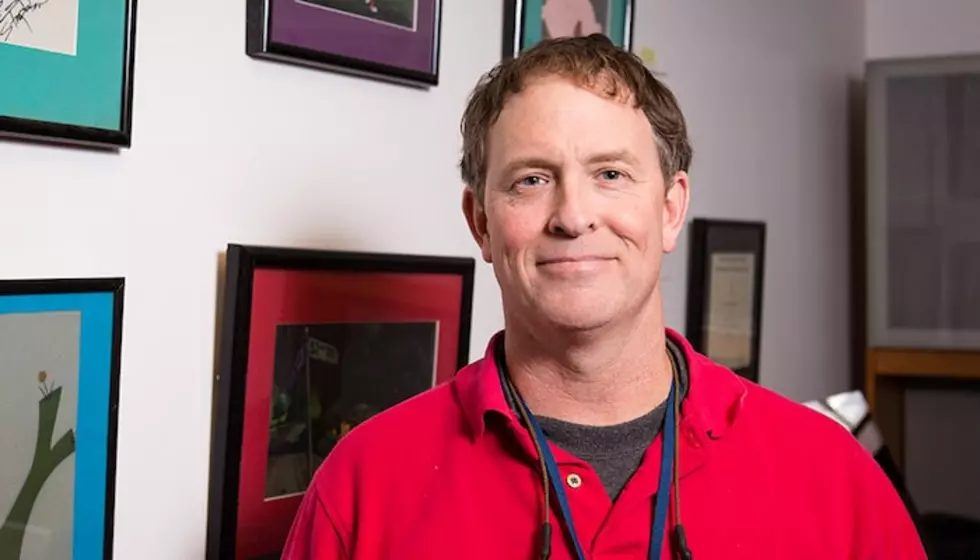 'SpongeBob' and 'Hey Arnold!' animator Tuck Tucker dies at 59
[Photo via Mike Kropf/Longwood University]
Veteran animator Tuck Tucker has died at the age of 59.
Tucker was best known for his work on the classic animated shows SpongeBob SquarePants, Hey Arnold! and Rugrats.
According to Variety, Tucker passed away on Dec. 22 at the age of 59. Tucker's family took to Facebook to announce his passing in a heartfelt statement.
"I don't know how this got deleted originally but I am re-posting. It is with a heavy and broken heart that the Tucker family announces the death of Tuck Tucker, father, husband, son, brother, and uncle. We know he was loved by all of those whom he met. In lieu of visitations, if you have memories of Tuck you would like to share on his timeline, the family would greatly appreciate reading them. An obituary will be forthcoming, however, please help us inform all who knew him by sharing this post."
At this time, no cause of death has been revealed. According to Variety, Tuck Tucker was born William Osborne Tucker III in 1961. From a young age, he had a strong passion for animation that grew while watching cartoons with his father. Eventually, Tucker relocated to Los Angeles to pursue a career in animation.
His first job was as a breakdown artist on 1987's Pinocchio and the Emperor of the Night. As well, he also worked on Disney's 1989 film The Little Mermaid, Rugrats and was even a character layout artist for The Simpsons.
Between 1996 and 1999, Tucker was the storyboard director for 25 Hey Arnold! episodes. He also went on to direct the 2002 film Hey Arnold! The Movie and was the supervising director on 19 episodes of the show from 1999 to 2004.
Along with Hey Arnold!, Tucker was also well-known for his work on SpongeBob SquarePants where he worked as a storyboard artist. Not only was he was a storyboard artist for 2004's The SpongeBob SquarePants Movie, but he was also the supervising storyboard director for 47 episodes of the show from 2007 to 2004. Tucker also wrote six episodes of SpongeBob.
More recently, Tucker was the storyboard revisionist for the upcoming Bob's Burgers film which is currently in production.
Along with fans, friends and fellow animators, Craig Bartlett, the creator of Hey Arnold!, paid tribute to Tucker on Instagram this week.
"A great friend, a master draftsman, a tireless practical joker, a brilliant storyteller, the first one I reached out to when I began 'Hey Arnold!' because he was the best board guy I had ever met. I'll always remember him at his drawing board, arms blackened to the elbows with graphite, eraser shavings everywhere, bringing my characters to life. A killer work ethic, passionately into it. I'm so lucky I got to work with him for so many years. He gave and gave. I miss him already, my heart is broken. Rest in power, Tuck Tucker."
 

View this post on Instagram

 
Our thoughts go out to Tuck Tucker's family during this time.