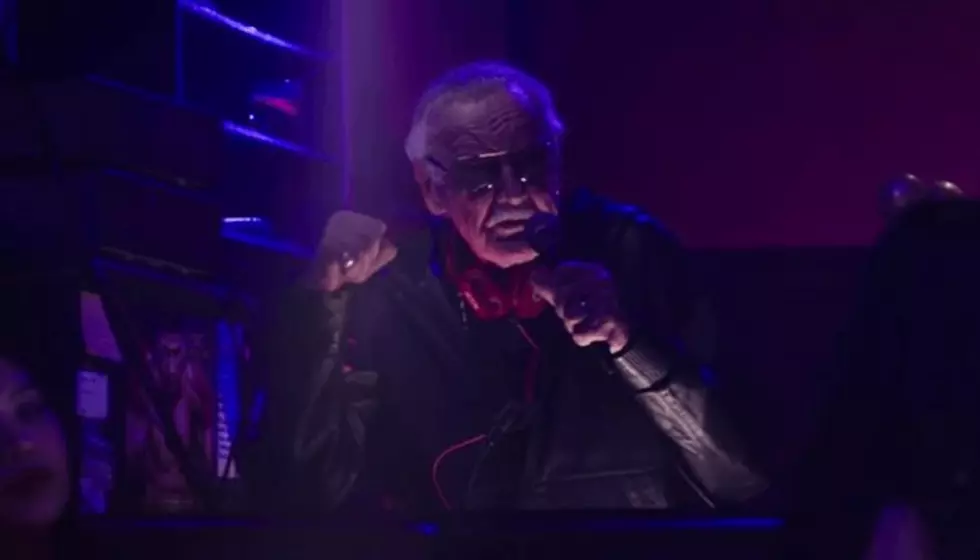 Stan Lee's 'Ralph Breaks The Internet' cameo revealed
[Photo via YouTube]
Stan Lee, who is best known as writer, editor and publisher of Marvel Comics, passed away earlier this month at Cedars-Sinai Medical Center in Los Angeles, according to The Hollywood Reporter. He was 95.
His impact is clear, with many people (including musicians) taking to the internet to honor the Marvel legend. Known for both his writing and plethora of Marvel (and beyond) cameos, it looks like Lee fans have another to look forward to look forward to this Thanksgiving holiday.
Disney's Ralph Breaks the Internet, the sequel to 2012's Wreck-It Ralph, hit theaters today. Lee appears in the film for a brief moment, and MovieWeb.com described the cameo (with spoilers):
"The Ralph Breaks The Internet: Wreck-It Ralph 2 cameo by Stan Lee goes by pretty quickly, and he doesn't actually speak like he does in his Marvel Cinematic Universe cameos. In the sequel, Ralph becomes an internet celebrity, and Vanellope decides to promote his videos by gathering pop-up ads to earn more exposure and money. In her quest to find the ads, she ends up in Oh My Disney, where she is chased by Stormtroopers. As she runs, she passes an older gentleman, who is talking to Iron Man. As he turns around, it's revealed that the man is Stan Lee."
Ralph Breaks The Internet isn't the last time Lee will make a cameo on the big screen. The day after his passing, it was revealed he already filmed several upcoming scenes.
With Marvel films announced through 2020, many wondered which one would mark Lee's final cameo appearance. According to Screen Rant, Marvel Studios had been filming several of his scenes at once.
Lee's agent and director Joe Russo have both confirmed Lee filmed scenes through the still untitled Avengers 4. This means Lee will appear in Captain Marvel and Avengers 4. It's still unknown if Lee will appear in Spider-Man: Far From Home, which hits theaters after Avengers 4. If not, it will mark the first Marvel film without him.
Ralph Breaks The Internet is in theaters now. Captain Marvel hits theaters March 8, 2019 and the untitled Avengers 4 arrives May 3, 2019.
Check out a trailer (sans Lee cameo) for the Ralph below.
Netflix's Stan Lee easter egg
Following Lee's passing, Netflix also chimed in with a super cool easter egg.
Lee got his start in the comics business in 1939. He created and co-created several well-known titles including Black Panther, Spider-Man, X-Men, The Mighty Thor, Iron Man, The Fantastic Four, The Incredible Hulk, Daredevil and Ant-Man.
He appeared in many of the Marvel film adaptations over the past couple of decades. Many considered his cameo as a fun easter egg. Netflix is honoring him in the most Stan Lee way by adding an their own easter egg.
"Excelsior," which means "ever upward" in Latin, has been Lee's catchphrase for years. Atlas Comics rebranded as Marvel in the '60s, and not long after that, Lee began signing off from his monthly column with "Excelsior!"
When asked why he chose the word, Lee explained:
"I used to have a lot of expressions that I would end my comic book columns with: Hang Loose, Face Front, 'Nuff Said, and I found that the competition was always imitating them and using them. So, I said I'm going to get one expression that they're not going to know what it means, and they won't know how to spell it. And that's where excelsior came from, and they never did take up on it, thank goodness."
The word began trending globally the day Lee died, so it only makes sense that Netflix would build an easter egg off of it.
Will you be catching Stan Lee's cameo in Ralph Breaks The Internet? Let us know in the comments below.